Dusan Vlahovic is a 22 year old Serbian striker that currently plays for Juventus. He recently transferred after standing out at Fiorentina. He broke out last season scoring 21 goals and followed it up with an even better start this year before transferring in January. He tied Cristiano Ronaldo's record of most Serie A goals in a calendar year with 33. That earned him his transfer to Juventus. In his 1st ever Champions League game he scored just 32 seconds in to set the record for fastest goal in a UCL debut ever. Needless to say all of this has made him a very popular player in the soccer card hobby so let's take a look at the cards and stickers you should be targeting.
Dusan Vlahovic Rookie Sticker
2016-2017 Panini FIFA 365 #336 (Search on eBay)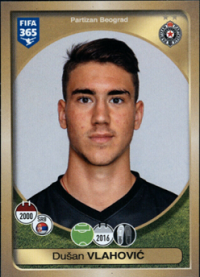 This sticker is his only true rookie since not only is it his earliest card or sticker it was produced the only thing produced in 2016. You will notice later that his first cards didn't debut until 2019. While FIFA 365 stickers aren't that rare this one is unique. With FIFA 365 Panini has a main checklist that mostly stays unchanged through most of the world but in a few regions they release a special box which contains a few teams from that region. The Vlahovic sticker in only in the Eastern European edition, which was released in Serbia, Slovenia and Bulgaria. It was during the time he played for Partizan. That not only means they were somewhat limited, but also will likely be in worse condition than if they were released today. These stickers are by no means super rare but considering this is his only true rookie it is considerably less than a player from this generation.
If you are buying a box online make sure the side with the countries looks like the image below. That is how you tell the difference.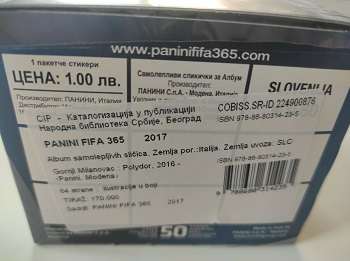 Dusan Vlahovic Rookie Card
2019-2020 Panini Chronicles Contenders Rookie Ticket #RT-31
The Rookie Ticket which is found in 2019-2020 Panini Chronicles is his only rookie card. There were stickers released in 2019 but this is the only card. This is what happens when a lesser known player bursts on the scene after they have been playing for a couple years. There are 3 variations of this card; base, T-Mall (red) and Cracked Ice. The base is in the general hobby and retail boxes so it is by far the most plentiful. The red version is only in T-Mall boxes which were released in China. The Cracked Ice is his only rookie numbered parallel, 23 total, and can only be found in hobby boxes. If Vlahovic becomes a true sustained soccer superstar those Cracked Ice could end up being some of the most valuable soccer cards to ever exist since there are only 23.
Base Card (Search on eBay)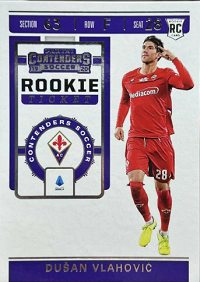 T-Mall – Red (Search on eBay)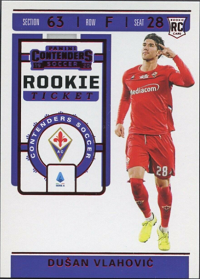 Cracked Ice /23 (Search on eBay)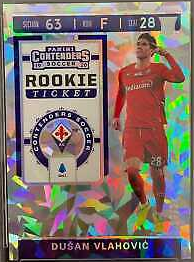 *All Search on eBay links go to Ebay listings.
If you have any questions just shoot a DM on Twitter @SoccerCardsHQ or IG @SoccerCardsHQ You can also join the FaceBook Groupp and ask questions.