Topps is bringing back the Merlin Heritage set for another year. The set's cards are a tribute to Merlin stickers of the past. Last year they debuted with Merlin Heritage 95 which included the Merlin 1995 designs, and this year is a tribute to 1997. For that reason, the cards look a bit outdated but that is the charm. As for the set itself it's pretty basic but does have some potential as we point out below.
Merlin Heritage 97 Review
Checklist – HERE
Box Makeup – 10 packs. 8 cards each pack. 2 parallel and 1 auto per box (Search on eBay)
Chase Cards – Gavi RC, Benjamin Sesko RC, Jonathan David RC, The Dual Autos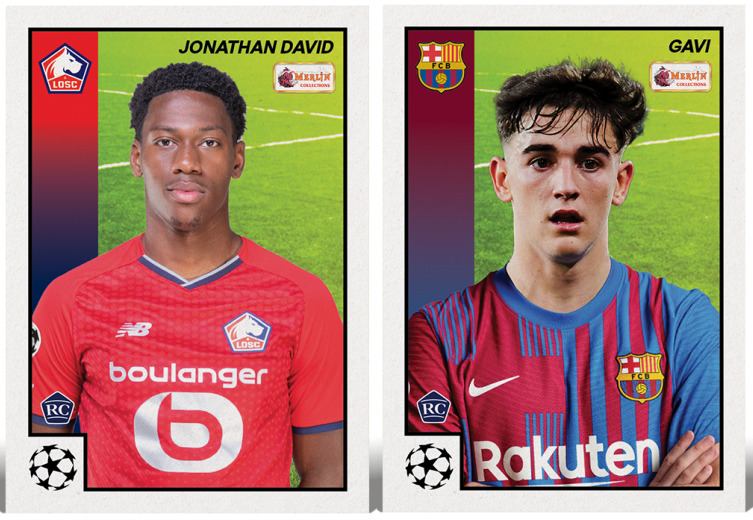 Soccer Cards HQ Review – The cards are on paper stock, so they aren't premium. The checklist is pretty standard to most Topps UCL products, so it has all the big superstars. There are a couple of rookies with potential as you can see listed above. We know these players will have a full run of products this year. Based on last year even the # parallels of the rookies are valued much less that similar # parallels in other more premium products. I would say roughly half the price of this compared to say Topps Chrome Merlin. What is interesting is there is a dual auto of Manchester City rookies Cole Palmer and Liam Delap but no base cards of either. They will certainly be in the various UEFA Chrome releases later this year.
The main chase and focus of this product will be the autos and especially the dual autos. If you hit one of the big superstar autos that is obviously great. The problem is there will likely be 99 David Alaba and 1 Erling Haaland. Topps has compiled a pretty impressive list of dual auto cards and this is something they should do more of. Last year's Merlin 95 only had 3 dual autos while this year has 11. Be warned that based on last year there will likely only be a handful of each made much like the single auto superstars. If I had to guess there would be a 1/1 and /5. If Topps is feeling generous maybe /10. There are 72 single player autos and those will be where most of the autos in the product come from. Here is the dual auto list.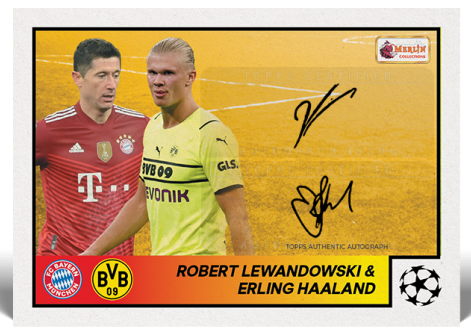 Yusuf Demir / Nico Gonzalez
Ansu Fati / Pedri
Michael Laudrup / Brian Laudrup
Bernardo Silva / Kevin De Bruyne
Erling Haaland / Robert Lewandowski
Xavi / Lionel Messi
Cole Palmer / Liam Delap
Neymar Jr / Lionel Messi
Vini Jr / Eduardo Camavinga
Gianfranco Zola / Roberto Di Matteo
Robert Lewandowski / Thomas Muller
Final Thoughts – It's an on-demand product so it could only be ordered off the Topps website. It sold out pretty instantly and depending on where you needed it shipped too ran $120-$150. If you got it at that price, you did well. They are currently selling for about $250 (Search on eBay) in the aftermarket is about the highest they should be at least until they get in hand, and we see what the rookies do in the next round of Champions League. Last year's Merlin 95 sells in the $200 (Search on eBay) range and it could be argued is a better box. It has better rookies and you get an extra parallel. This 97 box has the better dual autos and the single autos are in the same ballpark. There are definitely worse valued 2021-2022 products out there so if you get one in hand quickly and you can rip, they should stay in this price range. If anything, I see the box prices going down once more product hits the market. That is what happened to Merlin 95 last year.
If you enjoy this type of content please follow us on IG @SoccerCardsHQ and Twitter @SoccerCardsHQ or join our Facebook group @SoccerCardsHQ and join the hobby discussion.