Topps Gold UEFA is a new on demand set for the 2021-2022 season. For this set Topps teamed up with renowned artist Tyson Beck to design the cards. This release is very similar to the Topps Deco UEFA set that came out last month. Honestly it's a little too similar if we are being honest but there are some important differences which are pointed out below. Topps seems to be trying to pump out as many of these on demand sets with similar checklists that we can buy.
*All Search on eBay links on this page are to Ebay listings
2021-2022 Topps Gold UEFA Champions League Review
Checklist – HERE(Diogo Jota and Roberto Firmino not listed in checklist but has base card)
Box/Set Makeup – 8 packs of 10 cards per box. 1 parallel and 1 auto per box. 2 Future Stars per box. Parallels for base /49, /25, /10, /5, 1/1 and auto /99, /49, /25, /10, /5, /1. (Search on eBay)
* Based on reported box print runs (4042 total) there are over 9000 numbered parallels not in boxes. We have no way of knowing how many of each player is missing. There is a running list of confirmed parallels below. If there are 15 base, 10 Elite and 20 Gold with parallels the box count would be about right. If you see or pull any not listed please tag us on IG or Twitter @SoccerCardsHQ. Shoutout to @collectosk for collaboration to figure this out.
Parallels Confirmed – BASE: Ansgar Knauff, Christian Pulisic, Dani Olmo, Dayot Upamecano, Diogo Jota, Dominik Szoboszlai, Ferran Torres, Jamal Musiala, Jude Bellingham, Karim Adeyemi, Leroy Sane, Mason Greenwood, Reece James, Ryan Gravenberch, Vini Jr.  
We believe all 10 "Elite" and 20 "Gold" subset cards have parallels. They have not all been verified but majority have been seen so it would be strange if any were left out.

Chase Rookies – Jonathan David RC, Gavi RC, Harvey Elliott, Nico Gonzalez RC, Yeremy Pino, Brian Brobbey RC
Chase Autos – Lionel Messi, Robert Lewandowski, Dominik Szoboszlai (1st auto), Lionel Messi/Neymar Jr (dual), Robert Lewandowski/Thomas Muller (dual), Kevin De Bruyne/Ferran Torres (dual), Mason Mount/Kai Havertz (dual), Vini Jr/Rodrygo (dual)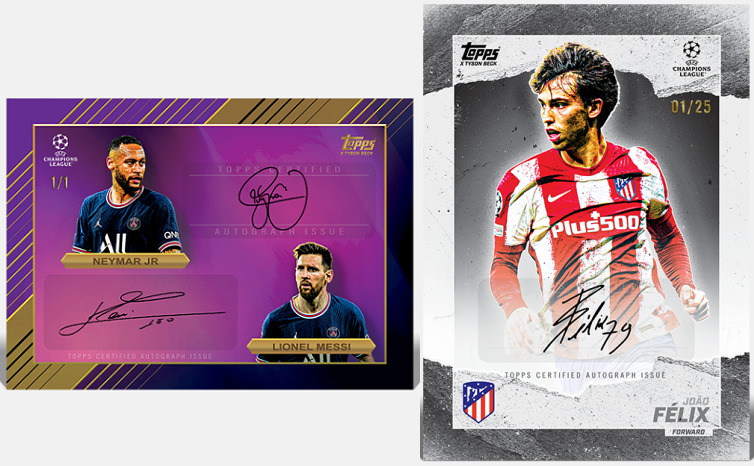 Soccer Cards HQ Review – If you read the Topps Deco Review you know that we are not a big fan of this box makeup. Only having 1 parallel and 1 auto makes these very risky to open. In a high end product where there are only a few cards in the box you can get away with that. This product has 78 base cards most of which are going to be practically worthless. That said we think the rookies and autos are better in this product than Deco.
While most of the rookies are the same in both products there are two key additions here, Jonathan David and Gavi. David is the Canadian forward that has been on fire this year for Lille. He has huge hobby potential because he is Canadian as we see with Alphonso Davies. While he has had stickers dating back to 2018-2019 Panini Pro League (Search on eBay), this is his first packed out card. He does have a couple of Topps Now cards that were released earlier this year. The key designation here is that he does have a RC shield. Gavi is another one of the Barcelona youngsters that has been getting hype as he has started getting playing time. Out of this year's crop of Barcelona players he likely has the most hobby potential. I will note that all of the rookies except David are in the Future Stars subset. These are rounded cards but they are 3D seem to be well liked. It will certainly make them different than the rest of the rookie cards these players have coming for the rest of the year. There are only 2 Future Stars per box which means if the box print run reports are right there are about 500 each. There are no numbered Future Stars. Not sure if that is a good or bad thing for the future value.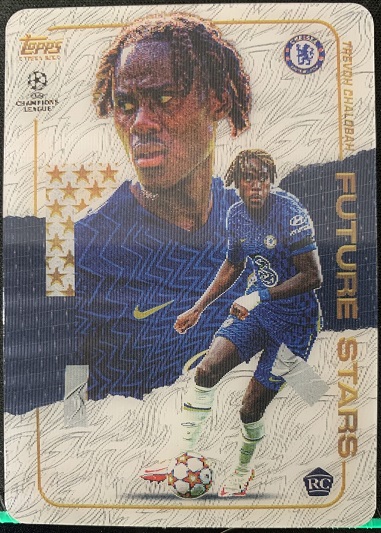 The autos is where the big difference is from Deco. Deco featured many more legend autos while all the autos in Gold are current players. Messi is in both sets and Ronaldo is in neither. Deco does list Haaland on the auto checklist but Topps has been known to fib about his autos so until you see one don't believe it. Most of the autos are guys you have seen before. One who has a first time auto in this set is Dominik Szoboszlai. He is pretty popular and these should be sought after for the first couple that come up for sale. He is in the auto list for Match Attax Bundesliga Chrome so it's safe to assume he will be in a lot of Topps products this year. The dual autos offer a couple of interesting pairings. By far the biggest is the Messi/Neymar card. The two biggest current South American players and PSG teammates should get some attention. The Lewandowski/Muller card will be a must have for Bayern Munich fans. The other 3 cards are nice but have some risk with 1 player on each of the cards no being that desired right now.
If you were lucky enough to get a box from Topps direct when they dropped you got a good deal. These boxes are now going for right around where Topps Deco boxes are selling on the after market. While I think both are overpriced, the one you choose to buy will likely come down to preference as neither checklist stands out much over the other. If I had to choose I would rather have Deco than Gold but that is not with great conviction. The Messi/Neymar card is what puts it over the edge for me. As I mentioned in the Deco review Merlin Heritage 95 (Search on eBay) from last year seems like a much better value than Gold. Buy what you like or if nothing in this product jumps out to you save your money for another product. There will be plenty of them this year.
If you enjoy this type of content please follow us on IG @SoccerCardsHQ and Twitter @SoccerCardsHQ or join our Facebook group @SoccerCardsHQ and join the hobby discussion.