Topps has released Bundesliga Match Attax Chrome for the second year in a row. This release is all about the checklist and more importantly the auto checklist. There aren't a ton of rookies in here with this release being so early. There are a good bit of decent rookies, though nothing like last year, to chase in the Bundesliga this year but they did not make it into this product.
*All Search on eBay links on this page are to Ebay listings
Bundesliga Match Attax Chrome Review
Checklist – HERE
Box Makeup – 18 pack. 4 cards each. 6 refractors and 2 Xfractor. 1 auto every 5 boxes. 200 base cards and 31 autos
Chase Cards – Erling Haaland Auto, Dominik Szoboszlai Auto, Jude Bellingham Auto, Robert Lewandowski Auto, Giovanni Reyna Auto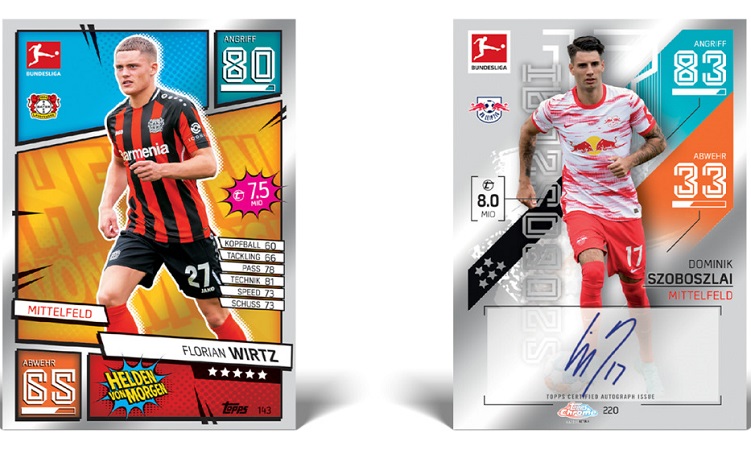 Soccer Cards HQ Review – This is not going to be a very long review but it's very cut and dry. I was very excited about last years Bundesliga Match Attax Chrome set. The cards are on great stock and look pretty good. It had a lot of rookies including Florian Wirtz, Jude Bellingham, Jamal Musiala and Youssoufa Moukoko. In my opinion those rookies are very underrated for some of the low numbered parallels (Search on eBay). More importantly last year's set supposedly had Erling Haaland autos. I say supposedly because even though they are still on the checklist nobody has ever seen one. This has happened with a couple of sets that Topps put out last year. If you can't trust the auto checklist it is really hard to buy boxes of this. The autos are the chase so until you see them I would be wary. These are selling for more than you can buy last years boxes for right now. Considering the rookies in last year they seem like a better buy (Search on eBay). If Haaland autos start showing up then and only then should you consider paying $70/box.
If you enjoy this type of content please follow us on IG @SoccerCardsHQ and Twitter @SoccerCardsHQ or join our Facebook group @SoccerCardsHQ and join the hobby discussion.