Goldin's January Holiday Auction ended last night and there were plenty of soccer card sales. I am going to review some of them that I found interesting. I think these Goldin auctions give us good insight into the current state of the soccer card hobby.
Lionel Messi 2004 Megacracks 71BIS
This 2004 Messi rookie is one of the grail cards in the hobby. There were 9 sold in this auction from all big 3 grading companies and all sorts of grades.
SGC 9 – $24,600
PSA 8 – $10,200
PSA 7 – $9,000
BGS 8.5 – $8,400
PSA 6 – $5,700
BGS 7 – $4,500
BGS 5.5 – $3,120
PSA 3 – $2,761
PSA 2 – $2,070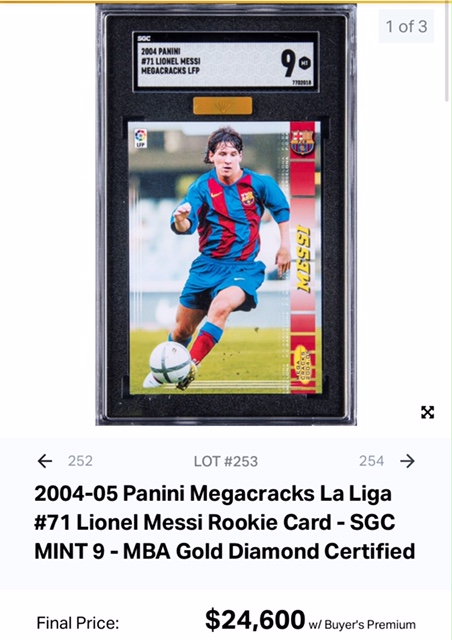 The biggest take away for me was this shows us just how far BGS values have fallen in the past year. I think it can be easily argued that for soccer cards SGC has overtaken BGS. I highlighted a couple Ebay sales last week that showed it and this all but confirms it. If you are looking for value now could be the time to pick up BGS slabs. If you would have told collectors two years ago that a PSA 7 would go for more than a BGS 8.5 most would not have believed you.
As for the sales themselves they were about in range. A couple were higher than similar sales a few months ago and some were lower. For instance a PSA 8 did $12,000 in an October Goldin Auction and a PSA 4 did $2,706. The PSA 8 went down a big but the PSA 3 sold for more than the 4. In doing the research I found that there has not been a PSA graded version of this card sold on Ebay since November 20, 2021. There were 2 best offer sales that day. One was a PSA 2 for $1,100 and the other was a PSA 3.5 for $1,750. Out of the last 10 Ebay sales of this card 5 were BGS, 4 were SGC and 1 was ERG. Goldin sales usually outperform Ebay sales for this card regardless of grade or company.
2004 Lionel Messi Panini Stickers Colecciones Este La Liga #288 
The biggest soccer sale of the auction was the PSA 10 of Messi's rookie sticker. The final sale was for $120,000 which makes it the first 6 figure sale of the year. There are 11 PSA 10 in the world compared to 20 Megacracks 71BIS. There are only 159 PSA graded stickers while there are 439 graded 71BIS. For that reason the PSA 10 of this sticker hardly comes up for sale. The last PSA 10 sale in the PSA registry was June 9, 2020 for $19,850. Not a bad 600% gain in a year and a half for that buyer. This sticker sells for less than half of the 71BIS. I think based on the rarity that gap is too wide so this was a good buy. There were 2 others of this sticker sold. Both were PSA 8 with the one ending first selling for $3,120 and the one that ended later for $3,600.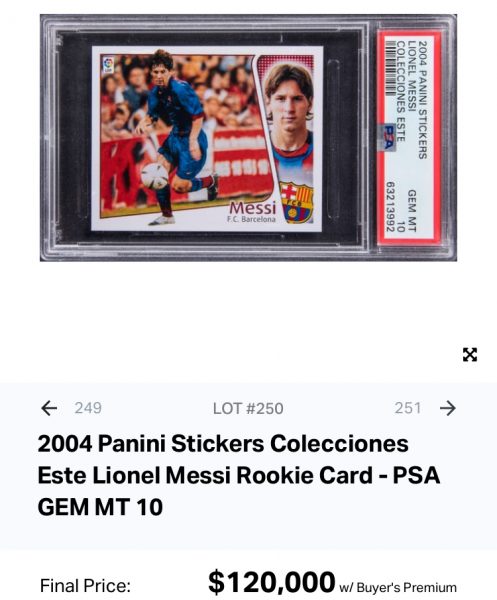 2002-03 Cristiano Ronaldo Panini Sports Mega Craques #137
Since we talked about Messi we have to check in on CR7. The Mega Craques #137 is another grail card that sells enough to give us an idea on the market. There were 3 total sales of this card.
BGS 8 – $7,200
PSA 4 – $3,690
SGC 5 – $3,600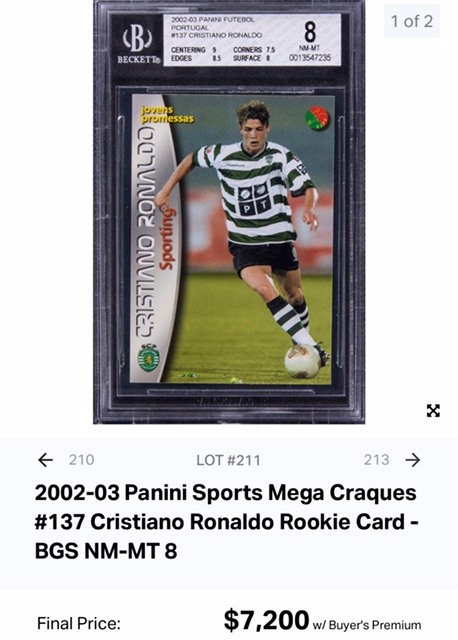 These sales were pretty much in line with expectations as well. This card has not been up for sale much lately. A PSA 4 sold for $3,605 a month ago on Ebay. There wasn't an exact same grade comparison to Messi 71BIS but we can tell that these cards are still selling in the same ballpark of each other.
1958 Pele FIFA World Cup Alifabolaget #635
Only 1 version of the grail Pele rookie sold. A PSA 4 went for $88,800 which made it the second highest soccer sale of the auction. This was substantial movement up from it's previous sale back in August when it sold for $60,006. Not a bad almost 50% gain in 6 months for the buyer back in August. In case you were wondering a PSA 4 of this card sold in March of 2019 for $3,616.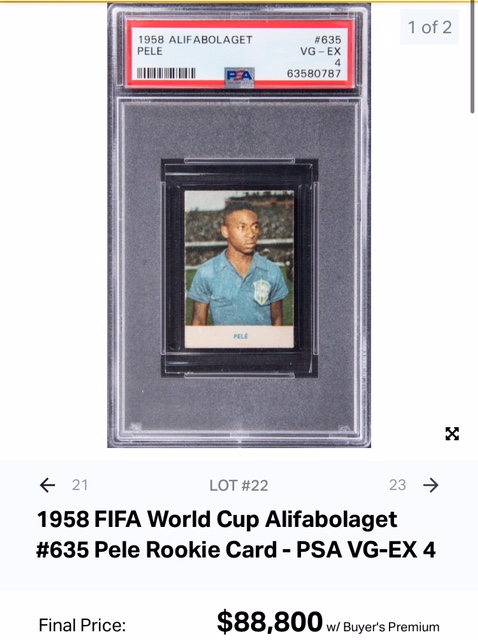 1977 Diego Maradona Futbol #11
Maybe the most unique rookie of any soccer player is this Maradona disc. A PSA 4(MK) sold for $6,000. The Mark qualifier certainly brought down the value of this. With only a tad over 50 of these graded at PSA this was a good entry point of a grail.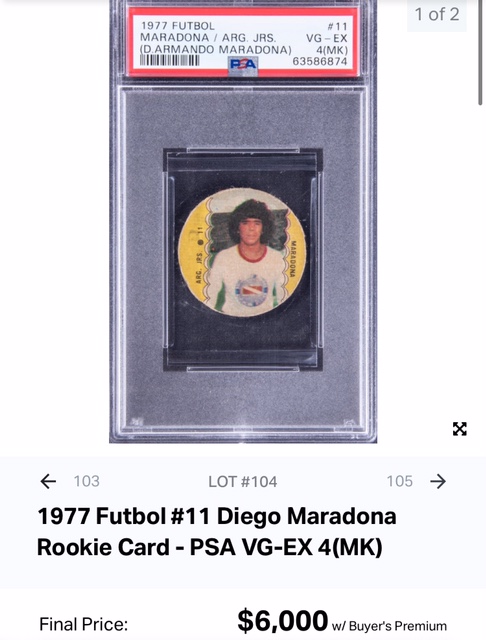 1991-92 Zinedine Zidane Panini Foot #43
Let's take a look at a couple of rookies from French legends. A PSA 9 of the greatest French footballer in history sold for $41,400. This sticker took a big hit from it's last sale at the October Goldin auction when it went for $68,880. I think the buyer of this got a great deal. The PSA 9 is a pop 5 but there are no 10s. There is not another sale of the PSA 9 in the last 5 years. Will be interesting to see where it is at the next time it comes up for sale.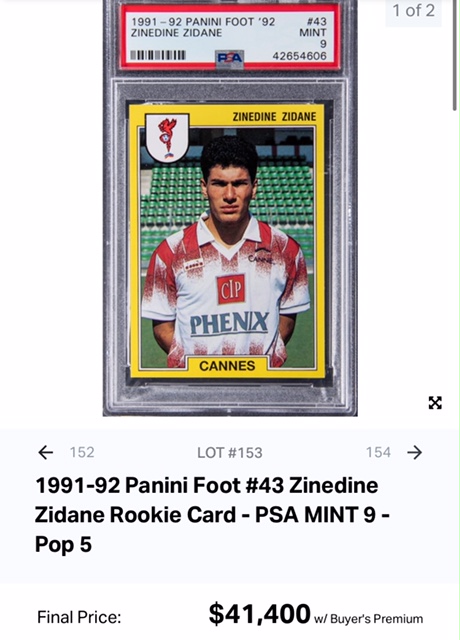 1996 Thierry Henry Panini Foot #195
Another French legend had 3 of his rookies sell in the auction including a PSA 10. That card fetched $66,600 making it the third highest soccer sale. This is the first sale of the PSA 10 since November 6, 2019 when it went for $1,000. There are only 4 of these in the world which is why you hardly ever see them come up for sale. A PSA 9 sold for $16,800 and a PSA 8 sold for $7,800. I am going to focus on the PSA 8 as that is the one we have somewhat recent sales for. One sold for $21,600 at Goldin in October. The previous to that sold at Goldin in August for $10,800. It seems that the PSA 8 suffered a bit from having two higher versions of the sticker for sale in the auction especially since the 10 ended first. Like with Zidane the Henry market seems to be down quite a bit.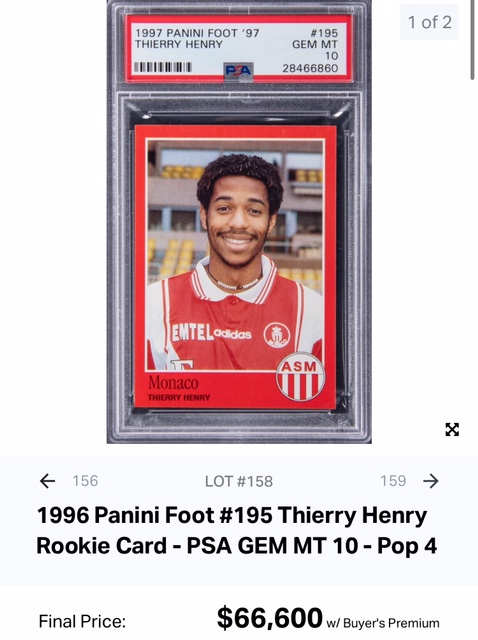 2020-21 Jamal Musiala Topps Stadium Club Superfractor #41 PSA 10
2020-21 Jude Bellingham Topps Merlin Chrome UEFA Champions League Autographs Red /10 #JB PSA 9
2020-21 Xavi Simmons Topps Stadium Club Chrome UEFA Champions League Orange Blue Electric #63 PSA 10
Want to put a spotlight on a couple of the stars of the 2021-21 rookie class had big cards sell. The Musiala 1/1 went for $22,800. The Jude Auto /10 sold for $6,900. Both of those seem somewhat reasonable because at least they are playing and performing. When I say reasonable I just mean in prospecting terms. Don't try to compare to Messi rookies because it will never make sense. The Xavi Simmons sale for $5,550 makes zero sense. Xavi was a player that got pumped by influencers and breakers. I wouldn't pay $5,550 for the 1/1 of him much less the much less rare non numbered Orange Blue Electric which is not rare at all.
2020 Erling Haaland Panini Immaculate Collection #51 /99
I am including this sale for no other point than to once again point out I don't this this should be considered a rookie card. Want to know why read HERE. Also no way no how should this sell for 4x what the 2019 Topps Chrome UEFA /99 PSA 10 recently sold for. I would gladly take the 2020-2021 Match Attax Chrome Superfractor that sold for $5,000 over the Immaculate since they are both from the same set year.
1958 World Cup Brazil vs USSR Pele World Cup Debut Ticket PSA 1(MK)
1977 Argentina vs Hungary Diego Maradona International Debut Ticket PSA 2
2003 FC Barcelona vs Porto Lionel Messi Debut Game Friendly Ticket PSA 6
I wanted to spotlight 3 big ticket sales as this is a clearly emerging part of the soccer market. The Pele World Cup debut ticket sold for $36,000. The Maradona ticket sold for $33,720. There were actually 4 of the Messi friendly debut that sold. The PSA 6 sold for $14,400, a PSA 8(MK) $7,920, a PSA 5 for $4,530 and a Authentic grade for $5,700. The authentic selling for more that the PSA 5 was a bit surprising. If you have started looking at tickets yet they can be quite fun to track down meaningful games.
If you enjoy this type of content please follow us on IG @SoccerCardsHQ and Twitter @SoccerCardsHQ or join our Facebook group @SoccerCardsHQ and join the hobby discussion.