Topss Deco was the first new card release of the 2021-2022 season. This was an "on demand" product from Topps which at this point for these types of sets just means you can only get them directly from Topps. The print run is defined before they put them up for sale so this is not like a Topps Now product. They were around $150 per box depending which Topps country site you ordered from.
*All Search on eBay links on this page are to Ebay listings
Topps Deco UEFA Info
Checklist – HERE
Box Makeup – 8 packs of 10 cards for 80 cards total. 1 Autograph card. 1 numbered parallel. /99, /49, /25, /10, /5, /1
* If reported number of boxes printed (3099) is correct then over 30,000 numbered parallels are not in the boxes. We have no idea if they were printed or how many of each player there are.
Rookie Chase Cards – Nico Gonzalez, Brian Brobbey, Yusuf Demir, Trevoh Chalobah
Benjamin Sesko and Harvey Elliott are also in this set but neither has an RC shield. Sesko only has a Topps Living Set before this and Elliott only has a Topps Now. For that reason this card will be considered a rookie by some.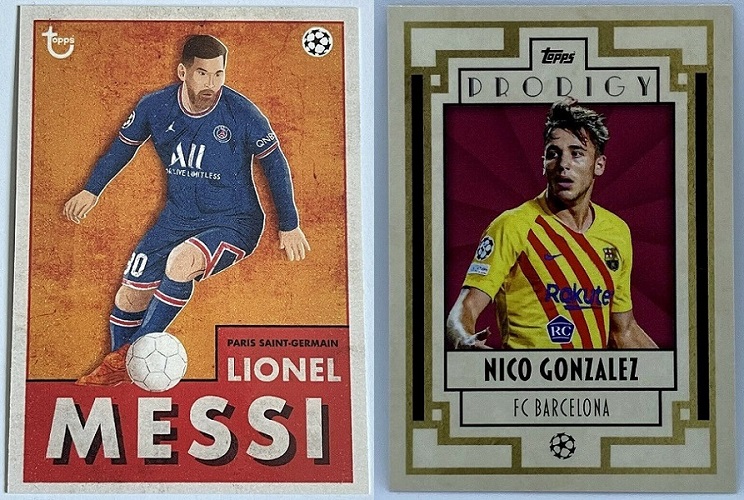 Soccer Cards HQ Review – I like a lot about this set from a design and checklist perspective. There is a good mix of legends and youngsters. The Artistry card designs are liked by many. The problem is the Artistry cards are not very rare at all (2-3 per box) so it will be tough for them to hold value. The design of the numbered parallels don't look very different from base cards which usually doesn't bode well for long term value either.
A lot of the high end chase cards in this set are autos, especially legend autos. There are 5 dual auto cards and 2 triple auto cards. 3 of the dual auto cards are of former teammates such as Xavi and Samuel E'to or Steven Gerrard and Jamie Carragher. One is a Lineage card which is Virgil Van Dijk and Jamie Carragher. The other is a Descendants card of Rafinha and his brother Thiago Alcantara. The highest any of these multi player autos has sold for is $355 which was for a Rafinha/Alcantara /5. The highest sale of a card in the set so far is an /10 auto of the former Dutch goalkeeping legend Edwin Van Der Sar. This $1000 sale is likely due to the fact that to my knowledge these are the first Edwin Van Der Sar autographs in a set ever. He now has them in 2021-2022 Match Attax Chrome so I would think prices would eventually come down as Topps puts more of them out.
The rookie list has some potential but the lack of a RC shield on 2 of the biggest potential players could hurt. It will be very interesting to see if Topps keeps the RC of all the Sesko and Elliott cards they produce this year. That would be a big mistake in my opinion. The other problem with the rookies in this set is they will have a ton more as later sets come out. These will not be the go-to rookies once this product cycle comes to an end.
With all that in mind I can't figure out why these boxes are selling for $400 on the secondary market. There has only been 1 individual Ebay card sale so far for over $400 and that is the Van Der Sar auto. Granted none of the big multi auto cards of have been sold yet, but they are pretty rare. The much anticipated Artistry cards are selling around $25 for the big stars. There are some big autos possible but like most products these days they are very rare. There is not a dual Messi/Ronaldo card in here like Inception to really get people excited.
This set reminds me of 2020-2021 Merlin Heritage 95 set from last year. If you aren't familiar with that set you can see the checklist (Here) or see the Ebay listings (Here). You can get those Merlin boxes for about half of the price of these Deco currently. The Merlin Heritage boxes also had 1 auto but had 2-3 parallels. The rookie list was certainly stronger in that class and likely has more long term potential. If the Deco boxes would've come out later this cycle it's doubtful they would be selling for $400.
If you are looking at value proposition I don't see how anyone chooses to rip a box of Deco over Merlin Heritage 95. The numbers just don't add up. If you want to collect Deco over Merlin Heritage 95 or another product I totally understand that. I am only comparing these two products as they are very similar in makeup and distribution. This is not intended to make you run out and buy Merlin Heritage boxes. My goal is to not to tell you how to collect or how to spend your money. I aim to present facts to help collectors that are looking at value. I want everyone to make money or at least save money. Opening wax is risky enough as it is.
We encourage everyone to watch a break before buying any product when possible

If you enjoy this type of content please follow us on IG @SoccerCardsHQ and Twitter @SoccerCardsHQ or join our Facebook group @SoccerCardsHQ and join the hobby discussion.