Bukayo Saka is a 20 year old wonderkid that plays for Arsenal. He has been known to many in the hobby for a while but his recent form has his prices shooting up. He has scored 4 goals in his last 3 games all which he started at right wing. Throughout his career he has played at the back, in the midfield and on the wing. He is world class at all positions but for hobby price sake he needs to stay on the wing. He is a class finisher and if you have invested or are thinking about it you – want him on the wing. Arsenal has been much better this season. Qualifying for Champions League would be great for Bukayo Saka's future hobby potential.
*All Search on eBay links on this page are to Ebay listings
Bukayo Saka Rookies
Saka's rookies first appear in 2019 products. He only has 4 rookie cards and 1 rookie sticker.
2019-2020 Panini Chronicles Pitch Kings #R4-5 – Search on eBay
This is his only "premium" cardboard rookie card from Topps or Panini. It is only available in 2019-2020 Panini Chronicles hobby boxes. Since these cards are only in the hobby boxes they are fairly rare for a release in a major set.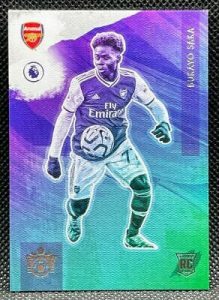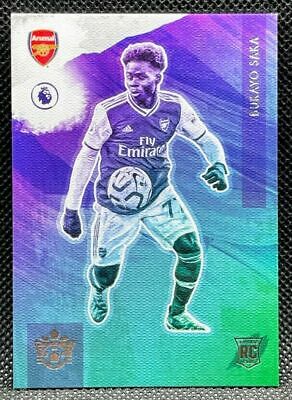 2019 Panini Tabloid Premier League #64 – Search on eBay
This his rookie sticker and his earliest released product of any kind.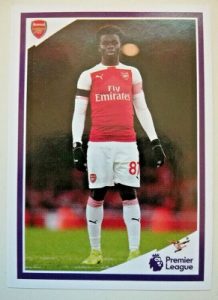 2019-20 Panini Impeccable Premier League Rookie Metal #RM-2 – Search on eBay
This is actually a stainless steel card. These are very rare as there were only 50 produced.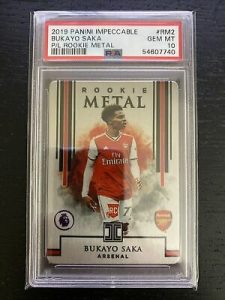 2019-20 Topps Match Attax Extra UEFA Champions League #SU67 and #FB17 – Search on eBay
This Match Attax set actually has 2 Bukayo Saka cards. Match Attax is not widely desired in the hobby but these are rookies.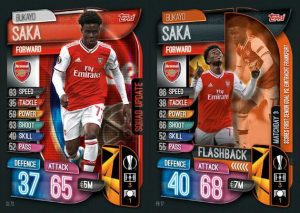 Not A Bukayo Saka Rookie
This not a rookie card is only included because the 2020 Panini Immaculate card has a RC shield. Panini tried to pull a fast one on everyone by including some hobby darlings with RC shields including Saka, Haaland and Fati. This is not a 2019-2020 product even though BGS has mislabeled slabs. This product was released January 8, 2021. I don't know for sure how the hobby will treat this set in the future but in my mind these are all second year cards. Want to read more about why I don't consider these rookies read HERE.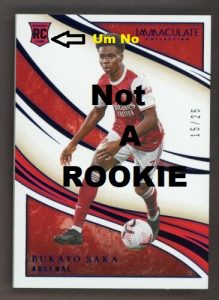 If you enjoy this type of content please follow us on IG @SoccerCardsHQ and Twitter @SoccerCardsHQ or join our Facebook group @SoccerCardsHQ and join the hobby discussion.