2021-22 Panini Impeccable Premier League returns for the 3rd year of the set. Impeccable is one of the higher end yearly Panini soccer sets. Each box only features 8 cards but half of them are autos. The checklist increases to 150 from 100 but that is not nearly important in a product like this as other sets since you only get 1 base card and parallel per box.
2021-22 Panini Impeccable Premier League Soccer Breakdown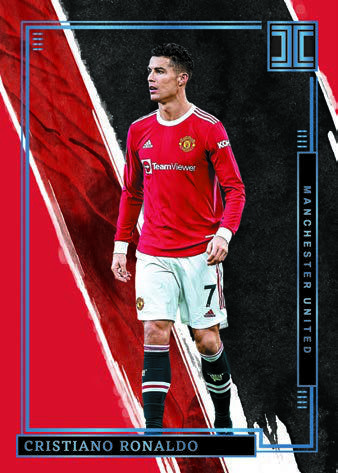 Checklist – HERE
Print Run – 8250 boxes based on base card breakdown of 1 per box. 320 FOTL boxes.
Box Makeup – 4 autos, 1 relic or auto, 1 relic, 1 base, 1 parallel and 1 insert.
True Rookies – Joe Gelhardt (Search Ebay), Michael Olise (Search Ebay), Jacob Ramsey (Search Ebay), Armando Broja (Search Ebay), Carney Chukwuemeka (Search Ebay)
Panini Rookies (have Topps card from previous years) – Gabriel Martinelli, Harvey Elliott
SCHQ Review – Impeccable is one of the few yearly soccer card sets recently to feature on-card autos which really helps the collector appeal. In a time when the market is flooded with sticker autos, on-card gets a deserved premium. Not all of the autos are on-card but this year Indelible Ink, Immortal Ink, Impeccable Club History Autographs, Impeccable Jersey Number, Canvas Creations and Impeccable Stats Autographs are. The sell sheet says 7 on the auto subsets are on-card but I have only seen 6 so far. Last year there were only roughly 1680 total on-card autos and this year if the numbers in the checklist are correct there will be over 11000. That means on average you should get over 1 per box. Of course, that still leaves on average 3 sticker autos per box. The big hit from last year's set was the Club History on-on card autos. Cristiano Ronaldo Club History autos have been going for 5 figures. The good news is there are 2471 Club History cards compared to 927 last year so they will be much easier to hit. The bad news is that CR7 was not included in the Club History set this year. He does get a Jersey Number auto card which should be in demand since there are only 7 of them. There are David Beckham Club History cards which should be quite popular and overall the increased checklist means better overall names than previous years. The true rookies in this year are better than last year which will help, but they aren't huge hobby favorites yet. The two biggest rookies, Harvey Elliot (Search Ebay) and Gabriel Martinelli (Search Ebay), aren't true rookies but they will have the RC shield. The two rookie auto subsets are terrible though. There are 240 extra Silver Set cards this year but Gold Set production stays the same.
Overall this 2021-22 is a better set than 2020-21. That being said FOTL boxes sold out at $1833 this year and $1333 last year if I remember correctly. That is way too big of a difference on such a risky box. 2020-21 hobby boxes (Search Ebay) sell now for roughly $1400 and 2021-22 presale prices are at $1800 plus. Maybe the big distributors tried to protect those prices and bought up the FOTL. The market right now does not dictate that it should be that high. If you have $1800 burning a hole in your pocket go but a case of 2021-22 Topps Chrome UEFA Lite (Search Ebay) or 2021-22 Topps Chrome Women's Champion's League (Search Ebay). While I don't like to give investment advice it's clear the average ROI on those two cases is much higher.
If you have any general questions just shoot a DM on Twitter @SoccerCardsHQ or IG @SoccerCardsHQ. Don't ask me who you should buy as I don't give that type of advice. You can join the FaceBook Group and ask others what they think. They will be happy to tell you. Just know they already have that player's cards. Check this out if you want to read about other Panini soccer cards.
*All Search on eBay links are Ebay affiliate links