2021-22 Topps Chrome UEFA Champions League Details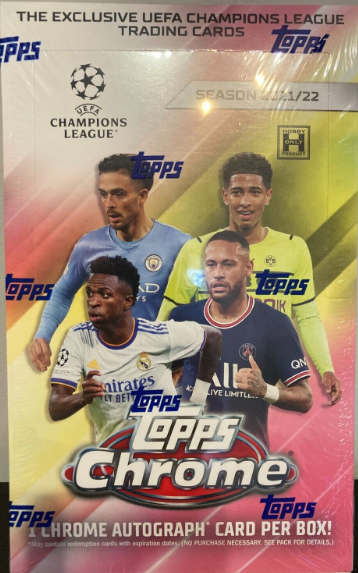 Topps Chrome UEFA Champions League is here and there is more of it than ever. The product has a bit watered down by so many variations of the same checklist being released. Even with that being the case Topps Chrome rookies are still one of the main chase cards in the hobby.
Checklist – HERE
Hobby Box Makeup (Search on eBay) – 18 packs/4 cards per pack, 6 Base refractors per box, 2 speckle refractors per box, 4 non base/speckle parallels per box (most are numbered but some aren't as you see in the checklist) 2717 actual numbered base card parallels for each player.
Lite Box Makeup (Search on eBay) – 16 pack/4 cards per pack, 4 Black/White Ray Wave per box, 2-3 non base refractors, 1 auto every 20 boxes.
Print Runs – Roughly 9000 cases of Hobby and 5000 cases of Lite
~4850 Base Refractors of each player
~1080 Speckle Refractor (Hobby Only)
~1600 Black/White Ray Wave (Lite Only)
Unnumbered parallels are only in hobby boxes. These are the approximate print runs. Could be 1 more or less.
Base
Purple/Gold Starball – 263
Aqua Lava – 67
Blue Lava – 53
Neon Green Lava – 45
Gold Lava – 38
Orange/Gold Starball – 33
Red/Gold Starball – 30
Chasing Glory
Gold Lava ~125
Orange Lava ~42
Future Stars
Gold Lava ~169
Orange Lava ~56
Golazo
Gold Lava ~250
Orange Lava ~85
Legend Variation
Base ~300
Gold Lava ~500
Orange Lava ~169
Rookie Breakdown – HERE
SCHQ Review – If you have bought any of the previous 21/22 Topps UCL products so far like Flagship or Jade this is mostly the same checklist. There are some new rookies who you will see in the Rookie Breakdown above. As you probably know by now the checklist has expanded to 200 this year up from 100 in previous years. There are 29 "numbered" parallels up from 22 in 20/21 (Search on eBay) and 15 in 2019/20 (Search on eBay). I put "numbered" in parenthesis as not all are actually numbered but the print runs can be calculated based on pack odds. That is the reason for the huge jump in print runs from previous years. The print runs are over double last year and almost at 10 times 2019/20 (Search on eBay). There are roughly 3,200,000 packs in 2021/2022, 1,300,000 in 2020/2021 and 325,000 in 2019/20. There are 2717 numbered cards per player compared to 1962 last year and 670 in 2019/20. This doesn't include all the unnumbered parallels. These numbers make scare you but read why this is not another Junk Wax Era.
The biggest difference between this year and last year is the introduction of Lite boxes and not having blaster boxes. If you are trying to choose between Lite and Hobby this is what you need to consider. Each Hobby box has an auto while roughly 1 in 20 Lite boxes have an auto. All Lite box autos are unnumbered Black/White Ray Wave autos. It does not appear that you can hit numbered autos in Lite. Lite boxes have roughly 2/3 of the non Hobby exclusive parallels and fall between 2-3 per box. Right now Lite boxes are about half the price of Hobby boxes so if you buy two Lite boxes you should get about 5 color compared to 4 in Hobby. You also have a better chance of hitting the lower number parallels in Lite. Just so you understand, there are between 17-18 of the orange parallel in roughly 80,000 Lite boxes. There are 7-8 orange parallels in the roughly 108,000 Hobby boxes. Basically if you are chasing low number parallels buy Lite. If autos are important to you then you should buy Hobby.
The Hobby box makeup of four parallels is similar this year as last year but keep the huge print run increase in mind when buying boxes. Last year's rookie checklist is considered better and you had a much better chance hitting the rookies because of the 100 card checklist. Currently last year's boxes are selling in the $375 range (Search on eBay) and this year in the $265 range on Ebay (Search on eBay). The big sites are trying to get more. I would rather buy last year right now but if you can only afford a Lite box I don't think that is a terrible buy at $130 (Search on eBay). Buy what you like. This is not meant to be investment advice. It's just meant to help you have an idea of what you are buying before you buy.
*All Search on eBay links go to Ebay
If you have any questions just shoot a DM on Twitter @SoccerCardsHQ or IG @SoccerCardsHQ You can also join the FaceBook Groupp and ask questions.
Check out this break of a hobby and lite break. It is not in English but it does provide a good side by side comparison.

Pack Odds – Lite on top, hobby on bottom. Very hard to see but best I have right now.