"What is Mbappe's rookie?" is a question I have seen many times in the hobby. The answer you get will likely change depending on where the person you are asking is from. Today I will give you my thoughts and why Mbappe rookies divide the hobby more than any player. The timing of his rookie year the 2015/2016 season is what makes it so interesting as he was the first huge player to come after "premium" cards such as Select (2015), Prizm (2014) and Topps Chrome (2017) entered the soccer card hobby. What makes it so debatable is that his only "true rookie" is a sticker that it predated his cards by a year. There is a division in the hobby on the relevance that stickers should hold. Stickers by and large are a very non-American thing, but as of today Americans are still the majority of the soccer card hobby. There is also the problem of the RC stamp not being used in the hobby at the time of his first cards. He does have one card with an RC but that came in his 3rd year just to really add confusion. We will talk about that more below. Here is a breakdown of all of his early stuff and ultimately you can decide what you want to collect. That is the beauty, and the beast if you will of the soccer card hobby that most other sports don't have.
Mbappe Rookie Sticker
2016 Panini Foot (Search on eBay)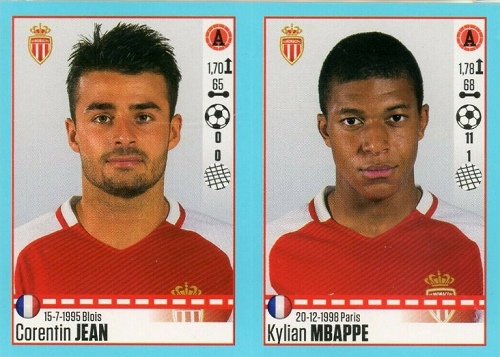 First let's talk about the positives the sticker has going for it. There is no debate that the 2016 Panini Foot sticker is Mbappe's first card or sticker. Nothing else came out in the 2016 release year. He is also in his Monaco kit which is his first team. He first burst on the scene leading Monaco to the Champions League semifinals so there is history there. Because of that run in the future people will know of his time at Monaco which I think matters. In soccer most older players only have rookie stickers. For people that go by a player's first release being his rookie they will want the sticker. If you also believe that the hobby is growing outside of America then the sticker should gain in relevance.
Now let's get into why the sticker is not universally loved. Not only is it a sticker, it is a double player horizontal sticker which are two things that some people don't like. Americans also don't have an affinity for stickers because they did not grow up collecting them. There are no parallels for stickers so there aren't better ones to chase. It has a lot going against it for some collectors and that is the reason it is ignored by some.
At the time of this writing there are 1125 grade at PSA with 171 10s which in the grand scheme of things is pretty rare if you believe the hobby is growing. Mbappe does have a Topps sticker in a Monaco kit but it is a 2017 release which means it did not predate his cards like the Foot sticker does.
Mbappe Rookie Cards
2017 Panini Adrenalyn (Search on eBay)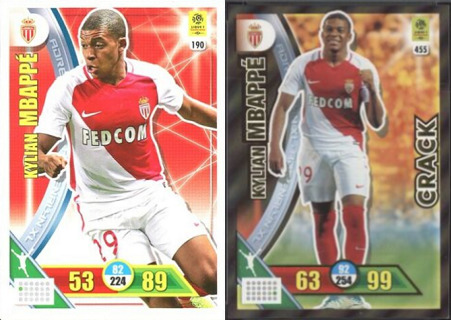 Mbappe only has two rookie cards in a Monaco kit and they are both in 2017 Panini Adrenalyn. That should mean these cards are very sought after right? Not exactly. They have a similar problem to stickers and that is that some people don't consider them real cards. Adrenalyn is a "game card" or "kids card" which some people in the hobby don't recognize as being legit despite the fact they come in packs of cards in a box. I am personally in the camp of if the card is licensed especially from Topps or Panini, meant to be collected, and come in pack form then then it is "legit". I don't care if there is another reason that they exist, which in this case is to play a game. This was also the first set released of Mbappe if that is something that matters to you.
The biggest detractor to me they have going for them is that they are heavily produced. Match Attax is actually the most produced trading card in the world. With them being so produced condition rarity matters to me. The good news is since most of them are opened and played with it's hard to find 10's. In fact right now there are zero PSA 10s and only 1 PSA 9 of card #190 (Search on eBay). There are 15 PSA 10s of card #455 and it currently gems at only 8%. That means there are only 15 total PSA 10 of Mbappe rookie cards in a Monaco kit and there will be more but I don't think there will be a flood of 10s to blow up the PSA 10 pop report. In full disclosure I do own one of the PSA 10s and if a PSA 10 of card #190 comes to market I will hopefully get that as well. I feel that if the hobby does grow in Europe those collectors will desire these cards since they were more likely to grow up collecting them. There will be sentimental value which does seem to matter in the hobby.
There are actually two other Mbappe cards in this set but both of them are of him in a PSG kit. One of them is card #527. Since he is in a PSG kit it does not appeal to me as much. The other one does and I will explain why below.
2017 Adrenalyn Edition Limitee (Search on eBay)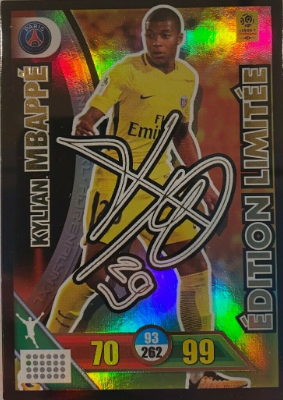 The 4th Mbappe card released in 2017 Adrenalyn is what I refer to as the Unkown Mbappe Rookie Card. It is an unnumbered card that was available in special collector boxes. The card was loose in the box meaning it slid around. So not only was it limited it was unlikely to come out of the box a 10 even if you opened it and put it directly in a top loader. As of right now there are only 7 graded at PSA with the highest being an 8. I have been searching online for years for one that I feel could be a 9 or 10 and I have not had any luck.
I would say a majority of collectors have never seen this card. I have posted it a couple times on SoccerCardsHQ social accounts and each time I get people asking what set it is. It is also pretty unique in that it has a facsimile auto on it. For most cards that would be cheesy, but since Mbappe doesn't sign autos on cards yet, it has some appeal. This card won't be for everyone, but I think it is cool.
Premium Mbappe Rookie Cards
2017/18 Topps Chrome UCL #41 (Search on eBay)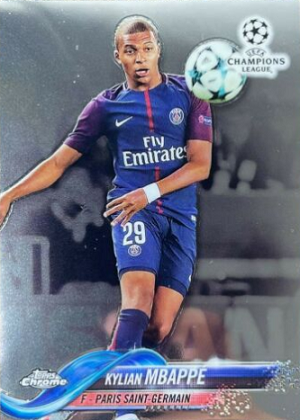 If you asked people what they would consider to be Mbappe's rookie card Topps Chrome #41 would be the answer. While his Select cards were released first, Chrome has more brand value than Select. 2017/18 Topps Chrome is also an iconic soccer set as it was the first year of Topps Chrome. As of today there are 902 PSA 10s which is by far the most of his 2017 cards. There were roughly 16500 of this card produced which is quite low when compared to other sports or even soccer rookies that came after Mbappe as you can see in our Junk Wax 2.0 article. There are parallels in 2017 Topps Chrome and they are beloved by collectors. As you can imaging Mbappe numbered cards are very expensive.
2017/18 Topps Chrome Future Stars and Lightning Strike (Search on eBay)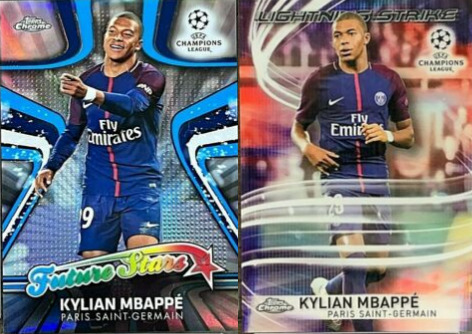 Both of these cards were subsets in 2017 Topps Chrome. There were about 4000 Future Stars cards made and 3600 Lightning Strikes. Both cards have numbered versions of Gold /50, Red /10 and Superfractor 1/1. If you are looking for cheaper options of Mbappe rookies from 2017 Topps Chrome these go for less than the base. The numbered subset cards are also pretty "cheap" compared to their numbered base card counterparts.
2017 Select #224 (Search on eBay)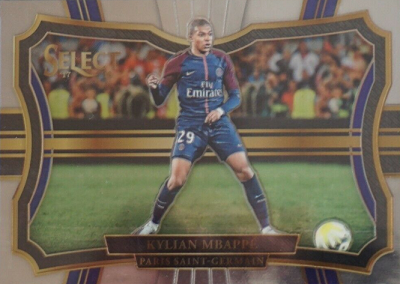 This card was actually the first premium Mbappe card released but it does not get quite the respect of the Topps Chrome. This was the 3rd year Select was produced which probably plays a part along with Select not having the clout of Topps Chrome even though it is a chromium card. Mbappe was only included in the Field Level portion of the set which makes this card a tough pull from boxes. Thanks to Panini not providing pack odds, the print run cannot be determined. It is certainly more rare than the Topps Chrome. As of today there are only 103 PSA 10s and 291 total graded by PSA. There are parallels of this card as well which can get quite pricey. When considering pop counts this appears to be better value than the Topps Chrome but as mentioned it does not have nearly the clout.
2017 Select Unlimited Potential (Search on eBay)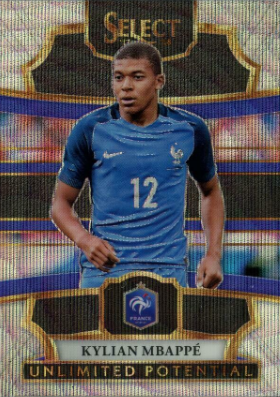 This card is from a subset in 2017 Select. It is the first card of Mbappe in a France kit. Many people wrongly believe that his 2018 World Cup Prizm is his first France card. The pop count on these right now is 195 which is actually higher than the base card but that is in large part because it grades so well. There are parallels of this card as well Camo /20, Gold /10, Green /5, Black /1.
2017 Topps Museum UCL #31 (Search on eBay)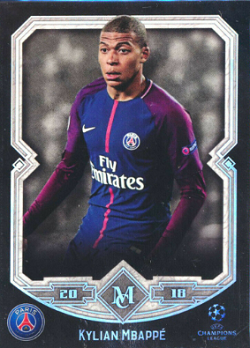 If the Adrenalyn Editon Limitee is the most unknown Mbappe rookie card, I would say the Topps Museum is the most overlooked. These were the last released Mbappe cards and Topps Museum doesn't get a lot of hobby love. You can come to your own judgements of why that is. There are only 5 PSA 10s and a total of 37 graded right now. There are parallels of these as well.
I want to point out something for the analytical crew about these 5 cards. Here are the current PSA 10 pop counts and roughly what they sell for right now. All cards are not created equal but just something to think about. I also think this will be cool to come back and look at as time goes on.
Topps Chrome Base 902/$400-$500
Topps Chrome Future Stars 396/$300-$400
Topps Chrome Lightning Strike 349/$150-$225
Select Base 103/$800-$900
Select Unlimited Potential 195/$100-$1200
Topps Museum – There hasn't been a recent PSA 10 sale but a PSA 9 (pop 22) sold for $330 back In March.
2018 Mbappe Cards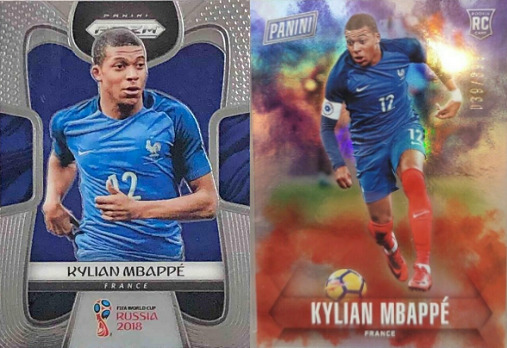 Let me just get this out of the way. I do not consider any 2018 Mbappe cards to be rookies. If you are a 1st Prizm believer than the World Cup Prizm is a card you can collect. World Cup Prizm is an iconic set since it only comes out every 4 years of course. It certainly has it's place in the hobby but to call it a rookie is not something I am willing to do. Mbappe is also in the 2018 Donruss World Cup set. There was a time when those were being pushed as rookies as well.
Finally, there is the only Mbappe card that has a RC logo. As if there wasn't enough confusion Panini decided to go full LOL and put the RC logo on the 2018 Fathers Day card. The Fathers Day cards are limited to 399 and they look stunning. They are incredible cards but they are not rookies.
As always content on SoccerCardsHQ is meant to be informative but in no way investment advice. Collect what you like and invest in the things you think are undervalued. If you have any questions just follow and shoot a DM on Twitter @SoccerCardsHQ or IG @SoccerCardsHQ You can also join the FaceBook Groupp and ask questions.
**All Search on eBay links go to eBay.