2021-22 Topps Merlin Chrome is here for it's second year and once again it has Topps best checklist of the year. This is largely due to the fact that this is the only Chrome set of the year that Topps uses the Europa and Conference League licenses. This gives the product new and more important rookies that only have cards in this product. Let's take a look at what you can expect in this year's product.
2021-22 Topps Merlin Chrome UEFA Details
Checklist – HERE
Hobby Box Makeup (Search On Ebay) – ~3 numbered parallels per hobby box, 6 base refractors, 1 auto. Should be 1 Renaissance and 1 Match Ball Auto per case (though not guaranteed)
Blaster Box Makeup (Buy On Ebay) – ~1 numbered parallel, ~1:20 autos, ~1:40 Renaissance, No Match Ball Autos
Print Runs – ~3800 hobby cases plus ~135,000 blaster boxes, 1842 # per base card, ~400 base Renaissance, ~100 Rookie Image Variation base, ~2700 Aqua Prism base, ~3600 base refractors each
Rookie Breakdown – The rookies in here are one of the thing that differentiates this product from all the other Topps UEFA releases this year. There are players in here that will have their only rookies of the year. Some have loads of potential. You can read more in the 2021-22 Merlin Chrome Rookie Breakdown  For the rookies not in there check the 2021-22 Topps UEFA Rookie Breakdown we did earlier this year.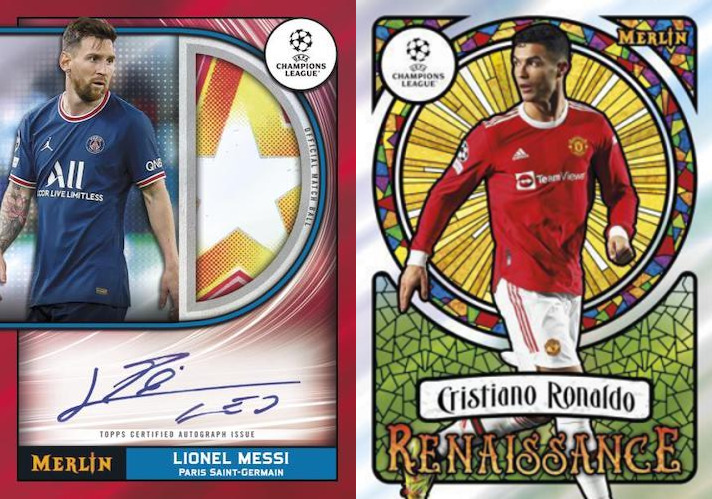 SCHQ Review – Merlin Chrome is here for it's second year and once again it has Topps best checklist of the year. Flagship Chrome will always get the hobby love but make no mistakes about it this is a better product. The checklist is only 150 cards compared to 200. Merlin Chrome has pretty much all the top rookies that UEFA Chrome has plus a bunch of new ones. This means you have a better chance at hitting rookies that matter which is what drives a lot of product value. Read the Rookie Breakdown above to get a better idea of who to look for.
Topps also introduced two new "case hit" inserts, Match Ball Autos (Buy On Ebay) and Renaissance (Buy On Ebay). Case hit is in quotes because there have already been reports of cases without them. let's hope this is a small % and likely there will be a few with 2 of them to make up for it. Renaissance is clearly a knock off of Panini Stained Glass but I think they look just as good if not better and many seem to agree. The Match Ball Autos are the first memorabilia auto card in a Topps Chrome UEFA release and they look great as well. There are going to be quality issues with them like there are with most memorabilia cards because they are thicker.
Topps released blaster boxes in England this year. I think that could really help this product. Merlin is a known brand in Europe so it already had that going for it. The blasters were reasonably priced so that people could open them without breaking the bank or reselling them to make a little profit. Hopefully both of those things will garner more interest in the hobby. It anything it should create more demand for this Merlin Chrome since it was easier access than having to buy in from the US. The blasters should have 1 numbered card with a 1 in 20 chance for an auto and 1 in 40 chance for a Renaissance. If you can get a blast for $25-$30 at the store they are buys in my opinion. In the $50-$60 range the value is a little stretched and I would probably go with 2020-21 blasters (Buy On Ebay) at the same price.
Boxes are currently selling in the $250 range. I don't think in the current market they are going to shoot up but I don't think we will see them fall off a cliff like most of the other 2021-22 products. The added rookies make this somewhat comparable to the 2020-21 Topps rookie class. Some people might think that is a bit of a reach. As with all rookies only time will tell. 2021-22 Topps Chrome UEFA boxes (Buy On Ebay) are selling for around $200 and I would rather have this box for $250. I think the potential case hits and additional rookies are worth that premium. There are also other little things like the Image Variations in Merlin being rookies and not veterans like in Flagship Chrome. People that swear by Topps Chrome being king (it currently is) may have a different opinion which is the better value. With 2020-21 Merlin Chrome boxes (Buy On Ebay) selling for $300 I think these are a reasonable comparison at $250 because of the case hits. If Topps keeps the Merlin Chrome product going and keeps it as the only set with Europa and Conference League teams it's likely always going to be the checklist of the year. Eventually that could matter as more and more players have their only premium rookie card in Merlin Chrome. As with ripping any product you are likely to not pull the value of cost of the box. The purpose of all the breakdowns is to make you a better informed buyer not to give you investment advice.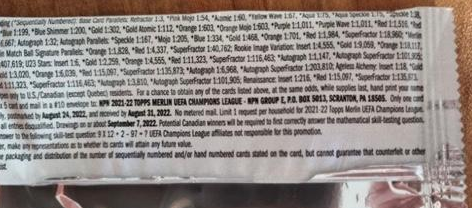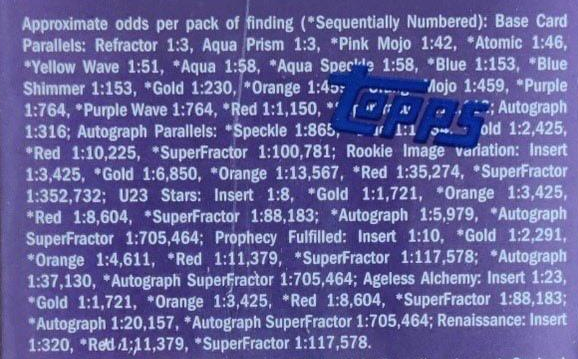 2021-22 Topps Merlin Chrome Blaster Odds
If you have any questions just shoot a DM on Twitter @SoccerCardsHQ or IG @SoccerCardsHQ You can also join the FaceBook Group and ask questions.
*All Search on eBay links are Ebay affiliate links