The 2021-22 Topps Merlin Chrome (Buy on Ebay) rookie class is a bit different that the same UEFA Champions League checklist that has been used for way too many releases this year. This is because Merlin Chrome includes teams from the Europa and the Europa Conference League. That opens up quite a few new teams that Topps can put in for this product. For that reason Merlin Chrome is the best 2021-22 Topps checklist of the year. I also think it was the best 2020-21 checklist (Buy On Ebay) as well for that reason. With print runs getting out of control it will do wonders for any of the Merlin Chrome only rookies that have a good career. Since Merlin Chrome is coming at the end of the 2021-22 product cycle this should be it for these guys. With that being the case you are talking about having only 1842 base color refractor cards compared to 10's of thousands for players in the Champions League sets like Gavi and Cole Palmer. There are a couple of young players in here that have loads of potential so let's break them down.
2021-22 Merlin Chrome will have a lot of the big Champions League rookies as well but you can read more about them HERE. Like with that list this list will only feature players that are likely to have hobby relevance. That means defensive players will only have name, age and position. The list is in the order they show in the checklist.
Here is the full 2021-22 Topps Merlin Chrome Review.
2021-22 Topps Merlin Chrome Rookie Breakdown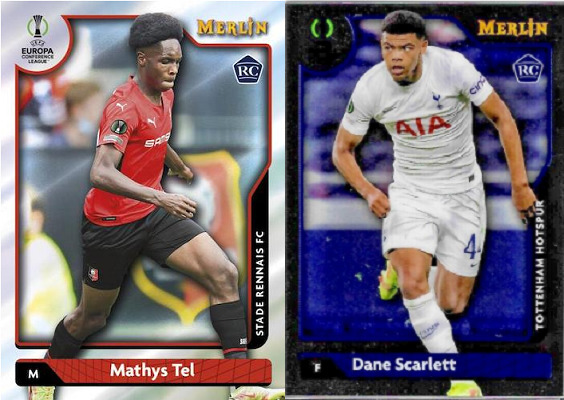 Alessandro Zanoli – 21 year old Defender – Napoli
Lesley Ugochukwu – 18 year old Defensive Midfielder – Stade Rennais
Myron Boadu – 21 year old Forward – Monaco (Buy On eBay)
Boadu is a Dutch forward that burst onto the scene at 17 with 5 goal involvements in 8 games in the Eredivisie. At 18 he finished 1 goal off being top scorer in the league. He has been injured so far this year. For this reason he may fly under the radar a bit at release. He is close to coming back though. He's one to keep an eye on.
Aurelien Tchouameni – 22 year old Center/Defensive Midfielder – Monaco (now on Real Madrid) (Buy On Ebay)
I normally wouldn't highlight a defensive mid but Tchouameni is likely to be a hot hobby name. He got a big transfer this summer to Real Madrid which has put him on the hobby radar. He had cards in Obsidian as well as some of the on demand Topps sets so he will have more rookie cards than most on this list. He also has a Panini sticker back in 2018-19 Panini Foot. He is a special talent but bot-to-box mids rarely get long term sustained hobby value.
Mathys Tel – 17 year old Forward Stade Rennais (Now Bayern Munich) (Buy On Ebay)
Mathys Tel is one of the great young forwards in all of soccer. That is why Bayern Munich paid up to 30 million for a 17 year old. If this product would have come out on any of it's original release dates you may have been able to get a good deal on Tel. He has been a known prospect to the football world but not someone the casual fan would have known. That all changed when he scored his first goal this weekend and became Bayern's youngest goal scorer ever. There were lots of posts on social media about him so expect him to be a chase. He is not going to put up eye popping numbers playing at Bayern like he would on other teams. The fact that he is getting time as a 17 year old at Bayern should tell you how special he is. This column is not meant to give investment advice but for my money I would rather have Tel rookies than Gavi.
Jon Pacheco – 21 year old Defender – Real Sociedad
Malo Gusto – 19 year old Defender – Lyon
Oliver Skipp – 21 year old Defensive Midfielder – Tottenham Hotspur
Eliot Matazo – 20 year old Central/Defensive Midfielder – Monaco
Luka Romero – 17 year old Winger/Attacking Midfielder – Lazio (Buy On Ebay)
Luka is an Argentinian, though he was born in Mexico, attacking player who is the youngest player in Lazio history. He made 8 appearances last year but has yet to make an appearance this year. Considering he is still only 17 that is not that surprising. He likely won't be a hobby darling because of his lack of time but he is the type of player that could break out in a few years.
Benoît Badiashile – 21 year old Defender – Moncao
Ebrima Darboe – 21 year old Defensive Midfielder – Roma
Karamoko Dembele – 19 year old Winger – Celtic (Now Brest) (Buy on Ebay)
Karamoko is a former Wonderkid who's career so far has not lived up to the early hype. His star has fallen so far he went to Brest on a free transfer. He is still only 19 so there is still plenty of time but he is a cautionary tale of early hype not always coming to fruition. He does have cards in the Topps Chrome SPFL set as well.
Harvey Vale – 18 year old Attack Midfielder – Chelsea (Buy On Ebay)
Unlike most players on this list Vale plays for a Champions League team. Topps did not put him in any of the previous Champions League products though. He was the Chelsea Academy Player Of The Year last season. He's currently on loan to Hull City so there probably won't be much hobby hype for now.
Vanderson – 21 year old Defender – Monaco
Kamaldeen Sulemana – 20 year old Winger – Stade Rennais (Buy On Ebay)
The Ghanaian winger had a decent season last year for Rennes and is a promising talent. Rennes is a club that scouts really well but their young players ever put up huge numbers as they have older players that get most of the time. Tel already has more minutes at goals at Bayern than he did at Rennes last year. Sulemana will likely be one of those players that will get a move to a bigger squad and that is when his prices will go up. He will also likely be at the World Cup where he could make a potential splash.
Felix Afena-Gyan – 19 year old Forward – Roma (Buy On Ebay)
Afena-Gyan burst onto the scene last season when he scored a brace against genoa which led Jose Mourinho to buy him new sneakers. That moment went viral but it's been very quiet for Felix since then. He has not scored another goal and he transferred to Cremonese this summer. A 19 year old playing on a newly promoted team looking to avoid relegation is not a good recipe for hobby success. Like Sulemana he will likely be at the World Cup with Ghana would could provide a moment to gain hobby hype.
Ilias Akhomach – 18 year old Winger – Barcelona (Buy On Ebay)
Another player on a Champions League team that gets his first rookie in Merlin Chrome. Ilias doesn't get much run with the senior squad because they are loaded on the wing right now. He does pretty well against other youth players and is especially known for his dribbling. He is likely a few years or a transfer away from making a hobby impact.
Dane Scarlett – 18 year old Forward – Tottenham Hotspur (Buy On Ebay)
Dane is considered one of the best young English attacking players. Spurs loaned him to Portsmouth to ensure he gets game time this season. He has already scored 3 goals in 4 starts. He has also scored 12 goals in 14 games for the English U-19 team. You will have a to wait a few years for him to make a potential hobby impact but he is considered by many to have an extremely bright future. He is a player that I think will be hot on release and his prices fall as the season goes on. Depending on his next move they could think really go up. That could be said for a lot of these hyped guys honestly.
Chrislain Matsima – 20 year old Defender – Monaco (now Lorient)
Loum Tchaouna – 18 year old Forward – Stade Rennais (Buy On Ebay)
Loum is another one of the Rennes youngsters that make this product have lots of future potential. He has not done much in senior football but he did win lead the U-19 Euros this summer in goals. He's currently on loan to Ligue 2 Dijon so you won't be hearing much about him this season.
*Noni Madueke – 20 year old Winger – PSV (Buy On Ebay)
Noni only has an auto in this set but it does have an RC. He has a couple of on demand cards as well as a Panini Score but these autos will be go to cards if he pops off. He is currently injured so there won't be a lot of hobby hype around him. He is a super talented winger for PSV and English so once healthy that could change. He has already had a couple of good seasons at PSV considering his age. Bigger teams are looking at him possibly for January transfer so that could boost his hobby value as well.
**Rayan Cherki – 18 years old Attacking Midfielder – Lyon (Buy On Ebay)
I am putting this in even though it won't have an RC. Cherki has a Topps Now card from 2019 (Buy On Ebay) that will be the reason he doesn't have the RC, the Topps Now doesn't have a RC either. This is his first hobby release card. As we saw with Florian Wirtz when he was in a similar position this cards should be desired if Cherki because a hobby favorite.
If you have any questions just shoot a DM on Twitter @SoccerCardsHQ or IG @SoccerCardsHQ You can also join the FaceBook Groupp and ask questions.