2021-22 Topps Stadium Club Chrome UEFA Champions League is back for the 2nd year of the set. Stadium Club is lauded as having the best photography of any soccer card set. The cards don't have a defined border and feature unique shots of players which is especially needed now that Topps has made so many versions of the same checklist and shots with the other 2021-22 Topps UEFA soccer products. Stadium Club is usually split between collectors that love the aesthetic and some of the quirky pictures, and those those don't give it much attention because it doesn't provide as good of resale value as some other sets. This year's set brings back an old beloved Topps insert, Beam Team, from 1992. More on that in the review below.
2021-22 Topps Stadium Club Chrome UEFA Champions League Details
Checklist – HERE
Hobby Box Makeup (Search On Ebay) – ~3 numbered parallels per hobby box, ~3.5 base refractors, 1 auto.
Mega Box Makeup – 10 packs, ~1 numbered parallel, 2 base refractors, 1 auto every 20 boxes, No chance at Beam Team
Print Runs – ~2350 hobby cases plus ~67,000 Mega boxes
50,000+ base cards, 1368 # per base card, ~280 Pink/Red Hobby exclusive parallels per base card, ~250 base Beam Team, ~2650 Blue Mega exclusive parallels
Rookie Breakdown – The rookies are mostly the same that have been used in the Topps UCL products this year. There is one new interesting introduction in this set and that is Salzburg forward Junior Adamu. He was in the Salzburg Premium Chrome set so he does have a Chrome card but this is his first hobby release card. You can cross reference the checklist to this Topps UEFA Rookie Breakdown we did earlier this year. The chases as of now are Gavi, Benjamin Sesko and Jonathan David to name a few.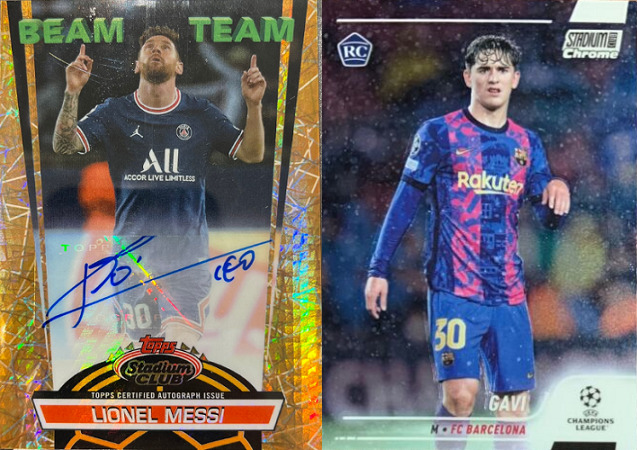 SCHQ Review – 2021-22 Topps Stadium Club Chrome (Search On Ebay) is going to be one of the most confusing sets of the year for most purely soccer collectors. If you have no preconceived notions about the Stadium Club brand the aesthetic doesn't match the perceived value as mentioned above. In my opinion that relates back to Stadium Club's standing in the baseball card set pecking order. Others may have a different opinion there. This is the first year they have retail of Stadium Club for soccer so more people will be introduced to the set. That could help the value of the brand.
The reason this year is going to be lead to even more debate is because of the Beam Team (Search On Ebay) inserts. For American collectors that were around in 1992 the Beam Team basketball, and to a lesser extent other sports, was an iconic insert. Remember 1992 was still the Junk Wax Era so cards were mostly boring. Beam Teams back then were very futuristic. Now like most things that were futuristic in 1992 they are seen as old and outdated. For full disclosure I am one of those collectors that absolutely loved them as a kid in 1992. For that reason these Beam Team cards are very nostalgic and something I want. If you are a newer collector or don't card about the nostalgia the design probably won't appeal to you. I do believe a lot of the value in the hobby boxes come from Beam Teams since on average you should get at least 1 base and 1 auto in a case. They have color parallels of each as well which should get good value because there are enough people like me that will want them. Another nice insert in the set is Championship Contributions. It is getting favorable feedback for the design. The color parallels of these look pretty good. 
As for the rest of the set you are going to be seeing a lot of the same players you have seen in the other 2021-22 Topps UEFA Champions League sets this year. The good news with this one is that it's only a 100 card checklist and you get 108 cards per box. There are 21 RC which is about half of what was in the Topps Chrome 200 card set. The good news is they still got most of the big chase rookies in this so they will be easier to hit. One complaint I have seen is that the color parallels don't pop as much as last year. Some are hard to decipher. This could affect future value. That is a shame because that was a strong point of the 2020-21 Stadium Club Chrome set (Search On Ebay). For me at $200 a hobby box it's a fair price, but again that is because I am a Beam Team fan. With there being no chance at Beam Team in Megas plus there only being 1 auto in every 20 boxes the comparative value should be 5+ Megas per Hobby. If Beam Teams do nothing for you then you should save your money for Merlin Chrome (Search On Ebay) which will be out next week.
If you have any questions just shoot a DM on Twitter @SoccerCardsHQ or IG @SoccerCardsHQ You can also join the FaceBook Groupp and ask questions.
*All Search on eBay links are Ebay affiliate links