Dejan Kulusevski is a Swedish winger that has been a revelation since getting a loan to Tottenham in January. It proved to be well worth the €10 million fee for Spurs. Dejan provided a spark that ended with Spurs qualifying for the 2022-23 Champions League. Dejan has started off this season right where he left off last season. If you have tried to find his rookies now that he is a hobby darling, you have probably found them hard to come by. That is because they are very rare when compared to other up-and-coming superstars.
Dejan Kulusevski Rookie Cards
Dejan only has 2 rookie cards and they both come from 2019-20 Panini Chronicles Soccer. He is featured in the Serie A XR checklist (Search On eBay) and the Pitch Kings Rookies. He is featured in his Parma Calcio kit in both cards. His one season at Parma was a good one with 18 goal contributions which helped him get these cards. Topps tried to be cute by sticking an RC on his 2020-21 Aoki Neon Futures card but that is clearly not a rookie. It is a full year after the Chronicles, he's in a Juventus kit and well it's Aoki. Topps also did not put a RC on any of his other 2020-21 cards so you know they don't even believe. I do give them credit though. Panini would have put a RC on all of them and many people would have been fooled into believing they are rookies like has happened with numerous players.
For his XR cards he has a base card, unnumbered Green (hobby) and Orange (cello) parallels and a total of 160 numbered parallels. Those are Red /99, Blue /50, Gold /10 and Purple /1. If you check out the Pop Report you will see that finding a numbered PSA 10 is next to impossible as he only has 1 currently and that is a Gold. There are 9 Blues graded and 13 Red with 22 of the 23 being PSA 9s. Rookies in 2021-22 class could have over 16000 numbered cards. Kulusevski has 1% of that. That is what will make these cards so valuable should he continue on this path to world class superstar.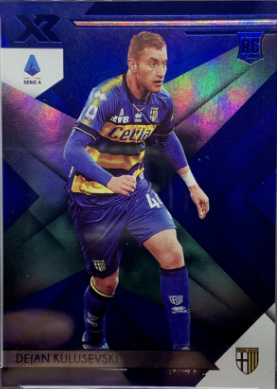 His Pitch Kings (Search On eBay) are not numbered and are pretty rare themselves. Right now he only has 25 total graded (Pop Report) with 5 of them being PSA 10s. I am sure that these pop reports will increase as he gets more popular. I am just not sure many people sleeved his cards when ripping so who knows how many 10s there will be. I do think the Pitch Kings rookies from this set get overlooked. Even popular guys like Fati and Mason Mount only have 80 graded. As of writing this there is only one Pitch Kings listing on eBay. I know people tend to not care much about unnumbered cards, but these are much rarer than they get credit for in my opinion.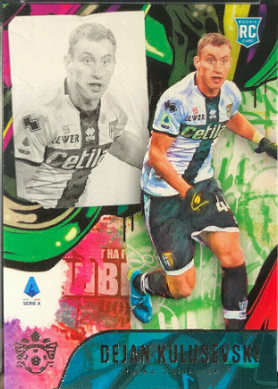 I am going on a bit of a tangent here, but I think it is important. When 2019-20 Chronicles came out it was a fairly hyped product because it has a lot of rookies. The interesting part is that a lot of the rookies that are popular now weren't so then with Kulusevski being one of them. Out of the 3 mini boxes the Serie A ones were the least popular by far. Premier League had Mason Greenwood, Mason Mount and Tammy Abraham to name a few. La Liga had Ansu Fati, Ferran Torres and Frenkie de Jong among others. Now the Serie A list has a few of the biggest stars in Kulusevski, Dusan Vlahovic and Rafael Leao. Just wanted to point that out to show how value can come many years down the road with young prospects. Most people these days seem to give up on products if there aren't any hot rookies currently.
Dejan Kulusevski Rookie Sticker
Kulusevski has only 1 rookie sticker and that is from 2019 Panini Calciatori (Search On eBay). He currently only has 29 graded with 10 PSA 10s. As we have seen with other stickers a low pop now does not mean a low pop in the future. Panini makes plenty of stickers. You can take a look and see how many stickers he has listed on eBay right now compared to cards to see what I mean. That doesn't mean that these won't have value in the future. You are just probably better off waiting for the pop reports to increase or trying to find what appear to be clean raw ones. There are a couple unlicensed stickers as well, but I would avoid those. He also has a 2019 Adrenalyn which could be interesting in the future. They are plentiful like stickers but tend to be in worse condition because they are handled more. High grade ones could have some value depending how game cards are viewed in the future.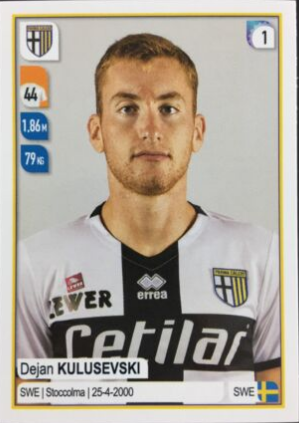 If you have any questions just shoot a DM on Twitter @SoccerCardsHQ or IG @SoccerCardsHQ You can also join the FaceBook Group and ask questions.
*All Search on eBay links are Ebay affiliate links