2021-22 Topps Finest Bundesliga Details
2021-22 Topps Finest Bundesliga is here and there is more of it than ever. Granted it's only the second year of the product, but that is a common with Topps sets this year. There really is not a need for this many Bundesliga products in the market. I am going to be honest I did not have a lot of inspiration for this review so I am leaning on the numbers of Card Geek. By the way even though my initial excitement wasn't there, after seeing the box breakdown the product is interesting. Let's break it down.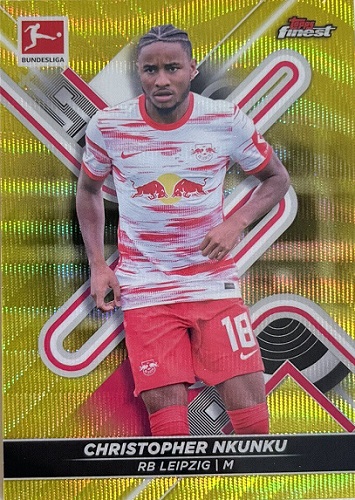 Checklist – HERE
Hobby (Master) Box Makeup (Search On Ebay) – ~10 numbered parallels per master box, 4 base refractors, 2 autos.
Print Runs – ~4900 cases, 470,000 packs, 2879 # refractor for each base card, ~9500 base and ~1050 base refractors.
Rookie Breakdown – You can read about most of the rookies which were detailed in the paper set review HERE Brian Brobbey did not make this product which hurts a bit as he was one of the few possible rookies that has performed so far. Granted it wasn't in the Bundesliga. Finest does have the first hobby base card of Gabriel Vidovic. He has previously only had a Future Stars and Topps Now card. As you hopefully know by now the once hot Bundesliga rookie card of Sidney Raebiger is no longer a chase as he is struggling to get off the bench at Greuther Fürth. That doesn't mean his career is done by any means. He is still very young and was always going to take time to possible reach his potential. There is also a RC on Donyell Malen but he has earlier more desirable cards.
SCHQ Review – There is way too much of this printed for what it is as I have said about most 2021-22 products. That said this is by far the most color parallels Topps has put in a product this year. They average about one per pack. Let's hope they finally realize they printed too much this year and the plan going forward is to stuff boxes with color. It would make ripping products much more fun. The auto checklist is 100 cards, which is ridiculous. It does have most of the current Bundesliga superstars so that is good and provide a chase. The problem is you have a much better chance of hitting a guy you have never heard of, unless you are a big Bundesliga fan, than one of those superstars.
This product is not going to get a ton of hype. Even with last year's rookie class Finest Bundesliga was not on the top of anyone's priority list. There are just too many checklists with the same guys for the market to sustain interest in all of them. That doesn't mean it can't be a good product down the road. I have been getting some positive feedback on the design and the parallels. It is certainly better than the Saved By The Bell inspired Finest UEFA design. Like all sets the success of Finest will be determined by the rookies. Especially Gabriel Vidovic (Search On Ebay) since this is his first and maybe only base card of the year and Paul Wanner since he was only in Chrome Bundesliga. The problem is both are on a stacked Bayern Munich team and won't get much time this year so these boxes will suffer. Also, before I could even write this the Erling Haaland base Superfractor (See On Ebay) has been pulled so one of the biggest chases is gone. With all that said at least it's cheaper than every other Finest soccer box out there at $75 Hobby (Master) box (Search On Ebay). 2021-22 Topps Chrome Bundesliga box prices (Search On Ebay) have fallen off a cliff so these can and probably will fall even more if you wait a week. I wouldn't say these are screaming bargains by any means but there are much worse value boxes from this year considering the amount of color in each box. After all the price of 2021-21 Chrome UCL blasters are about the same as the current price.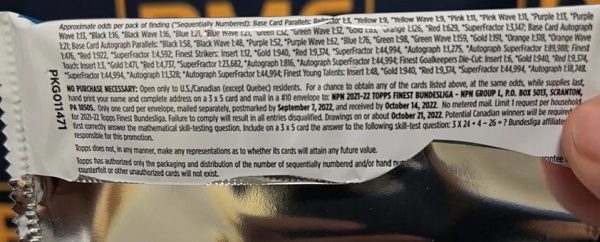 Pack Odds courtesy of BMC Collectibles
*All Search on eBay links go to Ebay
If you have any questions just shoot a DM on Twitter @SoccerCardsHQ or IG @SoccerCardsHQ You can also join the FaceBook Group and ask questions.
*All Search on eBay links are Ebay affiliate links