2021-22 Topps UEFA Champions League 1st Edition Details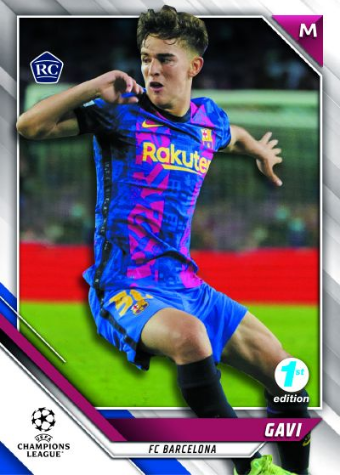 Topps released their first ever "1st Edition" soccer product today. It is the 1st Edition of the soon to come paper version of 2021-22 Topps UEFA Champions League which of course is also in it's first year. The only difference is these will have 1st stamped on them. For those that aren't familiar the 1st is something that comes from Bowman products. It is mostly known from baseball for the first release of a card which usually predates their time in the major leagues. That 1st carries a lot of weight since it is actually the 1st card of the player. This is something a bit different as it is the 1st product release of another product release that is on the way. They have done this with baseball and those boxes have done well this year but it is mostly based on the hype of Wander Franco. To put that in perspective imagine if this product had Haaland or Mbappe rookies. Of course as of right now it doesn't so I am not sure the baseball hype should carry over. Also those baseball boxes are awful ROI if you don't hit a Wander parallel.
As of the time of this writing they were only released on the Topps UK and Germany site. They cost £279 which is roughly $360 plus shipping depending where you are in the world. The sites sold out fairly quickly. We now know that each box will have 24 packs of 10 cards each. Each box will have 3 numbered foil parallels (/30, /25, /10, /5, /1) plus 12 unnumbered Starball parallels since they fall 1:2 packs. The Starball parallels will also be in the regular hobby boxes. If we do the math based on that there should be 4733 boxes made. There are also autos but I have not seen a mention of odds on those yet. if all of the autos are numbered they will fall 1 in every 7-8 boxes. If there are unnumbered autos then it will be less. Speaking of the auto list it is not very appealing. The only ones I could seeing have value are Neymar, Mason Mount and Ryan Gravenberch. There are numbered Future Stars (/30, /25, /5 ,/1) as well. Those should fall 1 in every 15-16 boxes.
Where will the value come from?
Let's try to see if there is any value here. If you haven't had a chance to look at the checklist yet take a look at this rookie breakdown. While it it may not be as good as last year it does have potential. That said it doesn't have enough hype yet to cause huge excitement. There will be roughly 5500 base cards of each so it's hard to see them having much value since there will be so many versions of this same card. Chrome base refractors don't sell for much and there are less of those. If base doesn't have much value and the few autos you could actually hit have value then that only leaves those 3 numbered cards or the Starballs. There will be 12 per box which puts the print run at about 284. How much will those sell for could be the key. The good news is that the highest numbered of the parallels will be to /30. Will the non rookie/non superstars going to have any value just because they are low numbered and have the 1st stamp? The market will determine that. Let's just say they are going to have to REALLY value them for these boxes to provide value.
SCHQ Conclusion:
UPDATED NOW THAT REGULAR IS OUT: The Flagship non 1st Edition (Flagship) boxes are out and being ripped and that changes a few things from the original conclusion. Flagship hobby boxes have on average 2 # cards and no guaranteed autograph. This is quite a disappointment as there figured to be more. The prices of 1st Edition boxes have now dropped to around $500 so they provide a better value at the current resale price points of each. Both are still worse value than other products on the market, but 1st Edition seems like a much better choice prior to knowing the Flagship hobby box makeup.
Original Review Prior To Flaghsip Release.
As of right now the lowest priced box for resale on eBay is $650 (Check Here). They seem to be trying to price these based on the baseball boxes which should not be the case here. If you are paying that then you likely have money to burn and nothing you read here will change your mind. If you are operating with limited funds or actually card about ROI run fast and far away. I chose not to buy from Topps because it would have cost over $400 to get to my door with shipping and that is even way too much. You can buy 3 non 1st Edition paper boxes for that or a case for less than what 3 boxes are reselling for (Search on eBay). The non 1st Edition has a much better auto checklist as well. You will likely have a much better chance of hitting an auto as well. You can even buy a presale box of Chrome and a box of paper for the price of a 1st Edition box. Those both seem like much better options to me.
I suspect the singles will sell well at the beginning because there is a lull in the market right now with subpar Panini releases (Prizm Premier Leagues and Donruss Road To Qatar) being the only options right now. Neither of those have good rookies so this product will be a breath of fresh air. A few months from now when we have seen a Chrome, Sapphire, Aoki and who knows what else release of this same checklist I can't see the value of these 1st cards sustaining. Maybe I am wrong and this is not meant to be investment advice. Like everything you will read on SCHQ it is meant to give you a full picture so that you can decide how to spend your money.
If you have any questions just shoot a DM on Twitter @SoccerCardsHQ or IG @SoccerCardsHQ You can also join the FaceBook Groupp and ask questions.