2022-23 Topps Soccer Cards On Demand Sets
The 2022-23 season of Topps soccer cards has started coming out. To this point we only have on demand sets. So far those are Summer Signings, Topps Deco, Merlin Heritage, Simplicidad and a Jude Bellingham Curated set. The first four have been a set before while the Jude set is debuting this year. I wont mention Summer Signings much as they are only players that transferred. In the past I have broken down many of these sets into their own review. This year I will be doing them all on this page and updating it as new sets come out. The truth is the rookie checklist and content makeup of these sets (1 auto 2 parallels) is pretty similar for most of them. The are some differences that I will point out for each set and if a set comes out that is really different I will give it a full separate review.
Let's get into the thing that everyone cares about, the rookies. I will start off by saying I think in the end the 2022-23 rookie class will be better than the 2021-22 class overall. Julian Alvarez is in all the sets so far and I'm sure you are familiar with him already since he was in the Panini World Cup sets. The two potential rookies that have burst on the scene in Champions League play so far are Mykhaylo Mudryk and Khvicha Kvaratskhelia (Kvaradona). Mudryk has been included in all the sets so far and Kvaradona has yet to make a checklist. There is thought to be a licensing issue with Kvaradona but I am not sure on that. While it would certainly hurt all the Topps sets to not have him this year, it's not such a bad thing for the hobby. Fabio Carvalho and Alejandro Garnacho are other rookies that are excited about as they have had some big moments for Liverpool and Manchester United. Carvalho has made all the sets while Garnacho has made all of the sets except for Simplicidad. A few other rookie names you will probably see thrown around are Jamie Bynoe-Gittens, Roko Simic and Warren Zaire-Emery. None of them have made much impact yet but are thought to have lots of potential. I will do another full breakdown like I did for 2021-22 Topps rookies once we start seeing the checklists of the non on demand sets.
I hope collectors have learned by now that soccer card prospecting has changed as the sets and print runs have exploded. I went into detail about soccer card prospecting in 2022 and from what I am seeing 2023 will probably only be worse. You can still prospect but know with these early on demand sets that when the more premium sets come out these cards will lose appeal if your goal is to flip them. Right now I think it is more prudent to buy the players you like on the card designs that you like. It's going to be really hard to make huge gains when there are so many different cards of the same player when all is said and done. The demand will not be there to meet the supply. That is why my favorite set of the past two years has been Merlin Chrome (Search On Ebay), not to be confused with Merlin Heritage. This was made possible because Topps only used the Champions League license for most of their sets while they used the Europa and Conference League licenses for Merlin Chrome. As we saw with Goncalo Ramos in the World Cup, making big gains is still possible on players that have limited supply. This year they are using all the licenses for the on demand sets which I do not like from an investment standpoint but it gives a lot of choices for collectors. When Topps is putting the same players in every set there is just too much supply. We will have to see how this plays out for the more premium sets.
Most of what I said in the paragraph above about rookies can be applied to autographs in these sets as well. The autograph checklists in the sets so far have been good. The problem is there is so much overlap between them all. The sets that have something different will be the key in my opinion. I will get into more about that when reviewing the products below. There have not been any licensed Alvarez or Mudryk autographs so far but there was a social media post from Mudryk that showed him signing stickers. Carvalho has autos in all the sets so far and Garnacho is in Merlin Heritage and the Jude set. Ok with that out of the way let's get into the sets.
2022-23 Topps Deco UEFA Review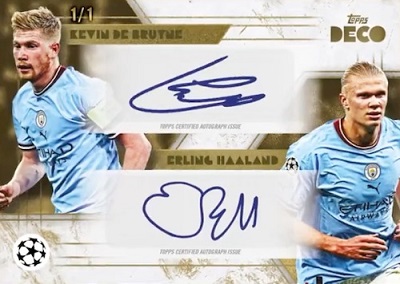 Checklist – HERE
Box Makeup – (Search On Ebay) – 10 packs per box. 8 cards per pack. 1 autograph. 2 parallels.
Print Runs – Sadly there are no pack odds to go off of and Topps indicates that the numbers of parallels for each player will vary.
SCHQ Review – Topps Deco is the only set that is actually in hands as of the time of this writing. The rest have just been presold by Topps. This set has the biggest checklist of the sets so far at 188 cards. The auto checklist (120 cards) is bigger than most older sets used to be (100). The checklist has the most legends of any Topps set. The Legends cards are horizontal and you can hit numbered versions. They also have Then & Now cards which feature legends with current players from the same club. Sadly, the base Then & Now cards are not numbered but the Legends autos are. In case you haven't seen it looks like Topps has put Cristiano auto stickers on all the Ronaldo Nazario cards (Search On Ebay). One of the things that really sets this set apart from the others and even other premium Topps sets is the Then & Now, dual and triple autos. As I mentioned above you will see a lot of the same single autos across the sets but these pairings you may never see again. Right now the hobby doesn't give a ton of respect to multi player auto cards but I could see that changing in the future.
The Prodigy cards have a nice design which will set them apart. As I mentioned earlier when all the checklists overlap design becomes a big differentiator. There are numbered parallels for the Prodigy cards. I do know that the 1/1 of Mudryk and Alvarez have already been hit. The Artistry cards are also back this year and there do seem to be some of those numbered to /5 and /1 which has been pointed out. Maybe even more numbers but I haven't seen them.
Overall the 188 and 120 card checklist makes these pretty boom or bust when you only get 2 numbered and 1 auto per box. The combo auto cards will be fun to chase but I am personally not interested in these at the current price $200+ per box.
2022-23 Topps Merlin Heritage 98 UEFA Review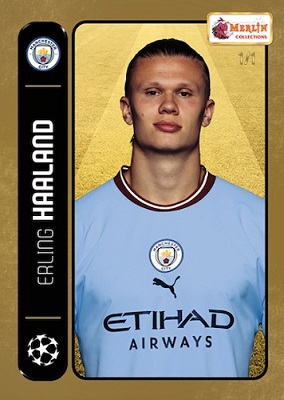 Checklist – HERE
Box Makeup – (Search On Ebay) – 10 packs per box. 8 cards per pack. 1 autograph. 2 parallels.
Print Runs – Sadly there are no pack odds to go off of and Topps indicates that the numbers of parallels for each player will vary.
SCHQ Review – Much of what I wrote about Topps Deco can be said for Merlin Heritage 98. The checklist is a little smaller at 175 base cards and 105 auto cards. These aren't out yet but from the mockups these look better than the previous Merlin Heritage releases to me. All of the Merlin Heritage sets are tributes to past Merlin sets so for instance this one is the 1998 design. If you grew up collecting those sets these designs could bring back some great memories.
The main thing that sets this set apart from Deco is the inclusion of Women's Soccer players. With this being a Women's World Cup year I expect there to be a spotlight on women's cards. Topps did release a Topps Chrome Women's set (Search On Ebay) last year as well as a few other on demand sets from Topps and some Panini cards put in men's sets, but there aren't a ton of women's cards on the market right now. There are a few interesting Women's rookies as well. If Topps doesn't get any premium sets out before the Women's World Cup or Panini doesn't do a Women's World Cup set there could be some value here. I would like to think they wouldn't drop the ball on those but who knows. Overall much like Deco these are pretty boom or bust. These are selling for a little cheaper than Deco but ultimately, I think it comes down to which design you like better.
2022-23 Topps Jude Bellingham Platinum Curated UEFA Review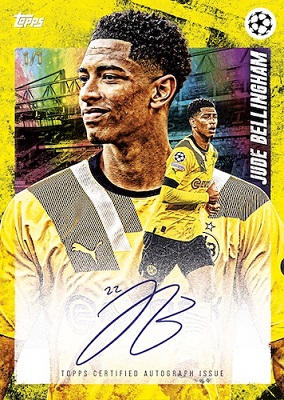 Checklist – HERE
Box Makeup – (Search On Ebay) – 5 packs per box. 5 cards per pack. 1 autograph. 2 parallels.
Print Runs – Sadly there are no pack odds to go off of and Topps indicates that the numbers of parallels for each player will vary. I will note if they do a full parallel run for each card there should be at most ~7100 boxes.
SCHQ Review – This is the latest in the line of Topps player curated sets. They have done these previously for Jose Mourinho, Gio Reyna and Alphonso Davies to name a few. The designs are very colorful and supposedly Jude himself had a hand in decorating them. These set has a much smaller checklist than Deco and Merlin Heritage with 75 base cards and 47 autos. This site has most of the big legends and rookies from the other sets.
Two things stand out in this set. First Jude has on-card autos (Search On Ebay). Second there are Golden Tickets (Search On Ebay) to a Jude meet and greet party. I hope collectors start realizing that Topps and Panini are going to use sticker autos whenever they can from now on. They are much easier to produce. Jude does have other on-card autos but if he turns out to be the start that some think he will be there really aren't that many. The autos are nice but the Golden Tickets are the ultimate chase here. There are supposedly only 50 of them. I doubt there will be another set this year where you can pull a card to meet Jude Bellingham. The interesting thing about this set is that with this chase I think these need to be opened. I don't know when the party is but imagine opening a box after it has past and getting one of the tickets. I am very interested to see what those tickets sell for on the resale market. Topps does similar things in baseball so I am glad to see them introduce it to soccer here. Some of the premium team sets have had meet and greet tickets but you were guaranteed to get one if you bought the set. This is a true chase and I am excited for it.
Overall the smaller checklists means you have a better chance to hit more desirable cards in this. The design will likely be one people either love or hate. That said I think for a Jude fan of which there are many the value is in the potential experience. I have no idea what those will sell for but to some it is probably priceless.
2022-23 Topps Simplicidad UEFA Review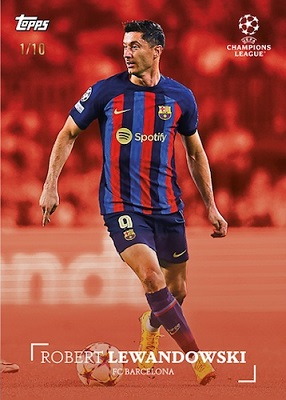 Checklist – HERE
Box Makeup – (Search On Ebay) – 6 packs per box. 5 cards per pack. 1 in 3 box autograph. 2 parallels.
Print Runs – Sadly there are no pack odds to go off of and Topps indicates that the numbers of parallels for each player will vary. I will note if they do a full parallel run for each card there should be at most ~6600 boxes.
SCHQ Review – From a set make standpoint Topps Simplicidad is close to the Jude Bellingham set. It has an even smaller checklist at 52 base cards and 32 auto cards. Note that autos are not guaranteed in these. They fall 1:3 boxes. I am worried that people will be able to weigh these for the autos but won't know until they get in hands. It has a few of the big rookies, legends and women's players. Surprisingly it does not have a Cristiano Ronaldo card. Make sure to look at the checklist to see if who you are chasing is in if you are opening. The simple player focused design of these cards is something people love. The base cards are black and white and the parallels are full bleed to the edge color cards. Full bleed cards usually do quite well compared to border colored cards. Some of the cards have a film strip border which I don't love but maybe others will.
Overall the small checklists make these boxes more predictable than the others if you got them direct from Topps. If you happen to hit an auto the checklist is pretty good so it should be a decent one. I would just wait until you see if they can be weighed before buying on the secondary market if autos are your thing. At the current price of about $100 I would rather have 2 of these than 1 Deco box especially if I had a chance at an auto. Even without for the same $200 I would get 4 parallels from a much smaller checklist instead of 2 with an auto that has a good chance of not being great. I don't think the guaranteed auto makes up for those parallels but that is just me. AS ALWAYS SPEND YOUR MONEY HOW YOU WISH AND BUY WHAT YOU LIKE.
If you have any questions reach out via social media @SoccerCardsHQ on Twitter, IG and FB.
*All Search on eBay links are Ebay affiliate links