Erling Haaland is one of the hottest names in the soccer card hobby. That means Haaland rookie auto cards are in big demand. His first rookie cards appeared in the 2019-20 Topps sets starting with his Match Attax On-Demand and Topps Now cards. He did have Panini rookie stickers but no rookie autos. His rookie autos are quite tough to come by. When Topps was planning the sets they didn't realize what a superstar Haaland would become so his autos are limited. That is why there may seem like a lot but the biggest PSA pop of any of these cards right now is 37. If you are in the market for a Haaland rookie auto check out this breakdown before buying. These are in order of when they came out.
Erling Haaland Rookie Auto Cards
2020 Topps x BVB Team Box Set
If there was a trivia contest of "What is Erling Haaland's 1st Auto?" I doubt many people would have guessed this one. If you aren't familiar with this set it was sold on Topps.com. Each box contained all 50 cards from the base set. Autos fell 1:20 boxes and there were a total of 25 signers on the checklist including Haaland. The autos were on sticker and they aren't very plentiful with only 8 graded at PSA. (Search On Ebay)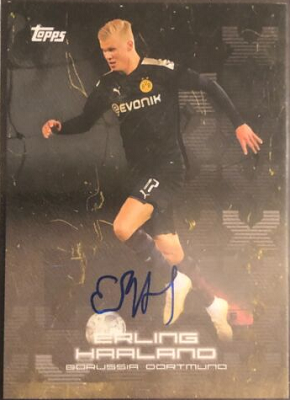 2020 Topps Transcendent BVB Team Set
This Topps Transcendent set has the only Haaland on-card rookie auto card. If you aren't familiar with this set it contained 40 cards (20 base / 20 autos) similar to the premium PSG set that came out with the Mbappe and Messi autos. There were 100 total autos for each player in the set. They were numbered to 75, 24 and 1. A lot of people seem to not realize that Haaland has an on-card rookie card. Part of that blame falls with Topps naming this a 2020 set instead of a 2019-20 set like they did with their traditional hobby products. If you look at the checklist you can clearly see it is from the 2019-20 season based on the players listed. This set release a full month before 2019-20 Topps Finest as well. Later in the year Topps released 2020 Topps Chrome BVB which is where some of the confusion lies. That set is for the 2020-21 season which is why it has on-card rookie autos of Jude Bellingham. There is no doubt though that 2020 Topps Transcendent are Haaland rookie autos and his only on-card rookie autos as well. When you consider how much more desirable on-card autos over stickers these seem to be the best value for Haaland rookie autos at current prices.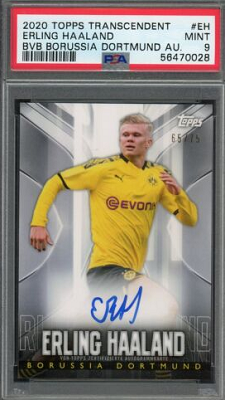 2019-20 Topps Finest Champions League
This is the first "premium" traditional hobby product with Haaland rookies. As you hopefully know this is the only premium set with Haaland in a Salzburg kit. While he does have rookie autos in this set they are on a BVB card. There are no numbered parallels of the auto.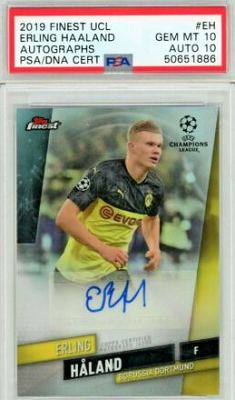 2019-20 Topps Chrome Bundesliga
This set is the 1st and only multi pack hobby set that has numbered Haaland rookie auto cards. I saw multi pack as you will see Museum has numbered cards. Of all the sets this is likely the easiest one to hit a Haaland auto in as there was so little (about 600 cases) of the product made and there were on 32 signers in the set.
(Search On Ebay)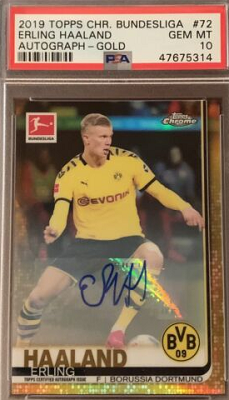 2019-20 Topps Museum UEFA Champions League
2019-20 Topps Museum UCL also has numbered Haaland rookie autos. The problem is Museum numbered cards don't get a ton of love because the color design doesn't really set them apart.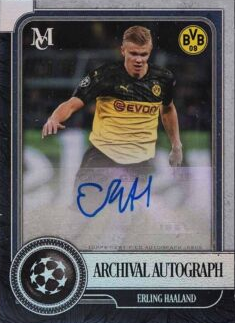 2019-20 Topps Museum Bundesliga
2019-20 Topps Museum UCL is the 1st set to have Haaland rookie patch autos. Yes Erling Haaland has RPAs. In fact all the Haaland autos in this set are RPAs. RPAs don't have near the popularity in soccer as they do in other sports because they are not standardized. All of the patches are athlete worn. That said this is the only set he has them so if you want one this is the go to set.
(Search On Ebay)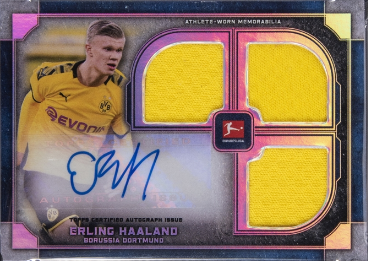 2019-20 Topps Chrome UEFA Champions League
Topps Chrome Champions League was one of the latest released Haaland rookie sets. There are actually two different autos in this set. There is the base rookie auto as well as Footballer Flash auto. I have not seen, or have any been graded by PSA or BGS, any numbered cards of these other than the 1/1 Footballer Flash. Based on pop reports the Footballer Flash seems to be one of the most rare Haaland rookie autos but the subset itself does not get a ton of hobby love despite the cards falling two per case.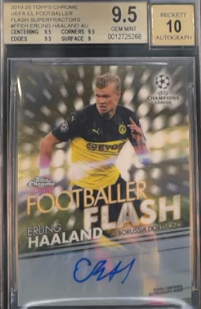 2019-20 DAKA BVB
There is one more Haaland rookie auto that doesn't come from Topps or Panini. It is from DAKA. Most people in the hobby do not recognize DAKA, but they are licensed cards. DAKA puts out a BVB team set each year and that is what this auto comes from. These autos were numbered to 17. There is also a New Signings subset in this release that has facsimile autos so don't get confused with those.
(Search On Ebay)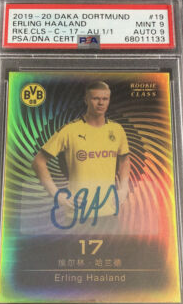 If you have any questions reach out via social media @SoccerCardsHQ on Twitter, IG and FB. Want to read about more Erling cards? Check out this article on the very first Haaland rookie cards.
*All Search on eBay links are Ebay affiliate links