The time has finally come and 2022 Panini Prizm World Cup details are finally out. This set has been talked about more than any recent product. The Prizm brand is beloved by many in the hobby. It's the set that non soccer collectors will care about the most. That isn't necessarily a good thing but more on that later. Eminence will be the highest end World Cup product, but Prizm is the one that "every day collectors" can obtain. Of course that is all relative. It's time to dig into the checklist and details to see what you should be looking for and what you should be careful about.
TL:DR – This is a longer than usual review but I felt like this product deserves it. It should still only take you about 5-10 minutes to get through. Save it for your time on the toilet. Ladies since I know you don't do that disgusting thing you will have to find some other time. If you are looking for someone to tell you exactly what to buy this is not intended to be that. If that is what you are looking for go find someone yelling on social media about the "next big thing".
2022 Panini Prizm World Cup Breakdown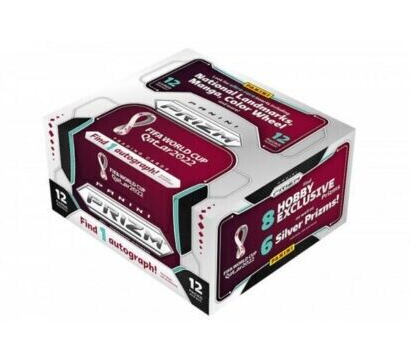 Checklist – HERE
Box Makeup – Hobby (Search On Ebay) – 12 cards per pack, 12 packs per box. 1 Auto, 2 Silver Prizm base, 2 Silver Prizm inserts, 4 numbered, 6 other parallels, 10 Inserts.
First Off The Line (FOTL) – 1 Blue Shimmer base and auto, 8 Hobby Prizm, 6 Silver Prizm
Breakaway (Search On Ebay) – 9 cards per pack. 10 packs per box. 2 numbered, 1 Silver Prizm base, 1 Silver Prizm insert, 2 Exclusive Parallels, 14 Inserts
Choice (Search On Ebay) – 1 pack of 8 cards. 2 numbered, 1 Silver Prizm base, 1 Silver Prizm insert, 2 Exclusive Parallels, 1 Insert, 1 base
Retail Blaster (Search On Ebay) – Unknown but there are numbered cards, autos and "short print" inserts.
Print Runs – Hobby ~7500 cases. Panini does not provide pack odds but based on box makeup I believe this to be close
FOTL – 1500 boxes
Breakaway – ~1500 cases, ~30,000 boxes
Choice – ~1000 cases, ~20,000 boxes
Retail Blaster – Unknown but if there is 1 numbered card per blaster there would be ~90,000. I don't expect us to be that lucky so there will likely be many more.
Rookie Breakdown – I'm going to be honest this one is a little confusing because of the timing of the World Cup being during the 2021-23 season. Julian Alvarez is the only hobby relevant player that this is his first "year" premium release. He has National Treasures as well and of course Panini Instant. The other rookies like Cody Gakpo and Kacper Kozlowski were in 2021-22 Score releases which of course should predate a 2022 World Cup that comes during the 2022-23 season but that of course didn't stop Panini from giving them a RC. There is more on this in the review below.
*If you are not familiar with SCHQ reviews know that this is not meant to be financial advice. I am just a guy that spends way too much time looking at soccer cards. Buy what you like and do your own research.
SCHQ Review – World Cup Prizm has a lot of hype and pedigree, but the overall checklist is average at best. The base checklist is solid even though they missed some potential breakout players like Gabriel Jesus, Christopher Nkunku, Raphinha, Eduardo Camavinga and Jesus Ferreira to name a few. One of those players is unlike the others but he plays for the US, might score goals and has no other Panini cards so kind of surprised they didn't get him in. All of them have inserts and the New Era insert seems to be the place they tried to make up for some misses. It's hard for a World Cup product to have solid rookies. While the rookies in this aren't much to chase, having Alvarez could be a good one. There is some hobby love for Gakpo right now but the hobby isn't usually kind to 23 year old rookies but in the short term there will be hype. Prizm is usually a parallel over rookie type product so don't worry about as much about that compared to other products but whether or not some players get treated as "rookies" will matter greatly. More on that later.
The auto and insert checklist is where it gets underwhelming. There are 200 auto subjects in the checklist and they still couldn't manage to put a single Canadian or Australian in. Canada and Australia are pretty big markets so it would've been nice for Panini to throw them a bone. A common theme of the auto checklist is that there are way too many average players that won't be in Qatar whether it be because they are retired or not good enough. Most of the retired players feel like they were put on the checklist because Panini had stickers of theirs from the past and could use them to increase the box counts. There are not nearly enough current players that will get people excited. The good is that Darwin Nunez will have his first autos in this as well as few others. The Dual autos aren't all that exciting and they got rid of Triple and Quad autos which they used in 2018. The design of the International Ink has not been well received so far and that is the checklist that Mbappe is in. These Prizm autos fall clearly behind his National Treasure and Topps Chrome autos which takes away a big chase.
The "short print" inserts are National Landmarks (Search On Ebay), Color Wheel (Search On Ebay), Manga (Search On Ebay), National Pride (Search On Ebay) and Mascot. National Landmarks is pointed out as being "ultra-rare" and is beloved in the hobby. The problem is they chose not to include any players that were in the 2018 National Landmarks set. This means there is no Messi, Ronaldo, Lewandowski or Son and what was the France spot has been removed so no Mbappe or Benzema. I think not having duplicates is a good thing as it provides rarity. I wish there were only 1 Kaboom and Color Blast of each player as well. It just doesn't help this product. There are also no parallels of National Landmarks this year like there were in 2018. In fact, none of the short print inserts have parallels which is not great. Considering they are listed across the full line of products there could be way too many for the market to absorb and keep value. We won't know just how rare they are until we see breaks. Even having them as case breaks won't be enough to cause true rarity with how much of this is being printed. If they are all case hits that will help add more value especially for the people that open and sell early while there is perceived rarity. If they aren't all case hits that will help with the individual value of the cards but will hurt the box/case value. Keep that in mind when buying.
**Update: It seems like most of the "shot print" inserts are falling 1 per case except for Color Wheel. This is on a small sample size so keep an eye on it. We do have confirmation they will be in blasters.
I am personally not a fan of the Color Wheel design but maybe others are. The Color Wheel checklist is spot on so if they are truly rare I do expect them to hold value. Considering they are in every box of the product the rarity like all of these "short print" inserts is a huge question. The National Pride checklist is also pretty good, and the flag/player part of the design is decent but the font is not great. Panini debuted Manga in their NFL product this year and it was a hit. For some reason Panini did not include Messi, Ronaldo or Mbappe in this checklist either. To me the cards with the best designs have the worst checklists and the best checklists have the worst designs. That is not a good combo but again design is personal opinion so it could play out differently. I keep bringing up design because I think it plays such a key role in long term collectability and value especially in these times with so much more product. I think often time too many collectors think simply about rarity when evaluating cards. That works when there is real rarity of product. We aren't in that time anymore. Now people will pick the stuff that is rare and that is a design they like. The rest of the inserts will be common for the base versions but do have numbered versions so keep that in mind when buying.
As with anything the price of the product will determine the value. Presale hobby box prices have been ranging from anywhere between $465-$1000 (Search On Ebay). The range of prices on this is going to be vast all the way down to breaks. Make sure to shop around before buying. You get 4 numbered cards, 2 Silvers and an auto in a hobby box. That means you have a 1% chance of hitting a specific numbered card, a .5% Silver and 1 out of 200 autos of which the less desirable ones will have more than the desirable ones. In a full case you will only get a numbered card of about 15% of the base checklist. The whiff potential on these is extremely high. You do get 6 other non numbered parallels of which some will be less plentiful than numbered cards. I hope to be able to get some round estimates on those as cases get opened. I expect Panini to release hobby boxes around $600. At that price in this market that seems a little high. There is just so much of it and with the market being where it's at right now it feels like it has to settle for less than $600. If you can wait out the initial FOMO you will likely save yourself some money like has happened with the other World Cup Panini products. Just remember to shop around.
**UPDATE: After prices had been crashing in the after market Panini has priced boxes at $430 on their website. This is still higher than the after market. The after market will be even cheaper than this so continue to shop around. Also figure that loose boxes will not have the case hits. This may not be the case in all situations but I am afraid it will be more often than not. I know not everyone can afford a case but if you are chasing a certain team or player with case hits it may be better to buy into case breaks. If you are not worried about case hits this will work in your favor as sealed case prices per box will probably be higher than loose boxes.
I do find the Breakaway boxes interesting but likely won't cause a lot of excitement if EPL Prizm is any guide. You get essentially half of the money (non-base cards) and no guaranteed auto. In Breakaway you will get two cards /99 or lower. The odds of getting two cards /99 or lower in hobby is not great. The caveat being that Breakaway and Hobby parallels are not valued equally. You also get two non-numbered base Breakaway parallels which have a print run of 199 which is pretty short print, but I imagine regular Silver could have more value even though there will be 10-20x more of them. The hobby loves Silvers and isn't always rational.
Choice boxes are what gets me most excited. The money card (2 numbered, 2 exclusive, 1 base Silver) makeup of Choice boxes is pretty much the same as Breakaway so watch the pricing of those closely. The difference is in the exclusive parallels. You will get two numbered cards out of /135. What really gets me going is the animal print parallels. Now I will admit I'm one of the few people who seem to care about short print non numbered parallels. These type of cards require you to do some research. If they were numbered they would sell for considerably more than they actually do. Panini does seem to get more credit for this than non-numbered Topps cards. For instance, Finest Fusion Prized Footballers (Search On Ebay) are some of my favorite inserts. I constantly have dreams that one day this will change in the hobby but that dream is interrupted by BackyardBreaks hitting the 1/1 Aurelien Tchouameni and just butchering his name while taking off their midriff shirts and waving them around their heads. That my friends is a nightmare but I digress. These animal parallels are going to be extremely short print. Across all four parallels (Elephant, Red, Tiger Stripe, Zebra,) there are only going to be 136 total cards. That means if they are all printed equal (they won't be) there would be 34 of each. That is true short print. Plus, we have been engrained to love animals since we were a kid. Zoos are full all over the world every day of the year and people aren't going to see Breakaway parallels they are there for the elephants, tigers and zebras. In presale Choice boxes are selling for $400 (Search On Ebay) and Breakaway for $250 (Search On Ebay). That difference seems a little high, but until we see how these exclusive parallels are reselling we won't know for sure.
I have a feeling blasters are going to sweep through the industry unlike any retail product we have seen recently. If we are lucky, we may even see two out of shape guys in Crocs fighting over them at Walmart. Even though I am not sure the exact makeup of the blaster I will say if you see them on the shelves buy them. They are going to have the "short print" inserts, numbered cards (Blue Wave /199, Purple Wave /99 and Gold Power) and autos. They are also going to have 3 Silver base cards according to the sell sheet (Update: Now that some are being opened it's looking more like 1 Silver per blaster on average and other 2 Prizms are Green Wave). Of course, this is going to make Silvers and those "short print" inserts so plentiful that the values will eventually plummet. People won't realize that for a while so the early sales are going to be much higher than they should which will boost blaster prices. Keep in mind that the most recent comp on a 2018 Messi Silver PSA 10 was $175 and there are way less of those than there will be of 2022.
Most importantly for blasters is they have 1/1 Gold Powers. The Gold Power is one of if not the most sought-after Prizm soccer parallels. For some reason Panini decided to take them out of hobby boxes and instead of /5 like 2014 and 2018 (Search On Ebay) there are now only 1. I can already see it now. Somebody is going to pull a big Gold Power and a nice Silver and the "blasters are loaded" phenomenon is going to be all over social media timelines around the globe. Even if the blasters really aren't loaded that won't matter. The ROI could be awful, or it could be great. We won't know until we know the makeup. What I do know is that the price for sealed ones will be more than they are on the shelves, and you will be able to resell them as we see on Ebay already (Search On Ebay). Check back after some get opened and I will have a better idea of what the value should be based on how common the numbered cards, inserts and autos are.
Ultimately the value of Prizm will come down to how the young players are treated and how much value the Inserts can hold. Do players like Pedri, Jamal Musiala, Jude Bellingham, Canadian and US players get the "1st Prizm" treatment even though these are years removed from actual rookie cards similar to how Mbappe was in 2018? The more players that get valued as "rookies" the easier it is to hit cards of value which increases the value of the product. I am of the belief the 2018 Prizm Mbappe hype was created by non-soccer collectors who for a short while invaded the hobby and pumped it and most are long gone now. I would like to think the people that are still in the hobby are much smarter now. The idea of a 3rd year 1st Prizm is silly to me and many others, but that may not matter if some "influencers" decide it needs to be a thing again. Does Panini have the gall to put a RC on Gavi and Tchouameni even though this isn't a rookie and if so do people value it as such? They could in theory get away with it in the 2021-22 Road To World Cup products because technically the "road" occurred during the same season as the rookie club year. 2022 Panini Prizm World Cup is clearly stated as a 2022 product that is definitely happening in the 2022-23 club season. I think you know where I stand but if not read this blog on 2020 Immaculate and a similar premise applies. I have a feeling the people pumping this product for their own good will try their hardest to extract max value wherever they can in the short term.
The other fascinating aspect of this is going to be that there will be some short term and long term stars created in the tournament. If Messi or Ronaldo or whatever stars ultimately win the tournament this will be a card people want to have of them. Some in the hobby will have you believe that you missed the chance to sell your World Cup cards and that the market is about to be flooded so you shouldn't buy because everything is going down. I do not believe that at all. If that was the case we wouldn't have seen the big Haaland runup to start this season as he is on fire. I think the players that perform will see price jumps and if you have those cards you will do alright. The players that don't perform will go down as they should. I think it's going to be fascinating to watch it all play out. The World Cup is the greatest sporting event and it only happens once every 4 years. Buckle up and enjoy the ride!
**As boxes get opened, I will be updating this to keep it as accurate as possible. Please follow @SoccerCardsHQ on Twitter, IG or Facebook to stay up to date. If you have any questions send a DM. If you have friends or know of other collectors on social media that are not into soccer but want to know more about this set please share this review with them. My worry is that too many people will get burned by bad actors on this product and never come back to soccer cards.
If you have any questions reach out via social media @SoccerCardsHQ on Twitter, IG and FB.
*All Search on eBay links are Ebay affiliate links