2021-22 Topps Finest Flashbacks UEFA Champions League is what appears to be the last product of the Topps 2021-22 UEFA product cycle. I think we can all agree that enough was enough. This is the same checklist that they have been using all year, so the appeal of this product is in the design. It's a throwback to Topps 1993 design for baseball and football so not sure how much that will appeal to the soccer crowd but that certainly didn't stop Topps. Let's take a look at what you can expect.
2021-22 Topps Finest Flashbacks UEFA Champions League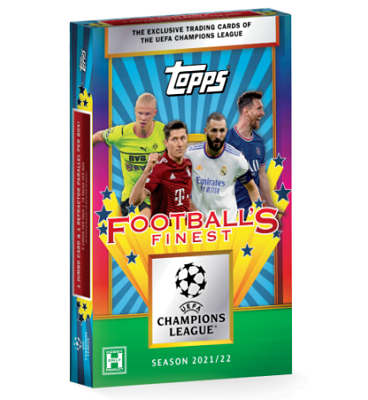 Checklist – HERE
Box Makeup (Search On Ebay) – 18 packs of 5 cards, ~2 # parallels, and 1 base refractor, 1 auto every 6 boxes, 1 box topper (Jumbo Card)
Print Runs – ~25000 boxes or maybe as low as 20000 depending on what pack odds you believe. Topps has dropped the ball a bit on this one, ~125 Base Refractors per player, 116 total # parallels per player
Rookie Breakdown – It's the same as it's been all year. You can check the review for the full 2021-22 Topps UEFA Rookie Breakdown
SCHQ Review  – You can probably guess I am not exactly excited about this product and I even have the nostalgia of collecting the Topps 1993 products. Whereas Beam Team appealed to me this doesn't and I have trouble believing it will to most newer soccer collectors. The auto checklist is decent mainly because it only has 36 players much less than other UEFA sets this year. The problem is you only get 1 autograph per 6 boxes not 1 per box like most of the similar hobby products. The box makeup of 1 base refractor and 2 # cards and 1 Jumbo box topper (not that collectable) is less than a normal hobby product as well.
While this product is "short print" by 2021-22 standards it's certainly not short print in the grand scheme of things. 2019-20 Topps products had less print runs than what this has. This product needed some new rookies or something truly ground breaking to generate buzz and in my opinion it has neither. This product had trouble selling out on the Topps website and I think that was warranted at the price point. As always this isn't financial advice but for me I would much rather have a hobby box of Merlin (Search On Ebay) or even regular UEFA Chrome (Search On Ebay) at this price point.
If you have any questions just shoot a DM on Twitter @SoccerCardsHQ or IG @SoccerCardsHQ You can also join the FaceBook Group and ask questions.
*All Search on eBay links are Ebay affiliate links