National Treasures is back for its first standalone soccer set since 2018. 2022 National Treasures FIFA Road To World Cup is the last of the Panini Road To World Cup sets and more importantly the end of the ugly logo taking up way too much of the card. National Treasures is a high end set with mostly auto and relic cards. The 2018 set had a mix of on-card autos and mostly match or player won patches. The key to the value of this 2022 edition will be if they have the same. It appears that there will be a mix of on-card, sticker and redemption autos. Most of the patches I have seen so far have been player worn with some match worn. The only Mbappe auto I have seen so far has been on card as well as Messi and Ronaldo so that is a good sign. All of these factors mean this product will have more value than originally thought. Please keep an eye on social media and ebay listings to see what is on-card, sticker and redemption before buying for your collection.
I put this review out before knowing because I was afraid this product is going to be an absolute bloodbath for people buying early so I wanted to get it out there to help those that are considering spending money on boxes or breaks. The part in italics above was added after the original review. There is more value than I originally thought but keep reading for more insights.
**This review is subject to change if it does come out that there are a majority of on-card autos. That would greatly help the value of this set.**
2022 Panini National Treasures FIFA Road to World Cup Details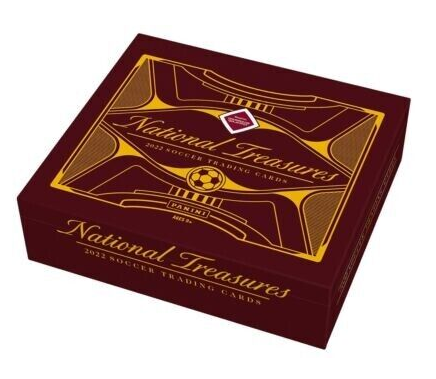 Checklist – HERE
Box Makeup (Search On Ebay) – 8 guaranteed autos or patch cards, 1 base card and 1 additional auto, relic or base, FOTL you get 2 base cards /11 instead of the additional non base card.
Print Runs – ~4000 total cases if the Panini checklist is accurate could be up to 4600 if the printing plates are truly case hits, 1100 FOTL cases
Rookie Breakdown – Julian Alvarez (Search On Ebay) gets his first premium hobby release in this which is certainly a chase. Cody Gakpo and Kacper Kozlowski have had limited Panini releases this year. Gavi, Giacomo Raspadori and Aurelien Tchouameni have plenty of other rookie cards but are great young players and these will certainly be good RCs to have of them. Karim Adeyemi is listed as an RC but that is only because this is the first year in Panini products. He had plenty of Topps cards from last season. Please don't reward this type of behavior from Panini. Don't even get me started on Ricardo Pepi.
SCHQ Review – Just like with Mosaic Road To The World Cup you should not be buying this at the current prices ($4000/box). I am doing a more in depth review of this because it is a premium product and the appeal of Mbappe autos will draw people in. Speaking of Mbappe autos let it be a lesson for how overpriced this product is right now on release. There is a big break selling a Mbappe case spot for $1800. The chances of hitting a Mbappe card are roughly 1 in 13 cases if the sell sheet is right which states he has a total of 307 autos. For some reason he doesn't have a base card or any other card in the set beside the auto. Based on the odds and paying $1800 for the spot would mean each Mbappe auto would be valued at $23,400. Mind you this considerably more than on-card autos from Topps Chrome are going for (Search On Ebay). There are a few breakers that are selling spots that put the box price at $2000 while others are selling them at $4000. If you are buying into breaks choose your breaker wisely or buy in breaks on Ebay (Search Here). I would also advise searching and see what cards have which type of autos before bidding.
Now that you have some idea let's look at something else going on here. Panini did a Dutch auction for the First Off The Line (FOTL) boxes of this. They sold out at $2604. I have a sneaking suspicion that the big distributors that have a lot of hobby boxes coming bought these out to keep the price up on the hobby boxes. This was kind of confirmed now that some of the big distributors are listing those same FOTL boxes for $4250 just a couple days later. The big distributors are preselling regular hobby boxes for $3800-$4000 so you see why they needed to set a floor. I actually don't even think the FOTL boxes are better for this particular product, but that is the common belief so if you are trying to sell a hobby box for $4000 you look pretty bad when the FOTL boxes sell for $2600. If you browse soccer card forums or social media you will realize that there weren't a lot of "regular" collectors buying anywhere near $2600. Without any big buyers stepping in I don't think it's unrealistic they would have made it down to $1600. I don't bring any of this up to discourage you on the shenanigans that go on in the hobby but I do think you should be aware. Mosaic Road To World Cup boxes (Search On Ebay) are already about half the price they were when I advised in the review not to buy on release. If nobody buys these should fall as well. Patience is key these days and FOMO gets punished.
With all of that out of the way let's get into the actual product. The product is average for rookies but National Treasures is not as reliant on rookies as other products since it is mostly an auto and relic product. I have already mentioned the Mbappe autos. The Dual Auto checklist is the highlight of the product for me. There are Messi/Maradona, Ronaldo Nazario/Ronaldhino, Pele/Zico and Pele/Neymar just to name a few. Granted these make up a small percentage of the checklist so they won't be easy to hit, but they will have great value. The triple autos are not nearly as good with some truly weird players being included. The great part about this checklist is that all the cards are numbered so you can look at the checklist and see just how many there are of the cards you would like to hit and how they are to hit. There are roughly 157,000 total cards so you can do the math yourself. The case hits are the printing plates which are all numbered 1/1 although there are 4 for each card. Printing plates are usually not very collectible or valuable so as far as case hits go, they shouldn't get you that excited. I am sure the breakers trying to hype this will treat them like they are a Kaboom and Color Blast mix. Desperate times call for desperate measures of course.
There is still no Canada in the checklist which is a huge oversight by Panini. There were nice enough to give us 1 Asian (South Korea) and 1 African (Senegal) team in National Treasures after giving us none besides Qatar in Mosaic. Thankfully they did not include Qatar in this checklist outside of the hideous logo. National Treasures are great cards and if you are a fan of some of the teams and players in here you should definitely add them to your collection. Just please don't overpay for boxes or break spots. I bought a case of 2021-22 Bundesliga Finest (Search on Ebay) today for the same price that a Random Team case break spot is going for in this. Mind you that spot will on average hit 1.5 cards in this. Better yet you can get almost 2 hobby cases or 100+ blasters (Search On Ebay) of 2021-22 Merlin Chrome for the price of what a box is currently going for. I am not urging you to go buy those other products, but that should give you some perspective.
I hate to say it, but I think Panini Prizm World Cup is setting up to be a similar case. I can't say for sure until we get more details, but I am worried. There are a lot of people looking forward to that product and if Mosaic and National Treasures are any guide it's set up to be a bloodbath. It could have a bad effect on the soccer card hobby as these are the type of products that could bring new collectors in but not if there first experience is a bad one. Just please be careful and know what you are buying. If you have any questions reach out via social media @SoccerCardsHQ on Twitter, IG and FB.
*All Search on eBay links are Ebay affiliate links