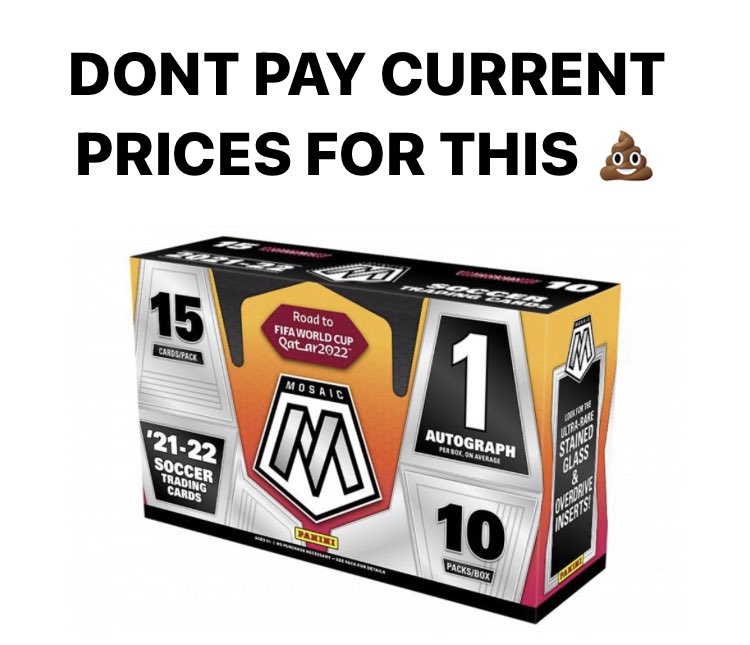 I am leaving this image in the article so we can all remember that Panini and resellers tried to get $400/box when this was launched. Now the prices are down closer to $150 and dropping so if you like the product it isn't nearly as bad value as it once was.
2021-22 Panini Mosaic FIFA Road to World Cup
Checklist – It's awful but it's HERE
Print Run – Who Cares
Hobby Box Makeup – Someone opened 3 and didn't get a number card in any.
Rookies – I'm sure a few will get pumped for people needing to unload this but more are either "too old" or play the wrong positions for the hobby to care about them right now. Here is the player that I am sure will get pumped and he already has a Score RC (Search On Ebay) that few people care about. I'm not going to list any others to even give them ideas.
SCHQ Review – You will notice this review is unlike any of the others on the site. I only did it to warn people not to buy this when it comes out. It is preselling for $400+ and that is beyond ridiculous. The checklist isn't great. They left out Canada and all the African and Asian teams except Qatar…..of course. Don't even buy into early breaks unless they are PYT auctions. The set price breaks will be priced based on these ridiculously high current prices. There are already reports that there aren't any # cards in some boxes which makes sense because the number of parallels is actually pretty reasonable. These should be priced more like blasters or at worst Lite boxes but since they supposedly have an auto Panini will throw hobby box prices on them. If you are a fan of one of the smaller countries that usually aren't in products buy singles. You should be able to get as many as you want for cheap. If this is any sign of what is to come from Panini for Prizm World Cup we are in trouble. A product like this at this price point is legit bad for the hobby. The only cards that somewhat interest me are Stained Glass (Search On Ebay), mainly the Pele, but Merlin Renaissance cards (Search On Ebay) are so much better looking even if they copied them and the Messi on-card autos of which there won't be many. The Donruss/Optic Road To Qatar was a better product than this and the hobby boxes (Search On Ebay) are cheaper. I am not saying go buy it but if you have to rip something World Cup related right now that is so much better than this. If you want a much better product check out the 2021-22 Merlin UEFA Review.
If you have any questions just shoot a DM on Twitter @SoccerCardsHQ or IG @SoccerCardsHQ You can also join the FaceBook Group and ask questions.
*All Search on eBay links are Ebay affiliate links