Arsenal are on a really good run of form at the moment and pushed themselves into the top four of the Premier League, if Arsenal got into the champions league next season would you invest in their prospects?
Personally I can't see Bukayo Saka, Emile Smith Rowe or Gabriel Martinelli leaving arsenal anytime soon so they would need to be in the Champions League, Europa League or in the World Cup squad to be a decent investment over the next year in my opinion. Otherwise longer term you would be hoping for Arsenal to be consistent in the top four and reaching knockout rounds of UCL.
*All Search on eBay links on this page are to Ebay listings
Bukayo Saka
Out of the three Saka is my favorite personally for a few reasons. He is the youngest of the 3 and has already had the biggest impact at the club and national level. He has played double the amount of games for Arsenal than both of the others. He has been in the England squad and been an important player for them. He has had a good goal contribution record and I think his very likely to be in the England squad for the World Cup squad in Qatar if he continues with decent form.
Check out our blog on all the Bukayo Saka rookie cards and stickers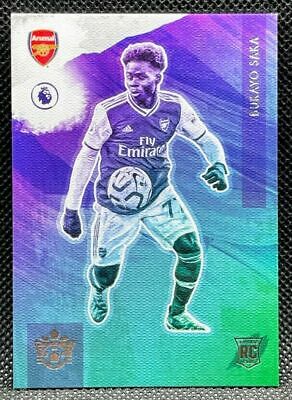 Emile Smith Rowe
Smith Rowe isn't far off from Saka at the moment and his performances this season have outshined Saka. I am interested to see if he can sustain this form over a longer period, while keeping off competition particularly in the England squad from the likes of Phil Foden, Mason Mount, Jude Bellingham, Connor Gallagher and Jack Grealish all competing for similar position. His inclusion on the English squad for Qatar seems less likely than Saka.
So far Smith Rowe only has two rookie cards, 2020-2021 Impeccable and Topps Living Set. We find that Topps Living Set has not held value long term so we would recommend the Impeccable (Search on eBay) or wait for new releases that are sure to come this year.
Gabriel Martinelli
Martinelli is extremely talented but has been very injury prone so far and very inconsistent. He has shown the least so far of the 3 but has been playing magnificently this year. The recent fall out of Pierre-Emerick Aubameyang has helped his prospects. If he can keep up these current performances its going to be great for Arsenal to have these three prospects. He plays international for Brazil. He did not feature in this summer's Copa America for Brazil. Instead he represented them in the Summer Olympics. He does not figure to make the Brazilian squad in Qatar but that could change if he keeps up his current form.
Martinelli's first sticker was in 2019-2020 Panini premier League. His first premium cards are in 2020-2021 Topps Merlin Chrome and his first Brazil card is in 2021-2022 Donruss Road To Qatar. If you are looking to buy click HERE.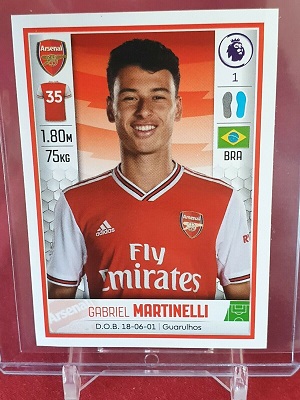 Matt from Golden Generation Soccer Cards is a soccer card from the UK. If you like his content please follow hi @goldengeneration_sc on IG or @GG_soccercards on Twitter.