Topps introduced 3 new parallels in their flagship 2019-2020 Chrome UEFA Champions League set. They were named Bubble Carbon Fiber and Speckle. The Bubbles have circle bubbles throughout the card. The Carbon Fibers are distinguished by diagonal lines on the card. The Speckle have speckles dots throughout. The Bubbles and Carbon Fibers have different colors while there is only a single Speckle. Check out the examples below. The first year only base cards while the 2020-2021 set add bubbles to the inserts and autos. From the sales sheet it seems that Topps is discontinuing the Bubbles and Carbon Fibers parallels for 2021-2022 and going to all numbered parallels outside of base refractor and speckle which will remain. With the strength of the 2019-2020 and 2020-2021 rookie classes I think these print runs will be important in the future so hopefully this article will serve as a resource for decades to come.
These parallels are not numbered but thanks to Topps providing pack odds we can determine print run. For those that have never put the time into calculating these print runs these cards are more rare than they imagine. The value that these cards fetch certainly point to the market not appreciating them compared to similarly numbered parallels that have the print run on the card. We now have 4 product releases with these parallels so let's dive into the numbers.
*All Search on eBay links on this page are to Ebay listings
2019/2020 Topps Chrome UEFA Bubbles and Carbon Fiber
Print run for Blue Bubbles, Purple Carbon Fiber and Green Bubbles could be off by a couple as the pack odd are whole numbers while in actuality the numbers likely are decimals that will affect the count. The Gold, Orange and Red match exactly with numbered cards so those should be accurate. These are all in 2019-20 Topps Chrome UEFA hobby boxes (Search On Ebay)
Blue Bubbles – 194
Purple Carbon Fiber– 165
Green Bubbles – 99
Gold Bubbles – 25
Orange Carbon Fiber – 10
Red Carbon Fiber – 5
You will notice that these numbers vary from the base parallels of the same color. You will notice that the colors used for these don't match up with the same color in the normal parallels which are purple 250, blue 150, green 99, gold 50, orange 25 and red 10.
Examples of a Blues Bubbles and Purple Carbon Fiber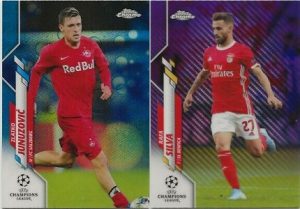 Buy 2019-2020 Bubbles Parallels (Search On Ebay)
Buy 2019-2020 Carbon Fiber Parallels (Search On Ebay)
2020/2021 Topps Chrome UEFA Bubbles and Carbon Fiber
Print run for each base card. All of these parallels only in hobby boxes (Buy On Ebay)
Purple Carbon Fiber – 250
Aqua Bubbles – 62
Blue Bubbles – 50
Neon Green Bubbles – 42
Gold Bubbles – 36
Orange Bubbles – 31
Red Carbon Fiber – 29
Autos
Gold Bubbles – 35
Orange Bubbles – 18
Future Stars Insert
Gold Bubbles – 69 (nice)
Orange Bubbles – 23
Golazo Insert
Gold Bubbles – 105
Orange Bubbles – 35
Joga Bonito Insert
Gold Bubbles – 51
Orange Bubbles – 17
Speckle – Roughly 1000
OK so this is certainly confusing considering all the same color of bubbles don't have the same print run throughout the set.
Examples of Purple Carbon Fiber and Gold Bubbles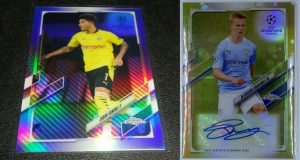 Buy Bubbles Parallels (Search On Ebay)
Buy Carbon Fiber Parallels (Search On Ebay)
2021/2022 Topps Chrome UEFA Starball and Lava
Topps introduced Starball and Lava refractors for 2021/2022 Topps UEFA Chrome.
There are both numbered and unnumbered Starball and Lava refractors. These are the approximate print runs for the unnumbered cards. There could be 1 or 2 more or less for each.
Base Checklist
Purple/Gold Starball ~263
Aqua Lava ~67
Blue Lava ~53
Neon Green Lava ~45
Gold Lava ~38
Orange/Gold Starball ~33
Red/Gold Starball ~30
Chasing Glory
Gold Lava ~125
Orange Lava ~42
Future Stars
Gold Lava ~169
Orange Lava ~56
Golazo
Gold Lava ~250
Orange Lava ~85
2022-23 Topps Chrome UEFA Seismic and Lava
Topps introduced Seismic and brought back Lava as the unnumbered parallels for 2022-23 Topps Chrome UEFA.
Base Checklist
Black & White Ray Wave ~1300
Pulsar ~900
Purple Gold Seismic ~250
Aqua Lava ~65
Blue Lava ~50
Neon Green Lava ~40
Gold Lava ~35
Orange Gold Seismic ~30
Red Gold Seismic ~28
1959 Insert (Search On Ebay)
Gold Lava ~60
Orange Lava ~20
Wonderkids (Search On Ebay)
Gold Lava ~140
Orange Lava ~45
Specimens (Search On Ebay)
Gold Lava ~140
Orange Lava ~45
Golazo (Search On Ebay)
Gold Lava ~105
Orange Lava ~35
Buying Opportunity?
You would think that would mean that the Bubbles that are the same color but rarer than the numbered color would sell for more. That is usually not the case. This is a case where the lack of knowledge plays a big part. As time goes on and more of these get graded the pop counts should start to grab people's attention. Or maybe this article makes in front of enough people to open some eyes. Or maybe people never really care. Only time will tell.
If you enjoy this type of content please follow us on IG @SoccerCardsHQ and Twitter @SoccerCardsHQ or join our Facebook group @SoccerCardsHQ and join the hobby discussion.