2022-23 Topps Chrome UEFA is finally here. If it's felt like we had to wait longer than usual for it that is because we did. It released about 1 month earlier last year. Much like last year part of the sizzle was taken out of the release by the 2022-23 Topps UEFA Paper set that was released a few months ago. We knew most of the base checklist thanks to that set. The one thing that has people really excited about 2022-23 Topps Chrome UEFA is the introduction of multiplayer autos. There are dual & triple autos and Topps did a pretty good job with the pairings on these cards. Especially compared to what we usually get in hobby combo autos. Let's take a look at what else you can expect from the release.
2022-23 Topps Chrome UEFA Club Competitions Breakdown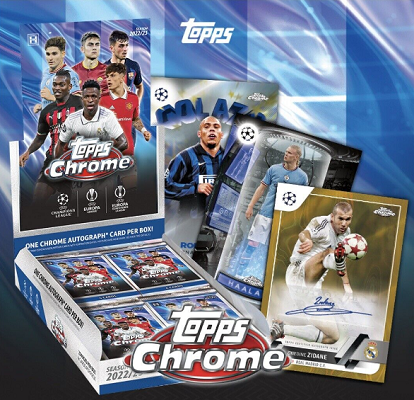 Checklist – HERE
Box Makeup
Hobby ~4 numbered parallels and 1 auto (Search On Ebay)
Lite ~3 numbered parallels ~1.25 autos PER CASE (Search On Ebay)
Print Run – ~8500 Hobby cases based and ~4100 Lite cases
Rookie Breakdown – Check out the 2022-23 Topps Rookie Breakdown for an in depth break down of the rookies.
SCHQ Review – The first thing I was interested in finding out was the print runs for 2022-23 Topps Chrome UEFA. Was Topps going to pull back a bit like Panini did or would they up the print runs like the last couple of years? The answer was neither really. They kept the print runs pretty much in line with last year. Last year there were a few more hobby cases, but this year has a few more packs thanks to 20 packs being in a hobby box compared to 18. Las year we came in just shy of 2,000,000 hobby packs and this year we crossed that mark by a few. Last year there were about 3.2 million total packs and around 3.1 million. In the grand scheme of things about the same. Needless to say, there is plenty of this to go around. If you want to see how much production has gone up through the years here are the Topps Chrome UEFA Print Runs for every release. We know from last year that is probably too much for the current soccer card market.
There are 2544 numbered base parallels this year compared to 2717 last year. Again, that is not enough to make a difference in the grand scheme of things. There are of course some unnumbered parallels, Seismic and Lava, as well that are only found in hobby boxes. You can see the print runs on those at the bottom of the review. They can also be found on the ongoing Topps Unnumbered Parallels article I have been updating through the years. Don't ask about the print runs on unnumbered autos as they are not evenly distributed so there is no way of knowing. As we have learned from last year 2500+ numbered cards are too many. Of course, the way to make people feel good while also keeping print runs high is to keep numbered parallels high. There are roughly 4 numbered cards in Hobby and 3 in Lite which seems like a big advantage for Lite. A deeper dive shows us if you are hoping to hit lower numbered cards then hobby has a big advantage. If we count from the Toppsfractor /52 down to the /1 you will hit on average .56 in a hobby box compared to .11 in Lite. That doesn't include the unnumbered card that have a print run lower than 52 either. In a time of large numbers of parallels the lowered numbered ones have held up better than the high ones. You will hit on average 2 card numbered 225 or above in both Hobby and Lite in case you were wondering.
Let's get the biggest disappointment for me out of the way, The Grail. There was so much anticipation around the mysterious Erling Haaland card that show up in Topps Paper. We found out it was part of a 9 card subset that would be featured in future 2022-23 Topps soccer sets. A lot of anticipation, including from me, was that there would be 9 different players in rookies kits that maybe there weren't many cards of. When I saw the 2022-23 Topps Museum booklet auto with Cristiano Ronaldo in a Sporting kit I figured that would be another one of the cards. According to the checklist there would be two more of The Grail cards in 2022-23 Topps Chrome UEFA. Today Topps put out a video on social media show two more cards featured in The Grail set and they were two more Haaland cards. Needless to say that was not well received by many. I did not buy any of the first Haaland Grail cards although they did intrigue me. I am a Haaland in Salzburg kit rookie truther, so I was planning on picking one up at some point. After today's announcement I am glad I didn't. I still think they are cool cards but know there will likely be 100 of each Grail card. Thanks to an early break we know that one of the two Grails in this set is a Haaland card in a Manchester City Kit. That means there will likely be 3 Salzburg, 3 Borussia Dortmund and 3 Manchester City cards.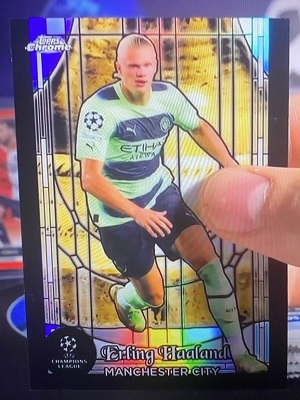 Topps did give us something cool in this set that is nowhere on the checklist or the pack odds, Hidden Gems (Search On Ebay). Hidden Gems is a set Topps has in their baseball products that is like The Grail in that cards can be found in multiple products. They are pretty rare in the baseball sets and there have been 15 of each in each product. I do not know how many there will be in 2022-23 Topps Chrome UEFA or if they will show up in other sets. It will be fun to see which ones come out. So far I have only seen the Alejandro Garnacho.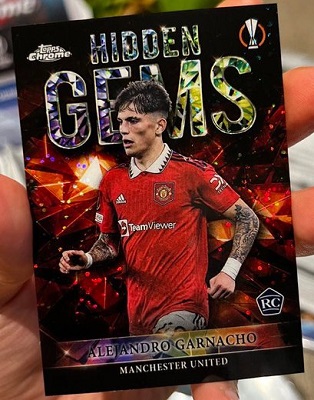 2022-23 Topps Chrome UEFA Hidden Gems
2022-23 Topps Chrome UEFA Autos
Let's get to the cards everyone is excited about, the multi player autos. First thing to know is that they are only found in Hobby boxes. The only autos in Lite are the Black and White Ray Waves. The good news is that the pairing Topps put together for the multi player autos is great. The bad news is they are going to be really hard to hit. They fall 1:1532 packs for a Dual Auto (Search On Ebay) and 1:5110 for a Triple Auto (Search On Ebay) or an overall chance of hitting either at 1 in 5 cases. All 18 Dual cards have a 1/1 and a Red /5 version. Roughly 13 of the 18 have a full /10 Black run. Half of the 18 have a full Orange /25 print run. If there are 25 each of the Orange Lava then 13 of the 18 have a full print run of those as well. I don't know that 25 is in fact the print run on those but that would be my speculation. There are roughly 580 total Dual base autos. For the Triple Autos I think all 11 have a 1/1 and a red /5 as well. I believe 7 have Black /10 and there are roughly 270 base Triple Autos. I will be interested to see which of those base cards show up. While I don't like how Panini creates false scarcity with their numbering of autos they do at least let us know who has what and how many. Topps leaves us guessing. I usually assume the biggest chases are the ones that don't have the higher number and base autos.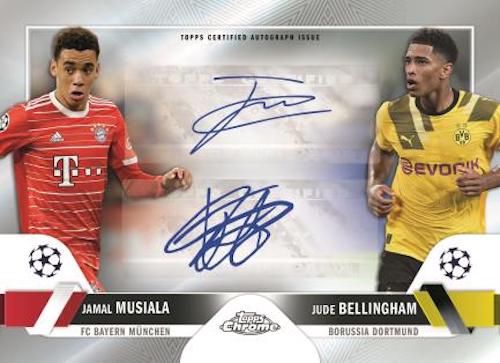 2022-23 Topps Chrome UEFA Dual Auto Example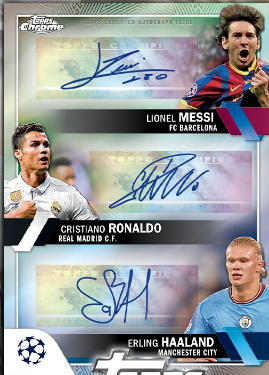 2022-23 Topps Chrome UEFA Triple Auto Example
As for the single player autos there are 121 different cards. Some of the players can have more than one if they are in the insert autos. There are some nice legends autos but unfortunately for Topps, Panini beat them to the punch on Zinedine Zidane and Kaka which hurts some excitement and value. It will be interesting to see if Zidane signed his full name like they showed in the sell sheet. That should make them more desirable than the Panini autos if he did. (Update: The sell sheet was wrong and it's just his loop auto like Panini has.)
2022-23 Topps Chrome UEFA has gone on sale for $200 per Hobby box and $120 per Lite box on Topps. You can find them cheaper on Ebay. (Search Now) 2022-12 Topps Chrome UEFA boxes sell for roughly $135 for Hobby and $60 per Lite. (Search On Ebay) While I don't think this product is twice as good as last year I do think people are much more excited for this year because of the multi player autos. Is this chase worth $65 per box on a pure ROI basis? Of course not. If you have been in cards long enough, you know that the bigger the product chase cards the worse the ROI. That will be the case here unless the price of the hobby boxes fall a lot. There are enough big combo autos in the product that the chase will go on for a while which probably keeps price on the hobby boxes up. I do see them falling a little bit but not down to the 2021-22 range. I could see the Lite box falling more than Hobby since they don't have the big chases.
2022-23 Topps Chome UEFA Seismic and Lava
Base
Refractor ~4000
Black & White Ray Wave ~1300
Pulsar ~900
Purple Gold Seismic ~250
Aqua Lava ~65
Blue Lava ~50
Neon Green Lava ~40
Gold Lava ~35
Orange Gold Seismic ~30
Red Gold Seismic ~28
Youthquakes ~1300 each
Hobby Masters ~300 each
Hero Variation ~300
Joga Bonita ~1250
1959 Insert (Search On Ebay)
Gold Lava ~60
Orange Lava ~20
Wonderkids (Search On Ebay)
Gold Lava ~140
Orange Lava ~45
Specimens (Search On Ebay)
Gold Lava ~140
Orange Lava ~45
Golazo (Search On Ebay)
Gold Lava ~105
Orange Lava ~35

If you have any questions reach out via social media @SoccerCardsHQ on Twitter, IG and FB. Want to read more about Erling Haaland Rookie Auto Cards?
*All Search on eBay links are Ebay affiliate links