2022-23 Topps UEFA Club Competitions marks the return of the Topps big UEFA paper card release for the 2nd year in a row. This year it is a little bit different as last year it was a Champions League product and this year it's a Club Competitions proudct. That means that teams from not only the Champions League but also the Europa and Conference League are included in the product. This is going to be pretty standard for Topps releases this year. You can likely thank Manchester United and Cristiano Ronaldo missing out on Champions League for that change. Other than that the contents are mostly the same from 2021-22 Topps UEFA Champions League. The checklist is still 200 cards and there are SP and SSP image variations included. There are also plenty of hobby and blaster boxes to go around again this year as you will see in the print runs.
*All Search on eBay links are Ebay affiliate links
2022-23 Topps UEFA Club Competitions Details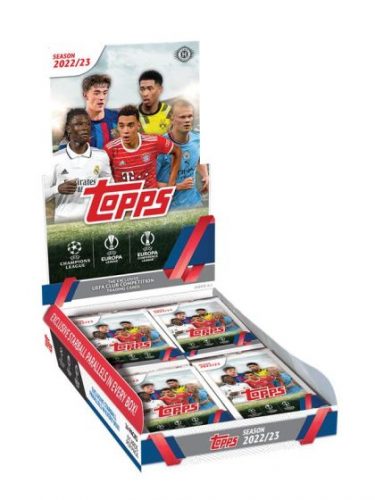 Checklist – HERE
Hobby Box Makeup – 24 packs of 8 cards. Roughly 3 numbered per box No guaranteed auto but should fall on average about 1 in 3 boxes. (Search on eBay)
Value (Blaster) Box Makeup – 7 packs of 6 cards. Roughly 60% chance of hitting a numbered card. No guaranteed auto but should fall on average about 1 in 29 boxes.
Print Runs – Based on pack odds there are roughly over 3,000,000 packs between hobby boxes and value (blaster) boxes. Roughly 1,700,000 hobby packs (~6000 cases) and 1,350,000 blaster packs (~190,000 blaster boxes).
The Starball odds area bit confusing as it has them 1:5 packs which would mean roughly 5 per box but the box odds have them at 6 per box (Thanks Topps). If there are 5 that would be ~1800 and 6 ~2160. I don't think it really matters since there are so many.
Pink Sparkle 3 per Hobby box or ~1080 of each base card.
4 Inferno Foil per blaster box for a total of ~3800 of each base card.
~23,000 of each 1959 Variation base card.
~8,000 of each Now Starring base card.
~1150 of each Perfection base card.
~100 of The Grail card. (Search On Ebay) More info below on this
There are roughly 25,000 total SP cards. Right now the checklist CC has only has 24 listed but last year there were 25 so I tend to belive it's the same which would mean a total of ~1000 SP Variation each. The SSP only has 4 listed so far but was 10 last year so not sure what to think there. There are roughly 3000 total SSP Variation so if 5 that would be ~600 if 10 ~300. Keep an eye on the checklist.
1562 Numbered parallels of each card. See checklist for full breakdown.
Rookie Breakdown – Want to know more about the rookies in this? Read Now
SCHQ Review – For some reason they made more 2022-23 Topps UEFA Club Competitions than they did last year's product. This is the ultimate entry level product. It's a product you can rip for fairly cheap and if you like to set build then it's fun. This product is at a bit of a value disdavantage to last year's as a lot of the rookies that are hot right now already have premium cards to chase so there is little reason to pick these up. The rookie checklist is plentiful and there are some interesting names but chasing these is not something I can recommend. That will probably keep a lot of collectors from getting hurt in the long run and it hurts the release value of this product.
I am not going to spend too much time breaking down the actual product as I did a pretty thourough job in the print run section and rookie breakdown. I will say there are some cool autos in the product especially some of the Premium Partnerships (Search On Ebay) The UCL Official Draw Auto Relics (Search On Ebay) and The Grail seem interesting, but to be honest I haven't seen either yet (*Update below). The I will dive a little into the value between hobby and blaster boxes. If it's numbered cards and SP/SSP variations you are after hobby boxes have about a 5 to 1 advantage. Hobby has an even bigger advantage in trying to hit autos at almost 10 to 1.  I am not saying that Hobby boxes are a good deal but I will say at the current hobby box price of $65 and blasters at $20 then buying Hobby is the no brainer way to go. These blasters are bad….real bad.
*Update on The Grail – The Grail is the Erling Haaland Topps Chrome card pictured below. It is part of a 9 card set with the others showing up in Topps products throughout the year. As noted above the print run on these is 100. While this becomes a big chase card in the product the odds of hitting them are quite low at 1:696 boxes. I don't think this really impacts the value on the product though I am sure more people will want to rip now. If they are worth $1000 that means boxes gain $1.50 of value. Not exactly a game changer but a pretty good marketing tactic by Topps.
In the tweet finally announcing this they mention "The Question begins". I am not sure if there will be more collectability to these such as if you complete the set you get an additional card aka The Grail. It would be very cool if they did but from looking at the card, I don't see how they would pull that off because there are no scratch redemption codes or anything unique on them.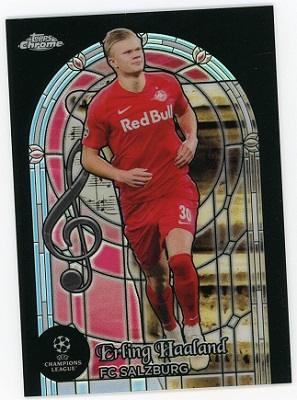 If you have any questions reach out via social media @SoccerCardsHQ on Twitter, IG and FB. Want to read more about Erling Haaland Rookie Auto Cards?