2022-23 Select English Premier League is the second Panini Select release of the year after 2022-23 Select La Liga debuted last month. You will notice that right now the Select EPL hobby box prices are much lower than the La Liga ones and that is for good reason. The print run of the EPL is over 4x that of La Liga. La Liga was super short print by hobby standards at 700 cases while EPL is in the new normal at 3000 cases. The review below will show just how much that matters.
*All Search on eBay links are Ebay affiliate links
2022-23 Select English Premier League Breakdown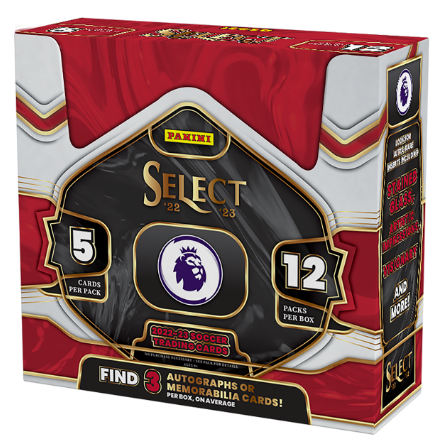 Checklist – HERE
Hobby Box Makeup (Search On Ebay) – 5 numbered base cards, 3 Auto or Relic cards
There are blasters that have Gold Mojo /10 and Blue Pulsar autos.
There are mega boxes that have Orange Ice /25 and Blue Pulsar autos.
There are none of the case hits in blasters or megas.
Print Run – ~3000 cases based on 5 numbered base cards per box.
Rookie Breakdown – Alejandro Garnacho, Julian Alvarez, Evan Ferguson, Wilfried Gnonto, Julio Enciso, Luis Sinisterra, Fabio Carvalho, Jeremy Sarmiento, Brennan Johnson, Djed Spence
SCHQ Review – While 2022-23 Select English Premier League has the same box makeup as 2022-23 Select La Liga it is almost a polar opposite when it comes to checklist and print run. La Liga was a short print set carried by autos and patches of legends while EPL is a high print run product with good rookies and light on legends with so so autos and patches. Panini did a good job of getting Evan Ferguson (Search On Ebay) in here along with Karou Mitoma in the base checklist which they did not do in Prizm EPL. Most of this review will be a comparative of those two products as I think people may have an idea of what this product may be from breaking La Liga and this is a vastly different value proposition.
Let's start off with why the print run matters so much. With La Liga every parallel except for one was numbered to 35 or less and the highest numbered parallel was to 75. With EPL there are 5 parallels higher than 35 and the highest numbered to 225. In hobby boxes roughly 36% of the parallels in La Liga are numbered 25 or less, while in EPL that number is only 8%. There are a total of 171 hobby numbered parallel cards in La Liga and 734 in EPL. That is a significant difference. On average you would get about 3.5 Gold base checklist cards per case in La Liga while in EPL it's less than 1.
The increased cases effects the case hits as well. If you aren't familiar the case hits are Artistic Impressions, Stained Glass, Team Badges and Visionaries. In La Liga Team Badges had a print run of 35, Artistic Impressions and Visionaries 28 and Stained Glass at 23. For Select English Premier League Team Badges have a print run of 150, Artistic Impressions and Visionaries 120 and Stained Glass at 100. Again that is a significant difference. If you want to see how much chek out the difference in Black and White Color Blast values (Search On Ebay). In theory that means you should pay much more for  Cristiano Ronaldo Artistic Impressions from La Liga than an Erling Haaland in EPL. Whether people pay enough attention for that to play out only time will tell.
There are only 6 teams represented in the Memorabilia (patch) cards in the set, 8 if you include the one Newcastle and Leicester City Autographed Memorabilia card. All of the players with patch cards are current players unlike La Liga. The checklists are heavy on players from Arsenal, Chelsea, Manchester United and City. If you are a fan of one of those teams this will be a great set for you. They did a pretty good job with the Dual Swatch combos (Search On Ebay). Erling Haaland has plenty of patch cards and I am interested to see the values on those considering he doesn't have many patch cards on the market so far.
The auto checklist of course has Haaland (Search On Ebay) as well. There are some retired players in the auto checklist with some club legends getting their first autos. Of course there is a David Beckham auto because what would a Panini checklist be without a Beckham auto. There are a couple interesting rookie autos in here with Wilfried Gnonto, Brennan Johnson and Djed Spence. We seem to be getting less and less rookie autos from Panini as time goes on. The Autographed Memorabilia (Search On Ebay) checklist is a bit lagging outside of the Manchester City hobby trio but I am glad they got some new teams in there for those collectors. Antonee Robinson clearly used his American ties to make the list.
My takeaway from La Liga was that even if you didn't get good value back from a box or case you wouldn't feel terrible because you hit lots of low numbered cards. It seems like that has mostly been the case. Panini pulled off the psychological feat of making you not feel bad even when you likely lost money which is hard to do. I don't think that will be the same for Select English Premier League. There are going to be some terrible boxes/cases but that is why the price point is and should stay lower. The nice Haaland cards will get people excited and likely cause some FOMO. It seems that some are trying to drag the price of EPL up to the price of La Liga, but I just don't see the justification for that right now. La Liga had Lionel Messi, Cristiano Ronaldo and Zidane which EPL does not. Maybe down the line if one of the rookies like Ferguson, who has limited cards, truly pops off then this set can shoot up in value. I would much rather have a case/box of this than 2022-23 EPL Prizm. Of course, the price of a box of Prizm is lower and will likely keep dropping now that Select is out.
If you have any questions reach out via social media @SoccerCardsHQ on Twitter, IG and FB. Read more about all the different soccer card sets?