2022-23 Panini Prizm Premier League is finally here. Every year Panini seems to push it back in the calendar more and more. this year undoubtedly so they could get Revolution EPL out because the demand for that product would be much lower if it came out after Prizm. Prizm Premier League is one of those products that comes out hyped thanks to the strength of the Prizm brand and the allure of the Premier League. Year after year it has turned out to be one of the more disappointing products of the year. Part of that is due to the fact that the strength of the rookies in the Premier League is not with some of the other leagues. Another problem is Panini is not very strong at identifying potential rookies in such an early release product. Let's dive in and see if that is the case again this year.
2022-23 Panini Prizm Premier League Breakdown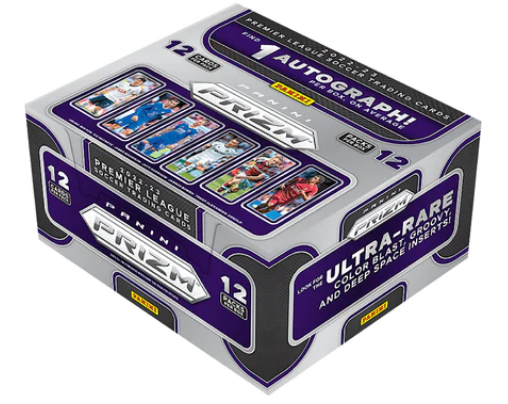 Checklist – HERE
Box Makeup – Hobby (Search On Ebay) – 12 cards per pack, 12 packs per box. 1 Auto, 4 Silver Prizm base, 5 numbered, 8 other parallels, 6 Inserts.
First Off The Line (FOTL) (Search On Ebay) – 1 Blue Shimmer base and auto, 5 numbered, 4 Silver Prizm, 7 other parallels, 6 Inserts.
Breakaway (Search On Ebay) – 9 cards per pack. 10 packs per box. 8 exclusive Prizm, 3 Silver Prizm base, 6 Inserts, Auto 1:2 boxes
Choice (Search On Ebay) – 1 pack of 8 cards. 1 Auto, 3 Silver Prizm, 3 Choice Prizm, 1 insert or base.
Print Runs ~3950 hobby cases
Rookies – Alejandro Garnacho, Kaoru Mitoma, Julian Alvarez, Fabio Carvalho, Stefan Bajcetic, Brennan Johnson, Marquinhos, Rico Lewis
SCHQ Review – Another year, another disappointment for me. Panini managed to screw up the checklist again. Let's start with the rookies. You will see that Mitoma is listed in the rookies and that is technically true. He is in the product. He just doesn't have a base card and Prizm is all about the base. All he has is an Instant Impact insert. This came as quite a surprise as Mitoma has a Revolution base rookie card (Search On Ebay). This will help some of his other rookie cards that are sure to come out later this year but it doesn't help Prizm. Panini also did not include his teammate, Evan Ferguson. His inclusion is not as big of a surprise considering he had only 1 appearance last year. That being said the thing that Topps does that Panini doesn't is make sure young players that get an appearance get in the checklist for the next season. Ferguson will undoubtedly have cards in later EPL sets this year. Once again that will be great for those sets but it is not good for Prizm. Two of the more exciting rookies, Garnacho and Bajcetic, recently got hurt so Panini kind of shot themselves in the foot by delaying the product. Those players will still command high prices but with them currently being out the hype won't be quite as strong as if they were playing and performing. Julian Alvarez got rookies in World Cup products including Prizm so he will have appeal but not nearly as much as if that wasn't the case. Most of the big rookies in this set will also likely appear in the full 2022-23 Topps run as well so there will be a ton of their rookie cards.
Color Blast is back and has a very strong checklist. For the first time there are Color Blast legend cards featuring David Beckham and Thierry Henry (Search On Ebay). Martin Odegaard, Marcus Rashford, Darwin Nunez and Julian Alvarez a few players getting their first Color Blast. It won't be known how rare they are until cases start to be opened. Usually, they are much harder to hit in Prizm than when they are in Obsidian. If they do fall like 1 in every 8 to 10 cases like the past that will hurt box/case prices. They should also bring back Gold Power Color Blasts for a great chase. For some reason Panini has gone away from make parallels of their best case hits. There are a lot of new inserts this year. Groovy, Sublime and Deep Space seem to be the ones that will be more short print. Not sure exactly how short print yet but will try to update when more is known. Groovy and Deep Space designs do not seem to be well received based on early feedback. Kaleidoscopic is an interesting design that I am will be wondering how they incorporate the parallels into. A Gold version of the card has potential.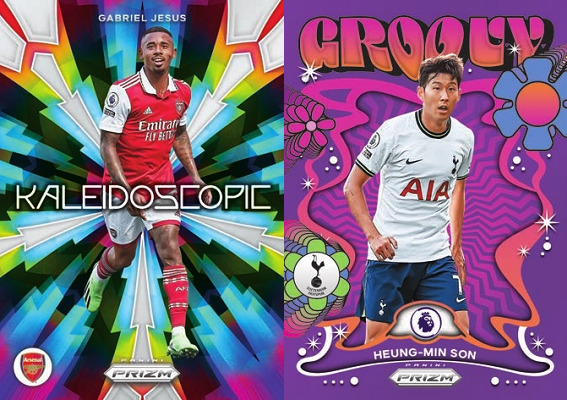 "Prizm is not about the autos" is a phrase you may have heard before. That is certainly the case for 2022-23 Prizm Premier League as well. None of the big rookies have autos. That is a big problem in the sticker auto age. If they don't get rookie autos but do after you know there is going to be a ton of them with little to set them apart. Erling Haaland autos (Search On Ebay) will likely be a big chase in here but it seems that Panini has plenty of his stickers to go around based on how many Revolution autos we have seen so far. In past Topps products Haaland autos were very short print. Outside of the David Beckham Roy Keane Dual auto I doubt those will get people too excited.
The First Of The Line boxes sold out at $291 which is about where I thought they would. The 3 most recent eBay auctions for last year's FOTL boxes are $224, $260 and $290. Last year's hobby boxes are selling in the $125 range. If you are buying boxes or breaks of 2022-23 Prizm Premier League I think looking at what 2021-22 Prizm premier League products are selling for is a good guide of where this may be headed. The rookie classes aren't all that different. Haaland cards will likely be a chase but that is kind of leveled out by the fact there aren't any Cristiano Ronaldo cards in this year's product. The Color Blast checklist is better but unless they are case hits that adds very little value to a single hobby box price. There are roughly 200 less base numbered hobby parallels per player this year compared to last year doubt at those levels it's enough to make a huge difference. They took away the Gold Power 1/1 which is usually a huge chase card. There is a snakeskin unnumbered parallel this year. Based on other products those are usually short print. In 2022 Prizm NFL they were a case hit so that could provide an interesting chase if it's the same rarity. The box makeup is the effectively the same so the number of boxes should come down a little. There is so much of last year sitting around that shouldn't matter.
(Update: Snakeskin, Groovy and Deep Space all appear to be like case hits without actually falling 1 per case. I have seen more cases with 2 Groovy and 0 Deep Space than 1 of each. I have also seen more cases with 2 Snakeskins than 0. Color Blast still seem to be in the 1 in 8 to 10 cases as has been the case in the past. All of this would put the print runs of each at ~15 Snakeskin (Search On Ebay), ~165 Groovy (Search On Ebay) and Deep Space (Search On Ebay) and 20-25 Color Blast (Search On Ebay). Sublime is listed as a retail exclusive though there has been 1 pulled in a hobby box.)
The big distributors are selling hobby boxes in the high $265-$290 and that seems ridiculous right now based on last year's prices which are half that. Last year came out in a similar range and has been on a steady decline ever since. If you can just avoid FOMO you will likely save yourself a lot of money buying boxes or breaks.
(Update: Everything is about what I expected except Panini passing out Erling Haaland autos like candy. The first Groovy and Deep Space are not selling like normal Panini case hits i.e Kaboom and Black Color Blasts. The Color Blasts in this set should sell like previous year's White Color Blasts. The box makeup is better than last year but with almost 4000 hobby cases there is plenty to be had. That puts it roughly in line with 2021-22 Topps Merlin Chrome hobby print run for example. Both have blasters but this EPL Prizm also has Choice and Breakaway. I would guess these don't see the floor that last year's did but hobby boxes are already listed at $240 on Ebay and we are only a few days in. They are trading for $200 on the dealer secondary market. I just added up a 3 box break that ended on ebay today and it averaged out to $246 per box which means after fees the breaker is probably not happy even if they paid $200 as that is not a lot of margin. That is usually a sign of prices that box prices should head down but for right now Prizm is the only game in town so it will take a while for big drops. Last year the boxes released roughly about the same. By the time of the National in July they were down to roughly $175 and then kept dropping to the prices they are at now. If you like what you see so far feel free to get in at the current prices. Just know if you are buying loose single boxes the case hits have likely already been hit. With the case hits in this that is not the end of the world but does bring down the expect ROI a bit if that concerns you.)
If you have any questions reach out via social media @SoccerCardsHQ on Twitter, IG and FB. Want to read more about Bukayo Saka Rookie Cards and Stickers?
*All Search on eBay links are Ebay affiliate links