We finally have the first non on-demand soccer set for Topps this year and once again it's 2022-23 Topps UEFA Club Competitions 1st Edition. Last year this was only a Champions League product but thanks to Manchester United missing UCL Topps had to use all their licenses for soccer products this year (only half kidding). This set provides us the first peak into the Topps checklist this year that will likely be mostly used for Topps Chrome UEFA and other sets this year. I was told there would be some different checklists used for other sets such as Finest but we will not know about how different those are until we see them. Let's take a look at what to expect in a box.
*All Search on eBay links are Ebay affiliate links
2022-23 Topps UEFA Club Competitions 1st Edition Breakdown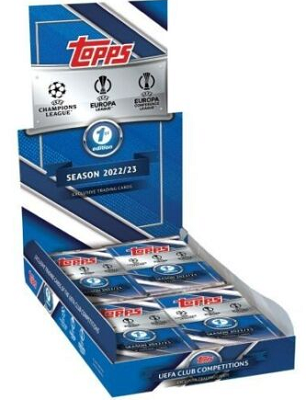 Checklist – HERE
Box Makeup (Search On Ebay) – 24 packs of 8 cards, ~3 # parallels, 6 Icy refractor, 6 Starball, 1 auto every 3-4 boxes
Print Runs – ~4350 boxes
~4100 base cards for each player
~130 Icy per player (Search On Ebay)
~260 Starball per player (Search On Ebay)
Rookie Breakdown – Here is the full 2022-23 Topps Rookie Breakdown
SCHQ Review – When Topps released 2022-23 Topps UEFA Club Competitions 1st Edition on ToppsUK my initial impression was not good. It would've cost me about $235 per box to get them delivered to the US. They released them a little while later on ToppsUS for $180 which was a much higher price discrepancy than normal between the two sites. On the Topps site they also stated there would be 2 parallels per box. Now that boxes are in hand the odds calculate out to about 3 parallels on average. I had also heard a rumor that autos were going to be much harder to hit than they turned out to be at roughly 1 every 3-4 boxes. It seems rare for Topps and Panini to under promise and over deliver but in this case Topps did.
The base checklist parallels line up the same as last year (/30, /25, /10, /5, /1). There is a bit of difference with the checklist construction. This year there is a separate 100 card checklist for Starballs. These all seem to be the players that are in the Champions League. The Future Stars are part of the normal base cards this year and not a separate SSP insert. The SSP insert this year is Now Starring (Search On Ebay) and those are all numbered to 30 and fall roughly 1 in every 30 boxes. If Topps doesn't use the Now Starring insert in other sets this year that could be a cool 1st Edition chase.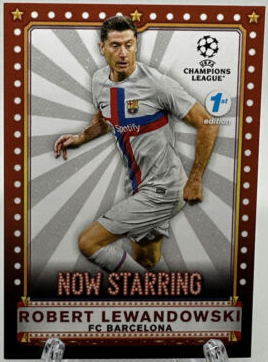 The auto checklist this year is much stronger than last year. Erling Haaland (Search On Ebay) and Lionel Messi both make the checklist this year but beware. If the odds are correct there are only roughly 90 Red /5 and 300 Orange /25 autos. If I had to guess who the missing autos are Haaland and Messi would be at the top of my list. I don't have any inside knowledge on that but it's not exactly a secret that great players get less autos. Alejandro Garnacho (Search On Ebay) and Fábio Carvalho are two of the big rookie autos as well Moreira Jr., Pablo Torre and Roony Bardghji. Overall even the lower end autos are decent.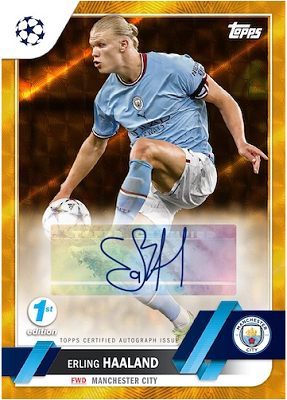 Last year the 1st Edition boxes were selling for around $450 on resale. Some people were convinced that 1st Edition was going to be a thing. Gavi base cards were selling for $45 which inspired me to make this Tweet and I got some grief for it as you can see. It ultimately ended up being right. Hopefully this year people have realized that at the end of the day 1st Edition is a paper product of a checklist that will be repeated over and over. Some of the cards look cool and as I mentioned the auto checklist is pretty solid if you are lucky enough to hit one. Last year's boxes got for around $200 right now while this year is going for around $260 (Search On Ebay) and yet they are still sitting on the ToppsUS site for $175 as of right now. I don't know how this happens. Considering the box make up is a little better this year the autos and rookies will be the big differentiator. The 2021-22 Topps rookie class was weak compared to the previous few classes. This one is not near those previous ones either and is more on par with last year. With where it is selling right now you have to decide what would you rather have a box of this or 2022-23 Prizm Premier League. This checklist is better while Prizm is the more desired brand. You can also wait for Donruss which should be releasing next week which may have a checklist that more resembles a UEFA product. As always buy what you like.

2022-23 Topps UEFA Club Competitions 1st Edition Pack Odds
If you have any questions reach out via social media @SoccerCardsHQ on Twitter, IG and FB. Want to read more about Erling Haaland Rookie Auto Cards?