Thanks to 2022-23 Topps UEFA Club Competitions 1st Edition we have an idea of the players that will make up the 2022-23 Topps UEFA rookies. I did this last year for the 2021-22 Topps Rookies and it was well received so let's run it back. This year Topps has included Europa League and Conference League to Champions League for their UEFA products. In previous years this was mostly only done in Merlin Chrome. If you have read the site for a while you know that I am a big Merlin Chrome fan because of that. Until we see the rest of the checklists this year I am not sure how much different the rookies will be in all the different sets such as Topps Chrome, Finest, Stadium Club and Merlin Chrome. Hopefully there are a couple rookies with big potential that only show up in a set or two. That scarcity is a big driver of potential gains which can really make a product exciting.
If you didn't read last year's breakdown know that I only give details for midfielders, wingers and strikers. Defenders and goalies don't get enough love right now to worry about their rookies from an investment standpoint. If you are a fan of them or the club still collect who you like and be happy you get them for much less. Finally this breakdown, like everything on SCHQ, is not meant in anyway to be financial advice. It's just to give you a better idea on the players since not everyone has time to dig up info on all these players. Topps does a very good job at identifying rookies early unlike Panini and has 54 so far with more to come. That said you will notice a common theme for some of these players is high potential but will need time. If you are trying to do the quick flip game some of these players won't give you that opportunity. Give a read to this article on soccer card rookie prospecting in these times. The players show up in the order of the checklist.
*All Search on eBay links are Ebay affiliate links
2022-2023 Topps UEFA Rookies
Dijon Kameri – Salzburg – Attacking Midfielder (Search On Ebay)
Dijon is an 18 year old Austrian Wonderkid for the prospect loaded Salzburg team this year. An injury has cost him some time but in his game time he has shown flashes of brilliance. He has high potential of a big transfer eventually based on his age and situation.
Mohamed-Ali Cho – Real Sociedad – Forward (Search On Ebay)
The 18 year old French Forward broke through with Angers at the age of 16. He transferred to Sociedad over the summer. Injuries have also cost him some time this season. He has hobby potential based on his age and position although he will need more time to develop.
Valentin Carboni – Inter Milano – Attacking Midfielder (Search On Ebay)
Valentin is already getting time for Inter Milan is his age 17 season which is very impressive. He was born in Argentina but played for Italy as a youth. Whatever country he chooses to represent will be good for his hobby prospects. This is another one you may have to wait on but the hobby potential is very high.
Amine Gouiri – Stade Rennais (Search On Ebay)
Amine is probably one of the best rookies currently in this class. He has had double digit goal + assists for the last 3 seasons in Ligue 1. He is also considerably older than many of the other rookies having recently turned 23. Panini not having Ligue 1 cards before now is why he is just getting a rookie card. He has a rookie sticker all the way back in 2019 Panini Foot. He moved from Nice to Rennes this year which got him in this set. Rennes is a selling club so maybe he gets an even bigger move but his age probably limits his hobby ceiling unless the move is a huge one.
Fabio Carvalho – Liverpool – Attacker / Midfielder (Search On Ebay)
Liverpool finally got Cavalho this summer after chasing him for a bit. I put attacker for his position because Jurgen Klopp has been playing him all over the pitch. He is playing in his age 19 season and the fact that he is seeing time for Liverpool at that age is a reason to get excited. There are a lot of attackers at Liverpool so his biggest hobby holdback will be getting enough time to satisfy investors. The Liverpool collectors will keep his prices off the floor until then.
Pablo Torre – FC Barcelona – Attacking Midfielder 
The good news is he is in his age 19 season, very talented and plays for Barcelona. That's something that drives hobby hype. The bad news is Barca is loaded with young superstar midfielders who he would have to supplant for enough time to keep the hobby excited. He did manage a Champions League goal this season.
Faride Alidou – Eintracht Frankfurt
Faride is 21 and is barely playing for Frankfurt. It's tough to see a path to hobby love with that situation.
Moreira Jr. – SL Benfica – Winger (Search On Ebay)
Diego Moreira is an 18 year winger who has been playing for the Benfica B team mostly. He did help lead Benfica to a UEFA Yout League title which has put him on the world map. Another player with loads of potential but will take some time for hobby relevance.
Roony Bardghji – FC Copenhagen – Winger (Search On Ebay)
Roony was born in Kuwait but is likely to represent Sweden. He is playing in his age 16 season and is the youngest scorer ever in the Danish Superliga. He is on the radar of huge teams around Europe so a big move is likely in his future at some point. That's a lot of good hobby factors working in his favor. If he does get the big move that is likely the time to sell. We have seen many times recently where young players like this get signed and then have to sit. While they sit the hobby gives up on them even though they are still very young.
Jamie Bynoe-Gittens – Borussia Dortmund – Winger (Search On Ebay)
Bynoe-Gittens is English and playing winger for BVB in his age 17 season. That is one of the combos that you would concoct if you went to the soccer rookie hobby lab. He's performed pretty well in his time this year though nothing to get a huge hobby bump. He needs more game time for that.
Desire Doue – Stade Rennais – Attacking Midfielder (Search On Ebay)
Doue is a French 17 year old playing and starting for Rennes. Rennes is one of the teams where the European super teams like to go shopping for young players. Doue will likely get a big move at some point. Until then you will have to be patient.
Alejandro Garnacho – Manchester United – Winger (Search On Ebay)
If you don't know about Garnacho by now you are either new to soccer cards or were in a coma. Welcome to all the fun in either of those cases. He is currently injured which is keeping his prices slightly and I mean slightly down. He is a hobby darling and for good reason, but he will need to keep performing to keep his prices up considering how many rookie cards he will end up with.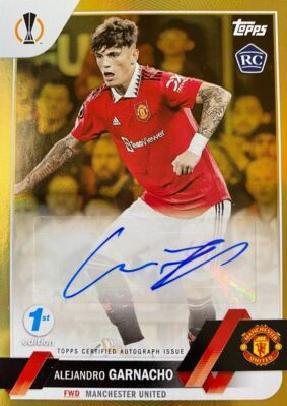 Mykhailo Mudryk – Chelsea FC – Winger (Search On Ebay)
Mudryk is another one you probably know about by now. A lot of people were saved on his prices by him not having many cards out earlier this year. Like everything at Chelsea this year he has been a disappointment since he made the move. I wouldn't give up on him yet, but man did he make what looks like a bad decision.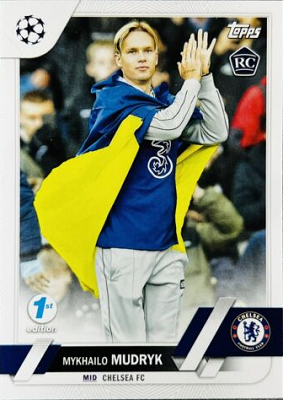 Nicolo Fagioli – Juventus – Central Midfielder
Great player playing for a big club but is already 22. He is also more likely to pile up assists not goals. Likely more to be appreciated by soccer fans than soccer collectors.
Nicola Zalewski – AS Roma – Defender
El Chadaille Bitshiabu – Paris Saint-Germain – Defender
Julian Alvarez – Manchester City- Forward (Search On Ebay)
Another player you are likely familiar with. He plays for one of the biggest teams in the world and already has a World Cup win. Julian is obviously a world class talent. In my mind his biggest problem is he plays on the same club team as Erling Haaland. That puts such a ceiling on his hobby potential that wouldn't be the case on other teams. He recently signed an extension to stay at City which I wouldn't love if I was prospecting him. That said if he ever moves he would have some tremendous hobby potential. He also got World Cup cards and being in the Premier League will get a ton of Panini rookie cards as well.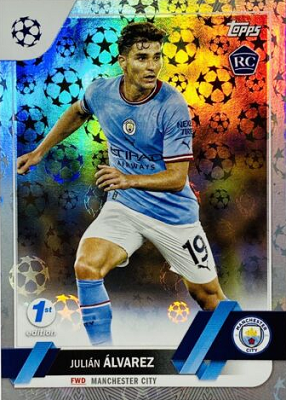 Gabriel Veron – Porto – Winger
The 20 year old Brazilian moved from Palmeiras to Porto over the summer. He has had trouble getting time and making an impact so far this season. Needs time and another move to really get hobby love.
Lynnt Audoor – Club Brugge – Defensive Midfielder
Charlie McNeill – Manchester United – Forward (Search On Ebay)
Charlie is a young English forward for Manchester United. That is a great hobby combo. He is currently on loan with League Two side Newport County. That should keep things tempered for now but if he gets a chance and performs it will be off to the races.
Samuel Iling-Junior – Juventus – Winger (Search On Ebay)
Another talented young English winger at a big club. Samuel has been getting some time for Juventus but not enough quite yet for the hobby to take notice.
Bruno Iglesias – Real Madrid – Attacking Midfielder
Bruno is a 19 year Madrid product is going to have a tough time finding meaningful time for Madrid anytime soon with that loaded midfield. Likely needs a move if he wants a chance at hobby relevancy anytime soon.
Lucas Gourna-Douath – FC Salzburg – Defensive Midfielder
Issahaku Fatawu – Sporting CP – Winger (Search On Ebay)
The 19 year old Ghanian winger had plenty of hype coming out of his early play in Ghana. He has got limited time with Sporting this year and is another one that is likely a season or two away.
Roko Simic – FC Salzburg – Forward (Search On Ebay)
Simic is a 19 year old Croatian forward that had a bit of hype coming into the season. That tends to happen with young Salzburg forwards. He had trouble finding time and was loaned out to Zurich in January. With Benjamin Sesko and likely others leaving Salzburg in the summer next year could be a better chance for him to shine.
Johan Bakayoko – PSV Eindhoven – Winger (Search On Ebay)
The 19 year old Belgian winger has had a solid season for PSV with 5 goals and 3 assists so far in the Eredivisie. Could be in line for a move that may cause some hobby excitement depending where he ends up.
Alfie Devine – Tottenham Hotspur – Attacking Midfielder (Search On Ebay)
Alfie is the youngest senior player in Spurs history. He had a solid year in the Premier League 2 (U21) last year scoring 9 goals but has only managed 2 this year. He's still only 18 so there is time.
Goncalo Borges – Porto – Winger
Goncalo is a Portuguese winger that recently turned 22. He has only got a few minutes for Porto this year. Based on his age and situation he probably won't see much hobby love.
Warren Zaire-Emery – Paris Saint-Germain – Central Midfielder (Search On Ebay)
Central mids are usually where early hobby prospecting money goes to die. That said Zaire-Emery is special. He is the youngest player ever to start in a Champions League Knockout game. Likely ends up being a better actual player than hobby investment.
William Clem – FC Copenhagen – Defensive Midfielder
Antonio Nusa – Club Brugge – Forward (Search On Ebay)
Nusa is a 17 year old Norwegian nicknamed the "Norwegian Neymar" by some. If cards would've been released before the season he may have seen a bump when he became the youngest player to score in his Champions League debut and second youngest ever behind Ansu Fati. That earned him a Topps now and likely a place in this set. He hasn't done much then but remember he is only 17. Playing for Norway he could be a big help in Haaland's international hopes down the road.
Noah Sahsah – FC Copenhagen – Winger 
Sahsah is a 17 year old Danish winger. This is a Topps special and what sets them apart from Panini when it comes to rookie prospects. he played 16 minutes in a Conference League game last year and that was enough to get him in this set. he' still very young but if I was picking up a Copehagen prospect it would be Roony Bardghji over Sahsah.
Lorenzo Lucca – Ajax – Forward 
The now 22 year old is the first Italian to play for Ajax in their history. He has scored a few goals for the senior club this year but has spent more time on Jong Ajaz (B team). His Ajax teammate Brian Brobbey does not get much hobby love despite actually scoring and being a year younger so it's going to be tough for Lorenzo.
Pablo Marin – Real Sociedad – Attacking Midfielder
The 19 year old Spanish midfielder has been getting time with Sociedad this year. He doesn't envision to be a big scorer so doubt there is much hobby love in his future.
Matias Soule – Juventus – Winger (Search On Ebay)
A 19 year old Argentinian winger has drawn comparisons to Angel Di Maria. If he ends up that good it would be quite an accomplishment. Even then check Di Maria hobby prices.
Randal Kolo Muani – Eintracht Frankfurt – Forward (Search On Ebay)
Kolo Muani had a chance to cement his legacy in Qatar but was stopped 1v1 by Emiliano Martinez in what ultimately cost France the title. He is very good but is now 24 years old which is a similar problem Jonathan David had last year. It just shows how much time some of these other guys have to start shining.
Kristjan Asllani – Inter Milan – Defensive Midfielder
Orkun Kokcu – Feyernoord – Midfielder
Orkun is a 22 year old Turksih midfielder. He has had a couple of nice seasons for Feyernoord with 16 goal contributions in the league last year and 8 goals so far this season. His hobby problem is he plays too many games at defensive midfielder. If he ends up playing in a more attacking role he could be interesting as he has it in him.
Santiago Gimenez – Feyenoord – Forward (Search On Ebay)
The 21 year old Mexican move to Feyernoord over the summer. He has led the side in goals this season. Being a Mexican forward should help his hobby prospects.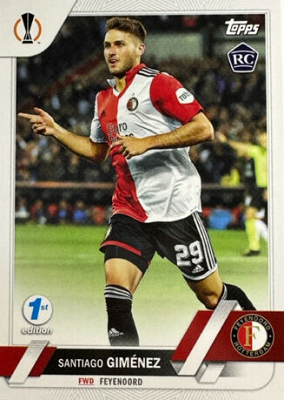 Dario Essugo – Sporting CP – Defensive Midfielder
Pablo Barrios – Atlético de Madrid – Central Midfielder
Unless the 19 year Spainard moves to a more attacking role he will probably be ignored by the hobby.
Enzo Fernandez – SL Benfica – Central Midfielder (Search On Ebay)
Enzo was the World Cup Young Player Of The Tournament and has a World Cup Title to his name. He parlayed that into being getting highest transfer fee in Premier League history. He is another one of the many Chelsea transfers that hasn't quite meant results for them. He is a box to box mid and the hobby doesn't look favorably on that position.
Matthis Abline – Stade Rennais – Forward
Matthis is a French forward who recently turned 20. He started the season at Rennes but was not getting much playing time. He was loaned out to Auxere which has allowed him to get some time and score a couple goals.
Andreas Schjelderup – SL Benfica – Winger / Forward (Search On Ebay)
Schjelderup is an 18 year old Norwegian winger that signed with Benfica in January after spending the first half of the season at Nordsjaelland in the Danish Superliga. He's considered a winger but scored 10 goals in 16 starts at forward which got him the big move. He has yet to really feature for Benfica but there are a lot of good players ahead of him. As some of those players move on he could feature in the future. He will also be one of the players that could help Haaland in the future for Norway.
Fabio Blanco – Barcelona – Winger (Search On Ebay)
The 19 year old Spaniard has yet to play for Barcelona so this was Topps doing some digging just based on transfers and potential. He is considered one of the great young Spanish wingers and had plenty of suitors. He's currently playing for Barcelona B as Barcelona has a glut of wingers.
Hakon Arnar Haraldsson – FC Copenhagen – Attacking Midfielder / Forward (Search On Ebay)
Hakon is a 19 year Icelandic player who is a bit interesting from a hobby perspective. He was considered to be an attacking midfielder but Copenhagen has moved him to forward and it has paid dividends. He has scored 3 goals in his last 4 starts and he even scored a Champions League goal against BVB in the 1-1 draw back in November. He is a player that will likely fly under the radar but if this move to forward becomes permanent he becomes more intriguing.
Youri Regeer – AFC Ajax – Defender
Patrik Walemark – Feyenoord – Winger
The 21 year old Swede has been getting sub minutes for Feyenoord this year. He will need to find time and a move soon if he wants to get on the hobby radar.
Marko Lazetic – AC Milan – Forward
The 6'3 Serbian forward has had trouble finding time for AC Milan. He has been loaned out to Rheindorf Altach in the Austrian Bundesliga. He isn't really making an impact there which is a bad sign for his near term hobby values.
Marquinhos – Arsenal – Forward (Search On Ebay)
Not to be confused with the defender Marquinhos that plays for PSG. This Marquinhos is a forward that signed with Arsenal over the summer. He dominated for the Arsenal U21 squad before being loaned out to Norwich City in January to get some time. His biggest hobby issue is Arsenal is loaded with young attacking talent. If he can manage to breakthrough and starting scoring for the senior squad he will be a hobby superstar.
Isak Bergmann Johannesson – FC Copenhagen – Central Midfielder
Rodrigo Ribeiro – Sporting CP – Forward (Search On Ebay)
The 17 year old Portuguese forward has loads of potential. Finding time for Sporting is his issue right now. That is to be expected of a 17 year old on that team. As other players move on he should get his chance. It could be a while so you will have to be patient.
Arnaud Kalimuendo – Stade Rennais – Forward (Search On Ebay)
If you follow Ligue 1 you are likely familiar with Kalimuendo. He has been scoring goals in the league for the past few year starting in his age 18 season for Lens. Now in his age 20 season for Rennes he is 3rd on the team in goals. If he stays in Ligue 1 his hobby prospects are probably not great considering he was a PSG academy kid and they gave up on him so are unlikely to bring him back.
New Rookies In 2022-23 Merlin Chrome UEFA
Alessandro Bianco – ACF Fiorentina – Center/Defensive Mid
Maghnes Akliouche – Moncao – Attacking Mid (Search On Ebay)
Maghnes is a 21 year old attacking mid that has not seen a lot of senior action so far. At his age he would really need to break out to keep the hobby attention. He was a 5 minute sub in Monaco's first game but managed to score his first senior goal in that time.
Soungoutou Magassa – Monaco – Defensive Mid
Eliesse Ben Seghir – Monaco – Attack Mid (Search On Ebay)
Eliesse is an 18 year old attacking midfielder for Monaco that was a great inclusion in this set. He scored 4 goals as a 17 year old last year which is reason for hobby hope. He will probably fly under the radar, especially if he doesn't start hot, but he's got the makeup for hobby potential.
Matthew O'Riley – Celtic – Center/Defensive Mid
Hyeongyu Oh – Celtic – Forward (Search On Ebay)
Oh Hyeon-gyu is a 22 year old Korean forward that transferred to Celtic in the January window last season. He scored 6 goals in the 16 games he played there. The position and nationality are the big appeal here. If he were to get another transfer this year to a big team there could be some upside potential.
Arda Güler – Fenerbahce (Now Real Madrid) – Attacking Mid (Search On Ebay)
Güler is the player that I thought everyone was going to know about from this product. After seeing the price on a few early break spots I guess not all soccer breakers actually pay attention to soccer. He is an 18 year old attacking mid that scored 5 goals and 4 assists for Fenerbahce last year. That earned him a transfer to Real Madrid this summer. Unfortunately, he is already hurt and will miss a few months. I would say this is his only rookie so if he does become a star these cards could do similar to other players that only have a Merlin card like Mathys Tel. Saying that would be ignoring his Mythos card (Search On Ebay) which came out during the 2021-22 season and are licensed. Knowing the hobby those cards will get less credit now that he has a Topps card. As someone who likes the earliest card I couldn't let it go without a mention.
Abakar Sylla – Brugge – Defender
Omer Atzili – Maccabi Haifa
It's cool that they got some Maccabi Haifa players in as it could bring in new collectors. As far as prospecting they are too old to worry about.
Frantzdy Pierrot – Maccabi Haifa
Mohammad Abu Fani – Maccabi Haifa
Issa Kaboré – Marseille – Defender
Vitinha – Marseille – Forward
Vitinha, not to be confused with the other Vitinha, is a 23 year old forward that plays for Marseille not PSG. He was a solid goal scorer early in his career for Braga. He only scored a few goals for Marseille last season but did start this season with a goal. Being 23 is too old for long term hobby though.
Divin Mubama – West Ham – Forward (Search On Ebay)
Mubama is an 18 year old English forward that scored a Conference League goal last season. That earned him a Topps Now card and likely a spot in Merlin. His mix of age, position and nationality give him a super high hobby ceiling if everything were to go right. I don't think that will be this season but who knows what his future brings. If you're going to take a flyer this is the type of player I can get behind as his prices are very low right now so there is not a ton of risk.
Sávio – PSV Eindhoven (now Girona) – Winger
Savio is a 19 year old Brazilian winger that is now at Girona after get a little run at PSV Eindhoven last season. I would feel much better about his hobby potential if he was still at PSV Eindhoven. He's still young enough to have potential, but if it happens this year, I doubt many in the hobby notice.
Evann Guessand – Nantes (now Nice) – Forward
Guessand is a 22 year old French striker that may get some people excited based on that description. Outside of a good season in Turkey he has never shown much that makes me think he will ever have much of a hobby impact. He has 2022-23 Socre rookies that not many people seem to care about.
Quentin Merlin – Nantes – Defender
Mario Gila – Lazio – Defender
Matteo Cancellieri – Lazio – Winger
Matteo is a 21 year old Italian winger. He hasn't shown much in his career so far to get the hobby excited. Considering he is already 21 and plays for Lazio it's hard to see that changing.
Oussama El Azzouzi – Defender
Simon Adingra – Union Saint-Gilloise (now Brighton & Hove Albion) – Winger (Search On Ebay)
Adingra is a 21 year year old winger who is now playing in the Premier League for BHA. He should've had a brace as a sub in his first EPL game but Evan Ferguson stole his second goal. BHA is loaded with attackers so I am not sure he will get enough time to score the goals needed to stay hobby hot. If there are some injuries or he shows incredible form that could change as the talent is there. Wish he were a couple years younger for his hobby prospects.
Victor Boniface – Union Saint-Gilloise (now Leverkusen) – Forward (Search On Ebay)
Victor is a 22 year old Nigerian forward that got a transfer to the Bundesliga this summer. He is in a great hobby potential spot at Leverkusen. He will likely score goals. I am just not sure if he is young enough for people to get excited. Another Nigerian Victor, Osimhen, broke out late so I guess time will tell.
Martim Neto – Benfica (now Gil Vicente FC) – Center Mid
Nicolas Raskin – Rangers – Center/Defensive Mid
Alex Lowry – Rangers (now Heart of Midlothian) – Attacking Mid
Lowry is a 20 year old Scottish attacking midfielder. He hasn't made much of an impact so far and now that he is loaned out from Rangers it's hard to see that changing.
If you have any questions reach out via social media @SoccerCardsHQ on Twitter, IG and FB. Want to read more about Erling Haaland Auto Rookie Cards?