2022-23 Donruss Soccer is finally here. The set was originally supposed to come out in January has been pushed back months. I think that was because they wanted to clear out of some other less desired product first but who really knows. Like the past few years 2022-23 Donruss Soccer also contains the more preferred Optic cards. Kaboom returns as a case hit in this product and Panini has added Night Moves as a second case hit. They also added US Women's National Team players to this year's set which could be helpful since the Women's World Cup will be played this summer. While Panini has integrated women's cards before this is the first set where there are women's Rated Rookies and Kabooms. Let's take a look at what to expect in this year's boxes.
2022-23 Donruss Soccer Breakdown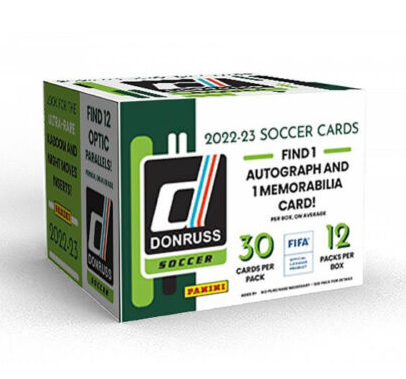 Checklist – HERE
Box Makeup (Search On Ebay) – ~3 Optic numbered cards, 3-4 Donruss numbered cards, 1 Auto, 1 Memorabilia Card, 12 Optic Holo, 41-42 Donruss Silver, 1 Kaboom and 1 Night Moves per case
Print Runs – ~1900 cases based on 3 Optic numbered cards per box.
Rookie Breakdown – I hope to do a full Panini Rookie breakdown. Most of the big rookies in here are also part of this 2022-23 Topps Rookie Breakdown.
SCHQ Review – I think 2022-23 Donruss Soccer is a pretty interesting product that may be flying a bit under the radar at release. A lot of people got burned on last year's Donruss. To say it was a cluster you know what on release is an understatement. I detailed why in the 2021-22 Donruss Soccer Review. This product box makeup and checklist is better. While this year's rookies aren't 2018-19 Donruss level by any means they are certainly better than 2021-22. I don't think there is a ton of significance that last year was a "Road To Qatar" product but I also thought the RTQ stuff was a bit of a sham used to inflate prices.
If you have ever opened Donruss before you know it's a lot of cards. Most of the Donruss paper cards are so plentiful that they don't have much value. If you enter in breaks and you are interested in the Donruss cards make sure to read the fine print as some breakers don't ship them or they make all base cards it's own spot. The value in this set is in the parallels, auto, memorabilia and most importantly the case hits. Panini changed up the numbered cards a bit this year. First off there are no Donruss Press Proof numbered cards. That is probably a good thing since Press Proof numbered don't have the same pop as numbered color cards which have taken their place this year. There are 3-4 numbered Donruss cards per box this year. All numbered 199 or less. Last year there were on average 2 numbered Optics per box. This year there are 3. That might not sound like a big difference but it's 50% more. There are also 12 Optic Holo and 41-42 Donruss Silver unnumbered cards. While those won't be huge hits you have over a 25% chance of hitting each player per box which is not bad. If my case print run numbers are correct there should be about 1 Gold Donruss and Optic (Search On Ebay) per case and as you know those are big chases. Of course there are no guarantees. The chances of hitting either a Donruss or Optic 1/1 should be about 1 in 5 cases. I say if on the print run as Panini doesn't give pack odds so I have estimated based on 3 numbered Optic per box which has been pretty consistent from what I have seen.
The auto checklist is broken down to Signature Series and The Beautiful Game. Kylian Mbappe, Lionel Messi and Cristiano Ronaldo are in 1 of the 2 and Erling Haaland is in both including his first ever autos in a Norway kit (Search On Ebay). Manchester United fans should be quite happy with the auto checklist. David De Gea has his first ever autos but they appear to be redemptions. Gordon Strachan also gets his first auto which comes in a United kit as well. Andy Cole and Dwight Yorke as well as Paul Scholes and Roy Keane appear in the Dual auto checklist. There is a Mallory Swanson and Rose Lavelle dual auto which is another cool card for USWMNT collectors. The Vini Jr and Rodrygo dual should be a good one for Madridistas. All of the autos appear to be on an Optic silver type stock which is better than paper.
The memorabilia (kit) cards never get a ton of love in Donruss since they usually aren't match worn. That appears to be the case this year as welll although the Cristiano Ronaldo's do appear to be player worn from an early hit I saw (Thanks Luke/SoccerBreakers). There are Gold /10 and Black /1 of each of these which can be great hits since they can be multi color patches which tend to be more collectable.
The big difference between this year and last year's set is the addition of the Night Moves (Search On Ebay) case hit. These can best be described as vertical Black Color Blasts. They seem to be getting good early reviews as I thought they might. I had seen them in some other Panini sports sets and were excited they were being added to 2022-23 Donruss Soccer. The checklist on these are pretty strong so that is some good added value to cases. There are of course also Kabooms this year. The checklist on these is pretty strong as well. They added two legend Kabooms (Search On Ebay), Zinedine Zidane and Kaka, which are a nice addition and hopefully this is the only ones they ever have as that would make them quite collectable. The big difference between this year and last year is that the checklist expanded from 20 to 25. Based on the fact that there are less hobby boxes this year than last year I think there will be roughly about half as many Kabooms for each player this year than last year. Kabooms and Night Moves do not show on the sell sheet for retail so I do not expect them to be in there. It will be interesting to see if the market treats these like that or if there are still too many for it to make a difference. That is something to keep an eye on.
Panini has listed this on their site at $185. Considering last year's hobby boxes still sell for over $200 I think that is pretty reasonable. If you can only afford to buy a single box then you should buy from Panini. If you are buying loose boxes anywhere else the chances are the case hits are not in there. If you are buying into breaks I would recommend only buying into case breaks as well if you are hoping for a Kaboom or Night Moves. If you are not then you may be able to get a better deal on box breaks. I think this product is also much better value than 2022-23 Prizm EPL which is about the only other premium hobby product out right now.
If you have any questions reach out via social media @SoccerCardsHQ on Twitter, IG and FB. Want to read more about Erling Haaland Rookie Auto Cards?
*All Search on eBay links are Ebay affiliate links