2022-23 Select La Liga is here and it's the first time Panini has made a standalone Select league set. There will be others coming this year and also a FIFA set. As you will read this is a fascinating set because of the short printed nature and the fact the base checklist is weak but the other parts are strong. The boxes price point is high by today's standards but let's see if it's worth it.
2022-23 Select La Liga Breakdown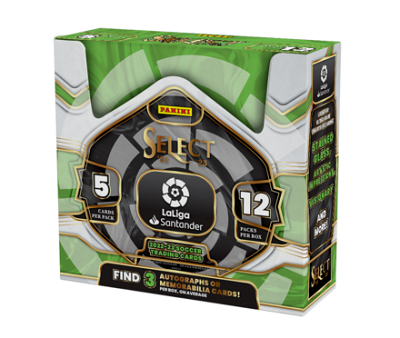 Checklist – HERE
Box Makeup (Search On Ebay) – 5 numbered base cards, 3 Auto or Relic cards
There are blasters that have Gold Mojo /10 and Blue Pulsar autos. There are none of the case hits in blasters.
Print Run – ~700 cases based on 5 numbered base cards per box.
Rookie Breakdown – Pretty light. El Bilal Toure was having a good season but got hurt.
SCHQ Review – 2022-23 Select La Liga is a fascinating set. It's the 2nd least printed traditional hobby release since 2019 Topps Chrome Bundesliga (Search On Ebay) which had about 600 cases. As you can see by the Rookie Breakdown above there is a real lack of rookies in the product unlike 2019 Chrome Bundesliga which had Haaland. The product will mostly be carried by the autos, relics and case hits. This is the first set with Zinedine Zidane autos (Search On Ebay) which is quite exciting. Based on the amount of numbered autos they have him compared to other superstars like Lionel Messi and Cristiano Ronaldo, it feels like Panini is hoping Zidane autos help carry the set. For instance, Zidane has 61 numbered autos in the product while Messi only has 7. Maybe the base autos won't be as plentiful, but it feels similar, although not as many, to what they are doing with Erling Haaland autos in their Premier League products based on the few early breaks I have seen. Just know that Zidane will have plenty of autos this year including some from Topps. It also seems like most or maybe all of his sticker autos in this set have been put on upside down. That may hurt the value after correct ones hit the market. If you can wait on them and get a better deal.
The auto checklist has some great legends beyond Zidane, Messi and Cristiano Ronaldo. David Beckham, Ronaldo Nazario and Xavi Hernandez to name a few make the list. Just know like that they will have limited autos as well. The good news is that you should see at least one of the above in a case but as with everything that is not certain. There are also autos for some of the current stars including the first traditional hobby release for Gavi autos. He was previously included in Panini Instant cards. Some other current stars include Pedri, Ansu Fati, Vinicius Junior, Rodrygo and David de Gea who again shows up as a redemption. There are even patch auto cards which show up in the Autographed Memorabilia (Search On Ebay) which is the only autos Messi has.
Patch, Swatch, cards are the other big draw in here. They are aesthetically nice cards but from the early breaks I have seen they unfortunately don't seem to be match or even player worn. The Dual Swatches checklist has some amazing pairings highlighted by Xavi and Iniesta and Messi and Luis Suarez. Sadly the Messi / Suarez only shows up as a base so not sure how many there are. The Xavi / Iniesta only has 1 for each parallel so a total of 5 plus whatever base they may or may not have. Like with all patch cards the better looking the actual patch the better the value of the card.
There are 4 case hits in this product. Stained Glass (Search On Ebay) is the one that everyone will be familiar with. Messi, Cristiano Ronaldo and most of the current stars of La Liga are represented in the 30 player checklist. There are Team Badge case hits which is a nice touch. The Artistic Impressions (Search On Ebay) case hits have a bit of a Noir feel. Visionary (Search On Ebay) rounds out the case hits. I also really like the look of the Unstoppable inserts and they do have parallels, but the checklist left a bit to be desired. I will be very interested to see how these case hits do. They will be pretty SSP so the right players should do well.
Trying to value this product is very hard because of how low the print run is and the amount of case hits. When I initially saw the presale prices in the $400-$500 range I thought they were way too high but as I dig it gets more interesting. The lack of rookies would normally kill a product but that isn't the case here. La Liga currently doesn't have any of the Big 4 (Messi, Ronaldo, Haaland, Mbappe) in the hobby which hurts the base checklist. There are guys in that next level (Vini, Pedri, Gavi, Lewandowski, Benzema etc) but if they would've put Messi and Ronaldo in the base checklist this would've been a home run. The reason for that is that the highest parallel is /75 and the rest are /35 and under. The /35 and under parallels are ones that people tend to like (Tie Dye, Zebra, White, Gold and Black). Only the Green /5 lacks in hobby appeal. You also get 5 of them per box. One of Ones should average just under 1 per case which is insane. Just know that players like Messi will have 1/1 that are different colors than black. If you hit a Gold 1/1 Messi auto it will be labeled One of One. The problem is outside the autos and patches none are going to be huge home runs. Don't get me wrong you will gladly take a Benzema or Lewandowski Gold but they pale in comparison to a Messi or Haaland.
This is going to be a tough product for breakers as well. The checklist is dominated by Barcelona and Real Madrid as you would expect. I would guess that is where 80% of a case break cost would come from. That would mean in a PYT case break they would have to cost a couple thousand dollars. If you enter into a PYP break you better download the Panini checklist with all the auto and patch print runs HERE. A player like Messi is likely going to go for way more than he should based on the chance of hitting him. If breakers stay away from the product that should help bring box prices down.
I am very interested to see the secondary singles prices on these more so than most products. Usually I have a pretty good idea but this one, especially the case hits, is going to determine if these are good value at $450 per box. As with most Panini products, if you are buying loose boxes anywhere but Panini just assume the case hits are gone. As it stands, I would rather have 2 2022-23 Donruss Soccer cases over 1 of 2022-23 Select La Liga. If the case hits get treated more like Kabooms and Night moves than Deep Space and Groovy then maybe that changes. My initial impression is they won't and box prices come down a little bit. The real X factor is that there is so little of this printed that if a few big distributors get enough of this they can collude to keep prices up. We have seen this with 2022 Eminence. That means the case and box prices aren't a good reflection of the contents of the box. I don't think this product is high profile enough to warrant that but it is a possibility. In the end I think if you open a case you are going to have some really cool cards to show for it. I am not sure the value proposition will be there, but you won't feel nearly as bad as if you skunk a case of EPL Prizm or Topps Chrome.
If you have any questions reach out via social media @SoccerCardsHQ on Twitter, IG and FB. Want to read more about Erling Haaland Rookie Auto Cards?
*All Search on eBay links are Ebay affiliate links