2022-23 Select Serie A is one of the most fascinating "traditional" soccer card hobby releases in a while. It's the third in the Panini Select line of releases after La Liga and Premier League. The box format stays the same and checklist makeup stay the same. The amount of parallels and print run is very small. In fact, it's the smallest of a normal multi packed out hobby release. Much like Select La Liga that makes this an interesting product. What makes it more interesting is the distribution. It was up with a timer countdown on Panini's website, but it still has not been made available for sale and the countdown timer has been replaced with a "Coming Soon" banner. At this point I would be shocked if it's ever made for sale on there. It seems like more of it is outside the USA than in it, so it's quite different than most hobby products. This is the other side of the coin of the current overproduction hobby debate. Normally Serie A products are not as popular in the hobby as the other major leagues. I assume that is what went into Panini's thinking when making this product. What they may not have factored in is that the hottest rookie of the 2022-23 class right now, Khvicha Kvaratskhelia aka Kvaradona, would be in the product.
*All Search on eBay links are Ebay affiliate links
2022-23 Select Serie A Breakdown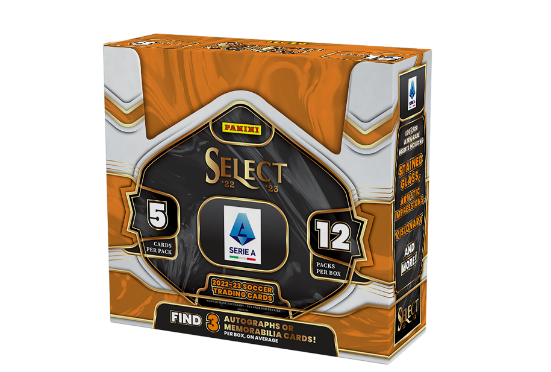 Checklist – HERE
Box Makeup (Search On Ebay) – 5 numbered base cards, 3 Auto or Relic cards
There should be retail though those details are not known at this time.
Print Run – ~450 cases based on 5 numbered base cards per box.
Rookie Breakdown – Khvicha Kvaratskhelia (Search On Ebay), Rasmus Hojlund (Search On Ebay), Matias Soule (Search On Ebay), Nicolo Fagioli (Search On Ebay)
SCHQ Review – I waited a few days to do the 2022-23 Select Serie A review to see if Panini are any of the big sites were going to sell boxes. So much of these reviews is based on current value. Since there is very little for sale in the secondary market I am going to base this off a cost of $500/box since that is about the price I have seen a few listed at. Even though the contents aren't the same I have a lot of the same feelings I had about the La Liga release. This will be a product that you don't feel awful about ripping because you are going to get so many lower numbered cards that in most releases. That does not mean that you will make your money back. You just won't feel completely dejected like most products where you get skunked.
On average you will hit over Black 1/1 per case. No, they are not considered case hits but based on the averages that is how it should play out. I have only seen 1 case opened so far and there were 3 Black 1/1. The averages also work out to almost 1 Gold per box. You then get the 4 case hits, Stained Glass, Artistic Impressions, Team Badge and Visonary. The print runs on these are very low at Stained Glass ~15 (Search On Ebay), Artistic Impressions ~18 (Search On Ebay), Team Badge ~22 and Visonary ~18 (Search On Ebay). Kvaradona gets a rookie in Stained Glass and Artistic Impressions which should be great hits. What I have found pretty interesting from the previous 2 Select products is that based on the prices people are not treating the La Liga case hits like they are so much shorter print than the EPL ones. Will be interesting to see how that plays out with these in Serie A.
The auto checklist in this Select Serie A is pretty solid if you like retired legends. Ronaldo Nazario, Cristiano Ronaldo, Zinedine Zidane, Gianluigi Buffon, Kaka, Cafu, Karl-Heinz Riedle and Giuseppe Bergomi all make the list. Rafael Leao has an auto but unfortunately none of the other current hobby superstars do. The Autographed Memorabilia is pretty weak outside of Buffon. Cristiano Ronaldo actually makes all 3 auto checklists. These are of course in his Juventus kit which don't do nearly as well as his Manchester United and Real Madrid auto though. For the Zizou Juve collectors they didn't have to wait long to get their chance at an auto which will make them happy. Oh yeah, the autos are right side up unlike his Real Madrid ones.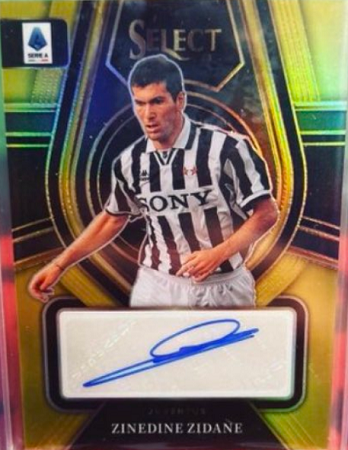 There are only 110 numbered hobby parallels for each card on the base checklist and they are all numbered to 49 or lower. That is a very low number. Depending how much non hobby skus there are even the base cards are low print run compared to what we have grown accustomed to. Will we see a return to where base cards have some value for Kvaradona rookie cards? How much will his numbered rookies go for? He does have 2 base rookies which should keep their price down a bit but 220 is still a low number. That will play a huge part in the value of these boxes. If the "base is dead" mindset continues, then these boxes are probably a bit overvalued. You can only hit so many legend autos in a case and without Lionel Messi and Erling Haaland it makes things a little more difficult than the previous two Select sets.
I think ultimately Kvaradona is going to make this a FOMO type product in the short term. This seems like the ultimate wait for singles product, which most are to be fair. I think it will be a bit more forced with this though so may that works out or maybe it just plays right into the hands of breakers. With there being so little available I am not sure even factoring in box prices. To get access to opening you are likely going to have to buy into breaks if you can find one. There are currently none listed on eBay. Did I mention this product is fascinating? I have never seen a product with no eBay breaks listed on release day. Just know what your odds are and how much the singles are selling for if you get into breaks. Just because the product is expensive to open does not mean the singles prices will match that.
(**UPDATE – After Panini hinting at the release on the site and taking it down it seems to now be coming out for sale many weeks after general release. I did the review at an assumption of $500/box and Panini is selling at $625. The good news about the late Panini release is we have some singles pricing to look at. Khvicha Kvaratskhelia Rookie Mezzanine have settled around $70 and Field Level around $85 (Search On Ebay). A Green /5 Mezzanine sold for $1600. His Gole Future did $725. At those prices it's hard to justify $625/box. Yes, there is other stuff to hit and to my knowledge the Black 1/1s have not been hit. Nothing else besides low numbered legend autos and Kvara case hits are breaking the $1000 price. I am sure with the low print run Panini will find a way to sell out but at that price I can't get there.)
If you have any questions reach out via social media @SoccerCardsHQ on Twitter, IG and FB. Want to read more about Erling Haaland Rookie Auto Cards?