2022-23 Select FIFA is the fourth and final installment of the 2022-23 Panini Select run. You can read the reviews for La Liga, Premier League and Serie A if you haven't already. While the box makeup of the products is the same the print runs make the products very different. Select FIFA is the second highest print run only behind Select Premier League. That said it is still a very short print product compared to the ultra modern sets.
2022-23 Select FIFA Breakdown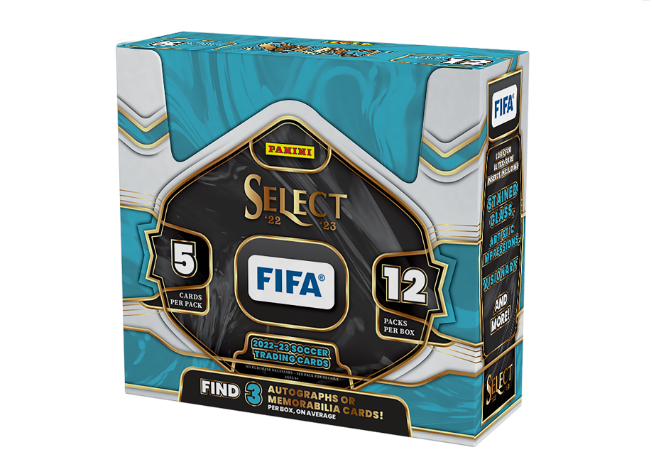 Checklist – Not Yet Released (Thanks Panini)
Box Makeup (Search On Ebay) – 5 numbered base cards, 3 Auto or Relic cards
There should be retail though those details are not known at this time.
Print Run – ~1000 cases based on 5 numbered base cards per box and 245 total parallels per base card.
Rookie Breakdown – Julian Alvarez, Randal Kolo Muani, Catarina Macario, Enzo Fernandez
SCHQ Review –  I usually wait for the checklist to be released before doing a review but Panini has decided to not release the checklist for this yet. Luckily there have been breakers breaking this and we have the past Select sets to go off of, so I have a pretty good idea of the basics. I will do an update once we finally have an official checklist. There is a lot of hype around the product which is why I am doing this before the checklist.
From a base chacklist perspective 2022-23 Select FIFA is just 2022-23 Donruss Soccer without the club cards. Like Donruss there is no Brazil, which is a big miss. There is only one Asia/Africa team and that is South Korea. There are USWNT cards as there were in Donruss. The rookies seem to be the same international rookies from Donruss which means no Alejandro Garnacho since he was only in a Manchester United kit for Donruss. Just as a not the Field Level Kylian Mbappe and Cristiano Ronaldo Field Level Black 1/1 have already been hit.

While we don't know the subjects for the case hits, I imagine like the other Select sets Stained Glass and Artisitic Impressions will have all the hobby favorites and Visonary will be good not great. The print runs should be Stained Glass ~35 (Search On Ebay), Artisitc Impressions ~40 (Search On Ebay), Visonary ~40 (Search On Ebay) and Team Badge ~50.
Autos I am just figuring that it will be the same subjects we have seen in the other Select and Donruss. There has already been a Kylian Mbappe pulled so we know he is in there. There will likely be a few Lionel Messi, Cristinao Ronaldo and Erling Haaland. There have been some legends pulled already so there will definitely be some of those. If so I would think Zinedine Zidane, David Beckham and Kaka make it in. (Update: There are Diego Maradona autos which is obviously a good thing.) If not don't blame me, blame Panini for not putting a checklist out. The autos is where not have Brazil will really hurt. There will not be any Ronaldo Nazario, Neymar, Vinicius Junior, Rodrygo, Rivaldo or even Pele although he was not expected. As for patches it seems like it is the same mix of most not associated but with some player worn.
We do know that Panini is selling these at $530 per hobby box on release. That is slightly higher than the $500 I was execting but pretty in line. There was talk before seeing this price of it being $600-650 which just didn't make sense based on what they sold the other relesaes at. Serie A was in that range because it had a print run which was over half less than FIFA. 2022-23 Donruss hobby boxes (Search On Ebay) are selling for roughly half of what these Select boxes will sell for. Considering they have about double the print run that generally makes sense. The Donruss checklist is better just becuase it has the club teams. The Select print run and parallels make it better. It just comes down to would you rather have 2 Donruss boxes/cases or 1 Select which as it stands right now I think is a reasonable ratio. If there are some big surprises on the checklist I may change my mind.
If you have any questions reach out via social media @SoccerCardsHQ on Twitter, IG and FB. Want to read more about Erling Haaland Rookie Auto Cards?
*All Search on eBay links are Ebay affiliate links