A reader who is a new soccer collector, but not new to card collecting reached out and said he was confused about which brands were the best to collect in soccer. I told him it was not quite as straight forward in soccer as the other sports because of the different leagues and licenses. It's also a bit different than the other sports because of when Topps and Panini introduced certain brands to soccer. Up until the last couple years there were only a few brands that made their way to soccer. Now thanks to the boom Topps and Panini are bringing most over.
I will do my best to cover the brands that are still being issued now so that new collectors can have an idea where they should be focusing their new buys. I will just mention that stickers play a large role in the history of soccer collecting but as more and more cards get introduced, they lose some luster. Don't ignore them if you are collecting older players, but for the most part they are not as relevant to the masses as they once were.
If you are an experience soccer collector there won't be much new for you in here. This is for all the new collectors that know the potential of soccer cards but don't know where to start.
The Soccer Card Licenses
I am going to start with a brief overview of which companies have which licenses as that plays such a big part in the quality of these products. It is not like other sports where there is one main professional league.
Topps currently has what many would consider the most important license in soccer, the UEFA license. UEFA is the governing body of European club soccer. They are the ones that put on the Champions League, Europa League and now the Conference League. This license allows them to put out a product every year that is going to have most of the best players in the world. For 2020/21 they finally used their brain and started using their Europa League license for premium cards. The UEFA licenses give them the ability to produce cards from teams where they do not hold the country license. For instance, England (Premier League), France (Ligue 1), Spain (La Liga) and the much smaller countries. The license only covers the teams that play in the UEFA tournaments, but it usually covers the best teams at this point. Panini has most of the country licenses but are terrible about putting cards out that cover them. The smaller countries usually only get stickers. Topps also has the Bundesliga license which is where a good bit of young players start their "major" European soccer careers. The Bundesliga license gives them access to a lot of rookies that Panini doesn't have.
Panini has the licenses for most major national tournaments as well as pretty much every relevant country outside of Germany – yet for the most part Topps is the premier brand in soccer. That is more because of how badly Panini uses their licenses and their inability to identify young players before Topps does. Up until now Panini only produces premium cards for the World Cup, Euros, Premier League, La Liga and Ligue 1.
**A few notes. The Collectability Rating is an opinion and is meant to be for the general collector. If a person's favorite team is in a certain league, they will likely prefer certain sets. The Search on eBay links are to Ebay listings.**
The Premium Brands
Topps Sapphire – Sapphire UEFA Champions League was first introduced in the 2019/20 (Search on eBay) season. It was a bit of a surprise drop as it came late in the collecting calendar. It was the first chrome soccer cards to feature RC logos. Even the flagship Topps Chrome cards from the same year don't have the RC logo which can cause confusion. All the sets that were around for the 2019/20 season have a leg up on those that didn't because of Erling Haaland. His rookie cards are so well known that they provide instant brand recognition to even the newest of collectors. If I could only collect 1 set each year it would be Sapphire UCL. Thanks to the UCL license you know the checklist is going to have most of the superstars plus Topps is much better at identifying rookies when compared to Panini.
For the 2020/21 season Topps added a Bundesliga Sapphire set to the mix. If there are players that appear in the Bundesliga set but not UCL then the Bundesliga Sapphire becomes their chase card in my opinion. That was the case with Florian Wirtz in the 2020/21 set. While not everyone considers it his rookie thanks to his Topps Now card, those that like collecting parallels consider this his rookie card to own.
SCHQ Collectability Rating -⭐⭐⭐⭐⭐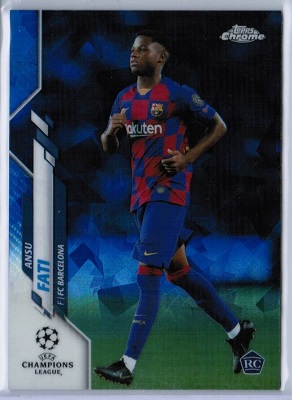 2019 Sapphire UCL
Panini Prizm – Prizm debuted in soccer for the 2014 World Cup (Search on eBay). Much like with basketball it did not establish its hobby relevance until many years after. The Prizm brand was only released every other year until Panini started applying their Premier League license to the brand for the 2019/20 season. There is a 2016 Prizm Euros (Search on eBay) and a 2018 Prizm World Cup release (Search on eBay). We know there will be a Prizm Premier League and World Cup release for this year. It remains to be seen if they will use the Prizm brand for any of their other licenses.
You will not find many good rookies in Prizm products because of how the licenses have been applied this far. There are not a ton of young players that make their national teams and if they do, they will have to make it in their first season of card releases. That is very doubtful. The Premier League is not full of young players, but you will find more rookies in that product than in the World Cup set. What you find more common with Prizm is 1st Prizms getting hyped up as if they are rookies. The most obvious case of that is the 2018 Mbappe Prizm card. It is actually a 3rd year release (from the time of his 1st sticker) and a 2nd year card. It wasn't even his first year in a national team kit thanks to the 2017 Select Unlimited Potential card. In my opinion that card was hyped by pump and dumpers that knew the strength of the Prizm brand from basketball and used it to fool new soccer collectors. This is not to say that Prizm cards should not have value. I just don't implement collecting 1st Prizms into my collecting strategy.
Panini started putting their popular Kabooms (Search on eBay) and Color Blasts (Search on eBay) in Prizm starting in 2019/2020 Premier League so those help carry the value on a set that often needs it. They include these periodically in other sets as well, but they are consistently in Prizm Premier League.
SCHQ Collectability Rating -⭐⭐⭐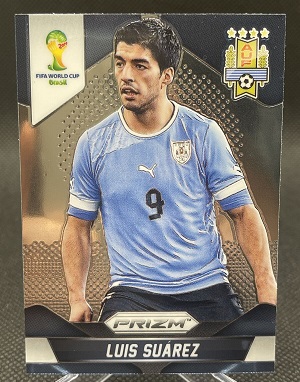 Panini Immaculate – I am not going to do a lot on Immaculate because I think they manner in which Panini releases it is a bit slimy. If you want to read my thoughts on the product, check out this piece about the 2020 set. I will say that the cards are premium and they do carry value so if you are a fan don't let my thoughts stop you. As I am writing this the checklist for 2021 Immaculate has released but we do not know which cards have RC yet. If they treat it as a 2021/2022 product it would be much better for all of us. 
SCHQ Collectability Rating – ⭐⭐⭐⭐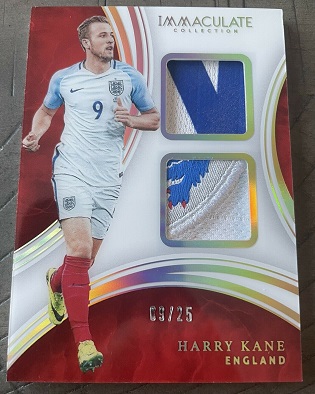 2017 Immaculate
Every Year Stalwarts
It's hard to say every year product with soccer because so many are new so the qualifier for this was they started in 2019/20 and have been around for at least 2 years. That is a big deal in soccer if you can imagine. That is how early we are in soccer collecting.
Topps Chrome – Topps introduced their legacy Chrome cards to soccer in the 2017/2018 (Search on eBay) season with a UEFA Champions League set and a Premier League set. Topps lost the Premier League license after the 2018/2019 season in case you were wondering. The Champions League set just happened to be the 1st year of Mbappe cards so that was good timing. The Gold refractors (Search on eBay) from the UCL set are also considered some of the best soccer parallels ever made. As mentioned above, the UEFA Champions League is a good license and the one that makes this brand so strong. Another thing that was great with this product up until this year was that it was only a 100 card checklist. This meant that if you bought a hobby box (72 cards) you were going to hit some superstars, unlike Panini who mostly uses 300 card checklists with less great players. This is the reason that Topps Chrome boxes from 2017 – 2020 are much more expensive than Panini counterparts.
In 2020/21 Topps greatly upped the production (Read About It HERE) and released a few variations using the same checklist including Steve Aoki and a Japan only product. I am not a big fan of this as to me it watered down such a classic product. A Sapphire release is one thing but a Steve Aoki branded set is something completely different. The good news with the 2020/21 set is that Topps was smart and flooded the product with rookies. They beat Panini to the punch on so many rookies that honestly, they had no business doing but they did. Almost half the checklist is rookies and most of the players don't have any Panini premium cards for the year.
The bad news with stacking a ton of rookies in 2020/21 is that it could hurt future years, but we won't know until we start see the 2021/22 checklists. We do know that 2021/22 will have a 200 card checklist. This is not a good thing as for the most part the extra 100 players will not be collectible for most and it allows them to up the print runs any more. They are also doing Lite boxes, retail blasters and who knows what else. They are also adding way too many parallels. Again, if you are new please read this ARTICLE as it will open your eyes into how underproduced the first few years of Topps Chrome was.
Topps Chrome Bundesliga debuted for the 2018/19 season and has been around ever since. While it is a good set for the most part you will find the same big rookies in Bundesliga that you will find in Champions League. It is most well known for the 2019/2020 (Search on eBay) release which only had 600 cases produced and has rookies of Erling Haaland and Giovanni Reyna. Topps Chrome MLS debuted in 2021 and will be here to stay.  The same logic applies from the Sapphire breakdown above for both. Topps has announced a Women's Champions League product for 2021/2022 which will be of interest to some as the popularity of women's cards is growing.
SCHQ Collectability Rating -⭐⭐⭐⭐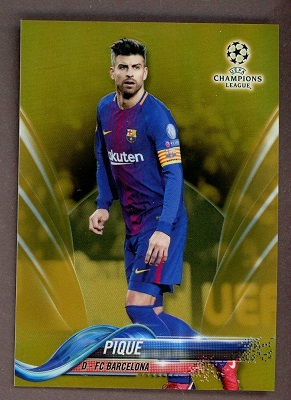 2017/2018 UCL Topps Chrome Gold 
Panini Megacracks/Mega Craques – Megacracks is a Spain (La Liga) only release that has the rookie card of Lionel Messi (Search on eBay) and is still around today. Needless to say that makes them very important in the soccer card hobby today. They are paper cards and since they are only released in Spain they are usually hard to find in great shape. That is changing now that the hobby grows. This set is usually the first set released of the season so they have the head start on the other brands when it comes to rookies. That legacy has given them a bump in value over other similar paper cards. I hope it stays that way.
Mega Craques was a Porutgese only release for a few years that has the Cristiano Ronaldo (Search on eBay) rookie card.
SCHQ Collectability Rating -⭐⭐⭐⭐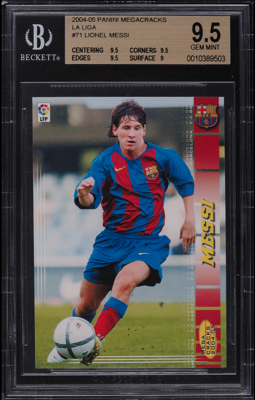 2004/2005 Megacracks
Topps Finest – Finest debuted for the 2018/2019 season. That first year was pretty underwhelming as it did not have any big rookies. It is still a nice set because it is a Champions League product but 2019/2020 (Search on eBay) is where it all change. That set has the only premium card of Erling Haaland in a Salzburg kit. The only other cards of him in Salzburg are Topps Now and Match Attax. There is thinking among some in the hobby that when all is said and done the Haaland Salzburg cards will be the ones that surge to the top since they clearly predate the BVB cards. You can make your own decision there. Strangely enough Topps added an extended checklist card of Haaland in his BVB kit in this product. His autos in this are in a BVB kit as well. I say all this because in my belief if all the Haaland cards in this set were in BVB it wouldn't be as sought after as it is. Will that one card carry Finest for the rest of time in soccer? Only time will tell. Topps added Bundesliga Finest cards in the 2020/2021 season.
SCHQ Collectability Rating -⭐⭐⭐⭐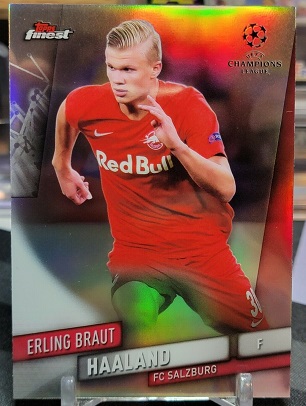 2019 Finest Refractor
Panini Chronicles – Chronicles debuted for the 2019/2020 (Search on eBay) season. It is a unique product in that it is released in a 3 mini box which makes up 1 hobby box format. Each mini box covers 1 of 3 big country licenses that Panini has, Premier League, La Liga and Serie A. Why they don't do Ligue 1 instead of Premier League is anyone's guess. If you are familiar with Chronicles you know its a hodgepodge of brands all in 1. The same is true for soccer. The big chase cards in this product are usually the Rookie Tickets and Pitch Kings. There can be others depending on what checklist a rookie falls on. If they are "known" rookies they usually get included in one of those two subsets. As Panini comes out with more and more brands for each of their licenses Chronicles loses some luster. It's still a cool product but is very checklist dependent.
SCHQ Collectability Rating -⭐⭐⭐⭐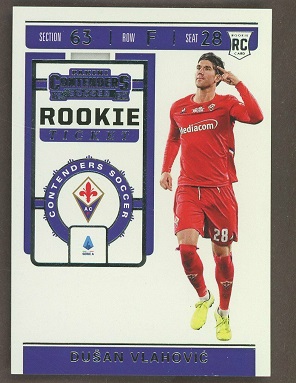 2019 Chronicles Rookie Ticket
Topps Museum – Museum debuted in 2017/2018 and has been around ever since. The only reason it didn't make the premium brand section is that it doesn't get a lot of hobby love for soccer. The cards are thick which I think and have sticker autos which is part of holds them back. They are released in a 1 pack per box format. There are some base cards, but the set is most known for its patch and auto cards. If Topps would ever make this an exclusive on card auto product it would explode similar to the high-end Panini RPA products. If you like single pack high-end products but at an "affordable" price, then Museum is for you. I say affordable only when compared to Panini versions of similar products. This is one of those brands that could gain steam as time goes on.
SCHQ Collectability Rating -⭐⭐⭐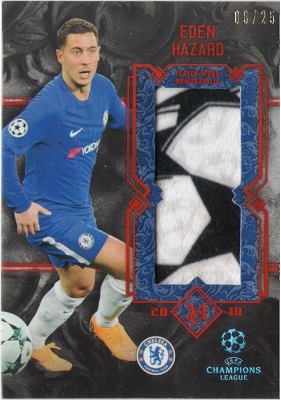 2017/2018 Topps Museum UCL
Panini Obsidian – Obsidian debuted in the 2019/2020 season. It is a high-end single pack per box product. This set is a general type soccer set which Panini does and Topps doesn't. It is a complete mix of licenses, some I'm not ever sure Panini has but probably don't care. They have cards from national teams and club teams. There are based cards which are metallic and look different than other cards. When you see an Obsidian card you know it immediately as it has a black background and some weird shapes and lines. Like Museum it has patch and autos cards. Also like Museum it doesn't get a ton of value but some people love them. I will point out that in the 2020/2021 they included Colorblasts and a subset called Private Signings Lionel Messi auto. Those were on card autos and are highly sought after.
SCHQ Collectability Rating -⭐⭐⭐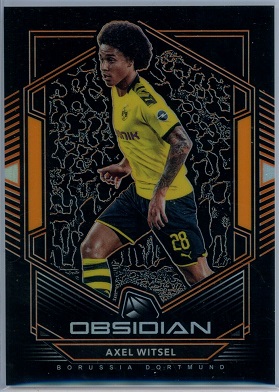 2019 Obsidian 
Classic Brands That Come and Go
These are brands that most collectors will be familiar with. Topps and Panini will release them for a year or two then inexplicably not do them for a year or two. Those gaps cause some confusion as there is no consistency. I think we will see most of these brands become every year releases as the companies pump out more product.
Panini Select – Select was actually the 2nd premium product Panini released in soccer in 2015 (Search on eBay). There was no Prizm that year, so they decided to go with Select instead I suppose. It is the first soccer set with patch auto cards. There were 3 consecutive seasons of Select from 2015/2016 – 2017/2018 then they didn't release a 2018/2019 for some reason.  They decided to bring the brand back for the 2020 Euros. There was no standalone 2020/2021 Select product but there were Select cards in 2020/2021 Chronicles. Was that confusing enough? Panini has really dropped the ball here as Select is a brand that has done well in soccer. There is not a 2021/2022 set announced yet, but I find it hard to believe there won't be one. We will all have to wait and see.
Panini brought back Select in a big way for the 2022/23 season. They did 4 different standalone sets. One for La Liga, Premier League, Serie A and FIFA. The sets all have the same basic makeup but vary widely in print runs. Make sure to read the reviews of each for a better understanding.
SCHQ Collectability Rating -⭐⭐⭐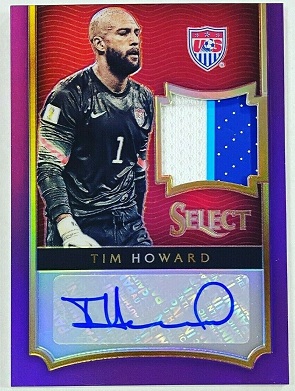 2015 Select Soccer Patch Auto
Panini Donruss/Optic – Donruss first came out for soccer in 2015 . In true Panini form it was a hodgepodge of national and club team cards. There was another similar set for 2016 which was a similar format. They skipped the 2017/2018 season all together because of course they did. They then brought the brand back plus added Optic to it in 2018/19. The 2018/2019 set (Search on eBay) is one of the grail soccer sets as it is loaded with rookies. It is the first time Donruss used the famous Rated Rookie logo on soccer cards. In the 2016 set they called them Donruss Debut which was is not nearly as cool. The Christian Pulisic rookies have the Donruss Debut on them. In 2015 they had a Future Stars subset which is not a subset that Topps uses in their products because of course. Panini then skipped putting out a standalone Donruss set in 2019/2020 and 2020/2021 but they did include them in Chronicles each year. Panini has brought back the Donruss/Optic standalone set for 2021/2022 Road To Qatar (Search On Ebay). They completely blew the checklist on this in most people's opinion so it was kind of a dud. You can read all about that HERE. The Optic cards are always a hit, and I would think we see more of them with using other licenses in the future.
Panini kept the franchise going with a 2022-23 Donruss/Optic release. It was very well received by the market so hopefully that means the brands will become a yearly release. 
SCHQ Collectability Rating -⭐⭐⭐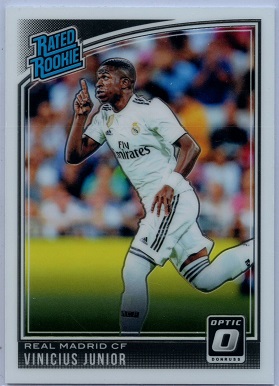 2018 Optic
Topps Stadium Club – Stadium Club debuted in 2016/2017 Premier League (Search On Ebay) and last 1 season. There was a 2017 and 2018 MLS set as well. Then there was a lapse until the 2020/2021 season when Topps came out with Stadium Club Chrome Champions League (Search On Ebay). Like with baseball everyone loves the photography of the cards yet they don't carry as much value as other similar cards. There are sets planned for the 2021/2022 season so maybe they will gain some value as they become more consistent.
SCHQ Collectability Rating -⭐⭐⭐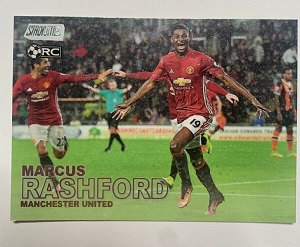 2016 Stadium Club
One Hit Wonders (Some Not Anymore)
I am including these because these sets are still very relevant in the hobby today.
Panini Eminence – The best soccer set ever produced came out in 2018 (Search on eBay). This is as high-end as high-end gets. Every card was serial numbered with the highest being /10. There were on card autos of legends as well as cards with diamonds. There were auto booklets and match worn cards. This set had it all. If there is a soccer card God he will bless us with a 2022 Eminence set.
Panini blessed us with a 2022 Eminence set. It lived up to the hype by becoming the set of the year. There were some disappointments with the release which you can read about in the review. Even so make no mistake Eminence was the premier set of the year.
SCHQ Collectability Rating -100⭐s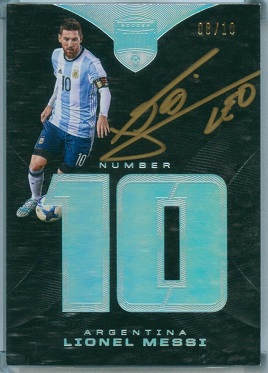 2018 Eminence
National Treasures – Another 2018 only product as a standalone set (Search On Ebay). It's similar to Immaculate as far as design and makeup. There are base cards, autos, booklets and patch cards. If you like Immaculate you will like this. They did include National Treasures cards in 2020/2021 Chronicles, so they make be ramping up for a 2022 set.
Panini did in fact put out a 2022 National Treasures Road To Qatar set. It being a Road To Qatar and not a World Cup release took a little luster off. That said it had some great cards including Lionel Messi on-card autos which are big chases.
SCHQ Collectability Rating -⭐⭐⭐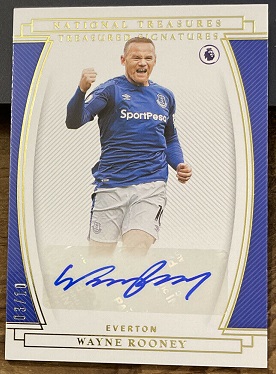 2018 National Treasures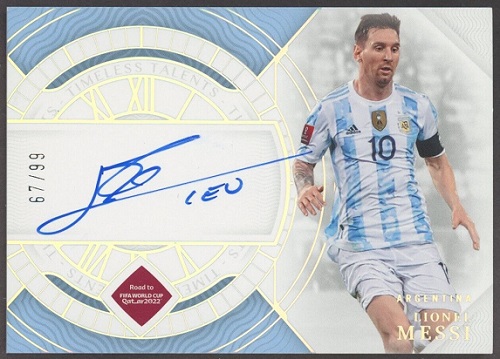 2022 National Treasures Lionel Messi Auto
Panini Treble – The hobby darling at the moment because of the unique look parallel cards (Search on eBay). This set also only came out in 2018 and was a high-end product. As you can tell Panini really stuffed 2018 with products because it was a World Cup year. If they were smart, they would have kept some of them going but part of the allure of Treble is that they didn't. These were a high-end product at the time though not on the level of Eminence. Once unique thing about this set is that Panini used some old stickers they had lying around from previous products and used them as autos. The rookies also had the RC logo which was not really a thing at the time. These cards were a hobby afterthought until just recently. Now they have exploded in value. In my opinion they should have never been as cheap as they were, but the hobby is weird like that.
SCHQ Collectability Rating -⭐⭐⭐⭐⭐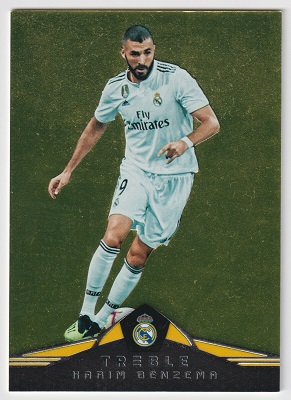 2018 Treble
Started in 2020/2021 and Seem Here To Stay
Panini Mosaic – Mosaic debuted in the 2020/2021 season with a Euro and La Liga product. Much like in the other sports people either love or hate these. The value is not really there in soccer right now. That could be because of the newness and the fact that the checklists haven't been standout. If you like them collect them but it's not where I would start.
SCHQ Collectability Rating -⭐⭐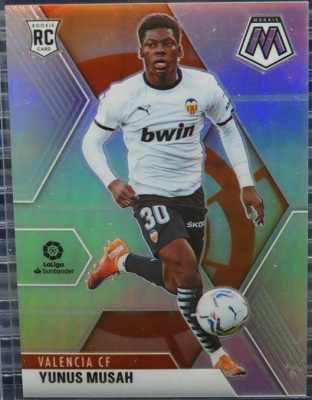 2020/2021 Mosaic La Liga
Topps Merlin – The Merlin brand is an old iconic soccer brand from England that started in 1994. Topps bought Merlin in 1995 and used the brand name until 2008. Topps went in the archives and resurrected the Merlin brand in 2020 first with an on-demand product Merlin Heritage 95 which was an ode to the Merlin 95 stickers. Those were paper cards but later in the year Topps release Merlin Chrome for Champions League and Europa League. This was the first time Topps smartly used the Europa license on premium cards. The sets have been well received by those that grew up on Merlin stickers.
Topps has already announced the Merlin 97 Heritage on demand paper product and 2021/2022 Merlin Chrome set (Search on eBay). For the 2021/2022 set they are using the Europa Conference League license which could make things very interesting. This will give them a much sider pool of players for more potential rookies. Based on this I expect Merlin to stay around for years to come and to be quite collectible.
SCHQ Collectability Rating -⭐⭐⭐⭐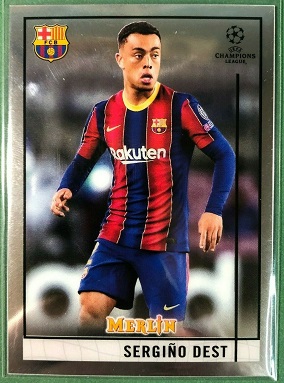 2020/2021 Merlin Chrome
New In 2021-22 and only time will tell
Panini Score – Panini debuted Score in 2021-22 (Search On Ebay) seemingly as a lower end product to introduce Europeans to the hobby. They did a Premier League, Serie A and FIFA set which is their catchall to get Bundesliga players in since Topps has that license. The general design of all 3 sets is the same. The boxes were only sold in Europe and on Panini European sites so most of the cards are in Europe. The Score brand is an old Panini brand that was used in the past for the more American sports. They resurrected it for soccer cards this year. It is considered a low-end brand but that is mostly because of the card stock it was made on and the old American Score brands were low end. If Europeans value the brand, then it could have value in the future as the hobby grows there. 
Panini did continue the Score brand for 2022-23 and even included a Ligue 1 set which was great to see. They continued to be European only releases which hurts the worldwide appeal. It is still a great entry level set.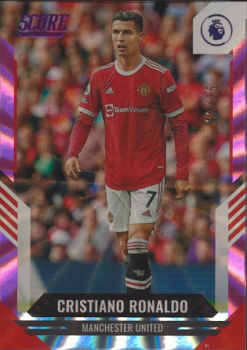 2021-22 Panini Score
On Demand Products
Topps and Panini release on demand products that you can usually only buy directly through their website for a short amount of time. The curated on demand sets usually have a set print run even though they are on demand. If the checklist is good the bots buy these immediately. If not, they sit there for a while. Topps is releasing these so frequently I am not going to bother breaking them all down. Just check the checklists before you buy and if there is something you like buy it.
Topps and Panini do also release single on demand cards. These are a little more interesting as these are usually the first cards printed of players since they are put out in season. The companies don't need to plan these out in advance to include them in checklists. These makes them potentially valuable. If you believe that a player's first card is their true rookie it is likely going to be an on demand card these days. The other cool thing about these cards is the companies release the print runs so you know exactly how many there are of each. In the early days the print runs on these are low. For instance, Weston McKennie's has a print run of 75 and Erling Haaland is 178 (Search on eBay). These days the cards are more well-known so the print runs range from the 1000's to 10s of thousands. They are still usually worth it since they cost $10 or less depending on the quantity you buy.
The "Kids" Cards
Topps Match Attax and Panini Adrenalyn are cards that are meant to play a game with, think Pokemon. They are not considered very collectable because of that reason plus they are massively produced. The reason they can't be completely ignored is they are usually the first cards produced of a player since the checklists are very big. In the case of players like Mbappe Adrenalyn (Search on eBay) and Erling Haaland Match Attax (Search on eBay) who have very few if any cards from their original team, these can be valuable. They can mostly be ignored but not completely.
The soccer card hobby has got much harder to navigate these days. If you are a new collector, I suggest picking one or two sets you like and focus on these. There are sets at every price point now so there is something for everyone. There are even going to be Topps paper sets this year which is not for me but maybe you will like them. As I said if I could only pick one it would be Topps Chrome or Sapphire Champions League but that is just me. Second would actually be Topps Merlin Chrome because of the way Topps is using the license. It should allow them a great checklist. If you have any questions just shoot a DM on Twitter @SoccerCardsHQ or IG @SoccerCardsHQ You can also join the FaceBook Group and ask questions