2022-23 Panini Immaculate Soccer has been released and it's time to take a look at what to expect this year. As you probably know Immaculate is a high-end set carried mostly by autograph and patch cards. Sometimes Panini gets creative and tries to put rookies that aren't really rookie cards in to give the set more appeal. They do that by giving the set a single year title and not based around a season. You can read all about how they did that in 2020 Immaculate Soccer. This year you will see is named 2022-23 Panini Immaculate Soccer so we don't have to worry about that at least. If you have bought any of the 2022-23 Panini soccer products this year than the checklist will be pretty familiar to you.
2022-23 Panini Immaculate Soccer Breakdown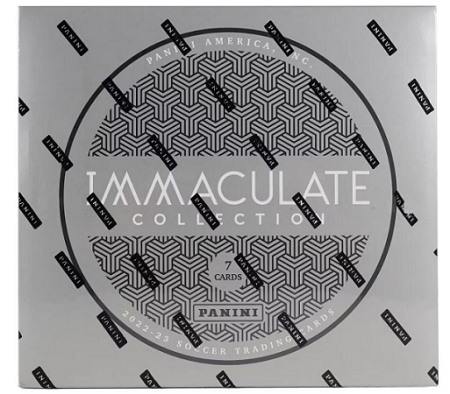 Checklist – HERE
Box Makeup – 2 base cards, 5 autograph or relic (patch) cards (Search On Ebay)
Print Run – ~2800 Hobby cases or 16800 boxes (6 boxes per case)
Rookies To Look For – Alejandro Garnacho, Julian Alvarez, Evan Ferguson, Enzo Fernandez, Fabio Carvalho, Romeo Lavia
SCHQ Review – I want to start off this review by saying one of my biggest cards is from Immaculate. While I don't like the rookie shenanigans there have been some great Immaculate sets when Panini tries. For 2022-23 Panini Immaculate Soccer they clearly rested on their laurels. I didn't do a review of 2021 Immaculate but that wasn't great either. They at least realized that and dug out some Octane on-card autos from 2019 and put them in 2021 to give it a little bit of chase. Unless I have missed one, and I have asked, there isn't a single on-card auto in 2022-23 Panini Immaculate Soccer. Yes, there are on booklet autos but those don't carry the value of on card. They even went as far to put sticker autos on the Shadowbox Signatures cards which I just couldn't believe. On top of all of that Milestones and Moments are no longer auto cards. They were some of the best auto cards in past years. There are of course Haaland and Kylian Mbappe autos, but of course Panini has flooded the market with them. They have so many Haaland auto stickers they even managed to put one on a Daniel James card. They did put Diego Maradona autos in as they probably realized they were needed. I will say that the "Immaculate Autographs" subset (Search On Ebay) are beautiful cards. It's just a shame they are sticker autos.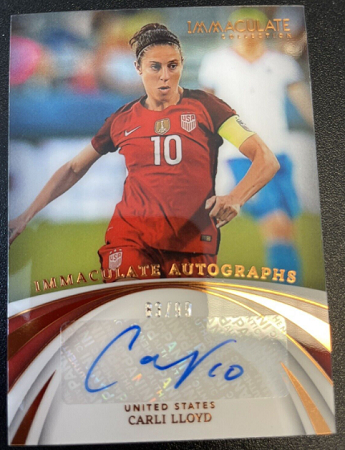 2022-23 Immaculate Autographs Carli Lloyd
There is also a severe lack of match used and even player used patches. The good news is one of the match used patch autos I have seen was Ronaldo Nazario (Search On Ebay). The bad news is that the Erling Haaland Brand Logos, which are all 1/1, has already been pulled and it is not associated. On top of that it isn't even from this season so it's not a Logo he would've worn. The Brand Logos are one of the big chase cards of the set and to have 1 of the biggest players as not associated is well not good. I have seen every Brand Logos soccer card made but I know for a fact the Lionel Mess and Cristiano Ronaldo ones in the past have either been match worn or at least player worn. Don't get me wrong you still want to hit one of the Brand Logos this year. They are nice cards and some may be match or player worn. It was just kind of the nail in the coffin for my thoughts on 2022-23 Panini Immaculate Soccer when I saw the Haaland.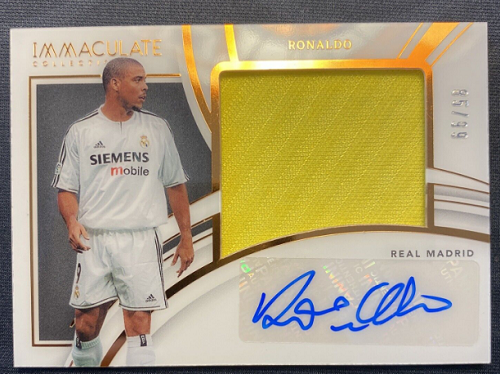 2022-23 Immaculate Ronaldo Match Worn Patch Auto
As you can probably tell by now, I am not a fan of 2022-23 Panini Immaculate Soccer at the current price of $1000 per hobby box. It's probably more disappointment than anything. I just want the companies to put some effort in and show us they care about us soccer card collectors. Go Search Ebay for some of the older Immaculate Soccer cards to see how it used to be. When a product that is reliant upon patches and autos doesn't have on-card autos and a lack of match/player worn patches it's a bad sign. There are a few decent rookies but most have so many rookie cards by now with more to come. While all of Immaculate designs are generally the same, I do like some of the tweaks this year. I have now watched 6 case breaks and 4 were what most people in the hobby call "getting skunked". I am not positive, but I think Pulisic, Kaka and Beckham are case hit autos and they just don't have the current values to keep the prices high. Even Haaland and Mbappe don't guarantee success which would've been crazy to think a year ago.
If you like the product my best advice is to buy singles for now. If you just really love breaks wait until the box prices come down a bit. If you have too much FOMO and can't wait, then try to find similar cards that have already been pulled of the teams/players you like to know what you are willing to pay. Panini gives us the number of cards for each player so take some time to look at that. If you love ripping give it some time to buy your boxes. Maybe the negative sentiment around this product, which almost everyone seems to have right now, will drive prices down to a point where this becomes a good rip. It is just not at the current prices. It's also going head-to-head with 2022-23 Topps Chrome UEFA which breakers will have a much easier time with, so that will hurt prices as well. Panini had a pretty strong year of releases so far with Donruss and Select. Immaculate was not their best effort.
If you have any questions reach out via social media @SoccerCardsHQ on Twitter, IG and FB. Want to read more about Erling Haaland Rookie Auto Cards?
*All Search on eBay links are Ebay affiliate links