After much delay in shipping, as has become standard with this product, 2022-23 Topps Inception UEFA is finally getting delivered. Inception is always one of the most anticipated releases of the year in what is now the 3rd year of the set. Part of that is because the cards are premium and look great. The more important part is that they are an online only release that Topps sells at a price point where flippers can buy and resell like during the pandemic boom. This year was no different. After making a complete disgrace of the first attempted sale, Topps finally did the smart thing and used the EQL system to see who would be lucky enough to get the boxes for about $180 depending on where you live and delivery. The thing that sets this year apart from past releases is that there are some on-card autos as well as non auto relic cards. One of those things is way more exciting than the other. There is also the addition of women players this year for the first time as well which is great.
2022-23 Topps Inception UEFA Breakdown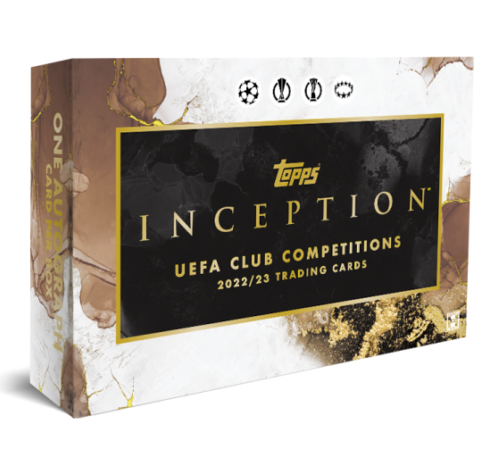 Checklist – HERE
Box Makeup – 4 base cards, 1 auto and two parallels. Not sure how non-auto relics are counted.
Print Run – ~20340 boxes (Search On Ebay)
Rookies – Check out the 2022-23 Topps UEFA Rookie Breakdown. Not all of those players made the list but will give you an idea.
SCHQ Review – Let's get the elephant in the room out of the way early. Topps added a new Rainbow /150 parallel for 2022-23 Topps Inception UEFA after using the same parallel breakdown for the first two sets. That plus expanding the base checklist from 108 to 120 players means the box print run this year (20340) pretty much double from last year (10206). There are also 339 total numbered per base compared to 189 last year. In the initial hype for the release I think that went unnoticed by many. Now that boxes are getting opened that reality seems to be setting in. When a product like this gets double the print run it's going to lead to a ton more "skunk" boxes. The base auto checklist expanded from 73 to 94 which is usually not a good thing. While we don't know the total auto breakdown you can rest assured that all those extra autos they had to come up with aren't Messi and Haaland.
The initial tease we got of on card autos was a dual Jude Bellingham / Jamal Musiala (Search On Ebay) that had people very excited. We then learned via the checklist that not all the cards are on-card autos. In fact many are not. In addition to that 1 dual auto there are 13 single on-card auto subjects. 9 of those are retired players. For the most part the retired players aren't darlings of the hobby and all are in EPL kits which I found interesting. The only current players are Jude Bellingham, Jamal Musiala, Jack Grealish and Karim Benzema. Of note Bellingham and Grealish have had their own Topps curated set released this year and we have seen evidence of a Musiala one coming. Will there be a Benzema as well? All of the on-card autos are signed with silver ink and look incredible.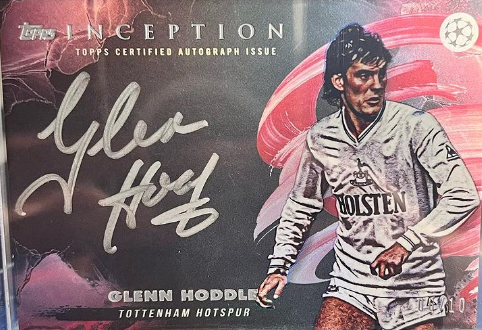 2022-23 Topps Inception UEFA Auto hit by TFFBreaks
The dual autos and booklets are better for 2022-23 Topps Inception UEFA than they were for 2021-22 in my opinion. Of course, nothing compares to the Lionel Messi / Cristiano Ronaldo dual auto from 2020-21 Inception. There is a Lionel Messi / Erling Haaland Dual Book Auto. They added Dual Patch Book Autos (Search On Ebay) this year with a couple of chase duos like Erling Haaland with Kevin De Bruyne, Lionel Messi with Neymar and Vini Jr with Karim Benzema. Take a look at the checklist to see all the combos. At this point I haven't see enough relics to say whether most are match worn, player worn or not associated. I will try to update once more is known.
2022-23 Topps Inception boxes are selling for roughly about the same as 2021-22 right now around $400 (Search On Ebay). Obviously if you were lucky to get one direct you did quite well. I try to base these reviews on the current price of the product at the time of review. 2022-23 has a much better checklist than 2021-22. If the print runs were the same then 2022-23 Inception would be a no brainer. Sadly they aren't. I don't see box prices on this year dropping much as there will be demand as there always is with Inception. Without knowing how many of the Dual autos there are it's hard to say if they will go up or not. If the Dual Patch Books coming out and there are insane match worn patches that could cause some excitement that would drive box prices. I just think if you are jumping into breaks know that it's going to be rough in a big majority of the boxes as is usually the case with single pack premium products. As with past year's of Inception it appears that boxes can be weighed for hits. I have heard the booklets even can be seen in some cases with how they effect the packaging. Keep that in mind when buying resale boxes.
If you have any questions reach out via social media @SoccerCardsHQ on Twitter, IG and FB. Want to read more about Erling Haaland Rookie Auto Cards?
*All Search on eBay links are Ebay affiliate links