2022-23 Panini Chronicles Soccer marks the 4th installment of the Chronicles soccer line. If you aren't familiar with Chronicles it can be a bit of a confusing product as it's a mashup of different Panini brands all in one set. Each hobby box is broken down into 3 mini boxes. One each for La Liga, Premier League and Serie A. 2019-20 Panini Chronicles Soccer (Search On Ebay) is one of the great ultra-modern soccer sets because back then there weren't premium cards for La Liga and Serie A. Of course, now in 2022-23 sets both of those leagues have their own premium cards thanks to Select, Mosaic and even Score. This year the brands that make up the product are Chronicles, Panini, Playoff, Origins, XR, Certified, Essentials, Illusions, Prizm, Phoenix, Dynagon, Contenders, and Gala for the base checklist. For autos Cornerstones, Crown Royal and Limited are add. For relics Absolute, Elements, Gold Standard and Zenith are added. Don't worry there will not be a test at the end.
2022-23 Panini Chronicles Soccer Breakdown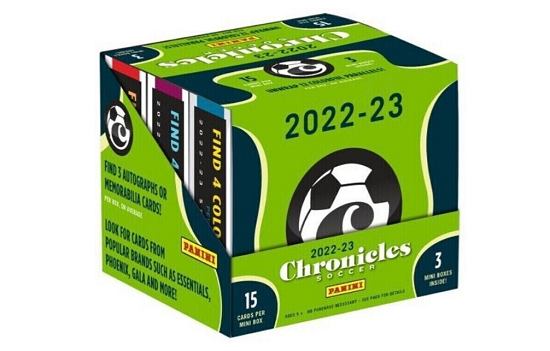 Checklist – HERE
Box Makeup – 6 numbered base cards (2 per mini box), 3 autograph or relic cards (1 per mini box) (Search On Ebay)
Print Run – ~2750 Hobby cases plus 1900 FOTL boxes. Likely other boxes Tmall/H2/Retail that aren't known yet. (6 boxes per case)
Rookies To Look For – Alejandro Garnacho, Julian Alvarez, Evan Ferguson, Mykhailo Mudryk, Rasmus Hojlund, Enzo Fernandez, Fabio Carvalho, Romeo Lavia
SCHQ Review – 2022-23 Panini Chronicles Soccer is a monster of a product as Chronicles is every year. This is actually the first time I'm doing a review of it. Most people either love or hate Chronicles because of the makeup. I love the 2019-20 set but each year my love fades a little bit as there are less and less unique players to hit. This has less to do with Chronicles makeup and more to do with Panini making more sets dedicated to La Liga and Serie A as I mentioned above.
I am going to do this review from the perspective of hobby boxes since that is what is going on sale tomorrow and likely what people are considering buying or getting in breaks of. The only addition for FOTL boxes is 3 Pink Wave /19 cards per hobby box. Those Pink Waves aren't very loved by the hobby, but obviously expect to pay more for FOTL because you are guaranteed three /19 hits. Cards 1-100 cards of each league have 358 numbered parallels with 332 coming in hobby. Cards 101-200 in each league have 208 numbered parallels with 182 coming in hobby. Cards 201-300 have 227 with 182 coming in hobby and 19 FOTL. Cards 301-310 are the Gala set and there are only 8 of those. On it's own that isn't a terribly high number of parallels. The problem is each checklist is not 300 different players. Khvicha Kvaratskhelia, the main rookie chase, is in 5 brands and has a total of 1002 numbered base parallels (Search On Ebay). Meanwhile Evan Ferguson is only in 1 brand so he only has 208 numbered parallels (Search On Ebay). You have to really pay attention to the checklist to see how many each player has. I would also pay attention to the quality and design of the brands they appear in. For instance, with Kvara his Gala, Contenders Rookie Ticket and Dynagon will do better than Origins and XR will be the least favored.
Speaking of rookies there are a lot in here. Panini made sure to get the current big chases from the 3 leagues in the checklist. The problem is most have plenty of other cards to choose from. I took a look at the 30 players with Rookie Tickets and only 4 don't have "premium" cards so far. 3 of them probably don't have much of a future in the hobby. Loic Bade and Isak Hien are older defenders. Armand Lauriente is a 24 year old forward who does have Score and Panini FC cards, but is currently the best of the bunch. That leaves David Datro Fofana (Search On Ebay) who is a 20 year forward that was signed by Chelsea. He is likely to get loaned out this season so maybe he pops off somewhere and peole with his cards get lucky. That is a far cry from the older days of Chronicles where the likes of Bukayo Saka, Dusan Vlahovic, Rafael Leao, Dejan Kulusevski and others had most if not all of their prime rookie cards. I haven't gone through all 900 cards to see which rookies are brand new in here. You can do that research and maybe find a potential diamond in the rough. Also the Cracked Ice Rookie Ticket is orange again this year. I don't know why Panini doesn't like nice things. The 2019-20 Ticket Cracked Ice cards (Search On Ebay) may be the best parallel in ultra-modern soccer cards and they refuse to go back to design and limited print run. I guess the good news is they will stand the test of time.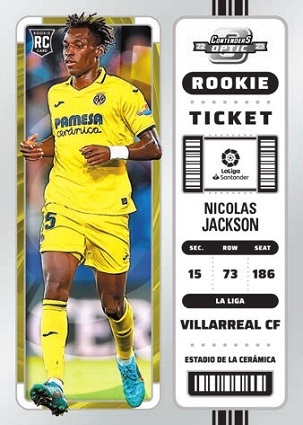 2022-23 Panini Chronicles Soccer Rookie Ticket
The auto checklist is a mix of good and bad in 2022-23 Panini Chronicles Soccer. Some of the big chases from other products this year like Ronaldo Nazario, Zinedine Zidane and Erling Haaland do have autos. Cristiano Ronaldo and David Beckham have their fair share as well. Lionel Messi doesn't have an auto on the checklist but an on-card of his auto was pulled already. It was titled Upper Echelon so who knows what else that may have. Of course, there isn't a Kylian Mbappe card at all since he has only ever played in Ligue 1. Messi does have some Barcelona patch cards (Search On Ebay). As always you should take a look at the checklist as Panini is nice enough to give us the breakdown of how many autos each card has. It's always an eye-opening experience. I haven't seen enough of the relic cards to know the breakdown of not associated, player worn and match worn. With Panini these days always expect the worse and be happily surprised if we get a lot of match worn.
Although Panini hasn't listed their price yet, despite the fact it goes on sale tomorrow, I am guessing boxes will be around $270 and they are as low as $260 on eBay right now (Search eBay). That puts them at about the same as a 2022-23 Select Premier League hobby box and $100 more than a 2022-23 Topps Chrome UEFA hobby box. Using that as my guide I don't think 2022-23 Panini Chronicles Soccer hobby boxes will be selling out on Panini. FOTL boxes sold out at $272 in the Dutch Auction and who knows if that was even a real sell out or a "protect hobby box price" sell out. If I had to guess the boxes will fall into the low to mid $200 range. I do think 2022-23 Chronicles is better than 2021-22. It's hard to say what 2021-22 hobby boxes are selling for right now as they barely sell and the range is all over a place sometimes as low as $150, but the lowest on eBay currently is $210.  I suggest if you are going to buy boxes or into breaks you check out a case break video first so you know what to expect.
If you have any questions reach out via social media @SoccerCardsHQ on Twitter, IG and FB. Want to read more about Erling Haaland Rookie Auto Cards?
*All Search on eBay links are Ebay affiliate links