2022-23 Topps Museum UEFA is out for another year. It is a Champions League product only which is different than most Topps soccer card sets this year. This year has a couple exciting new things that past years have not had. Read all about them in the review below.
2022-23 Topps Museum UEFA Breakdown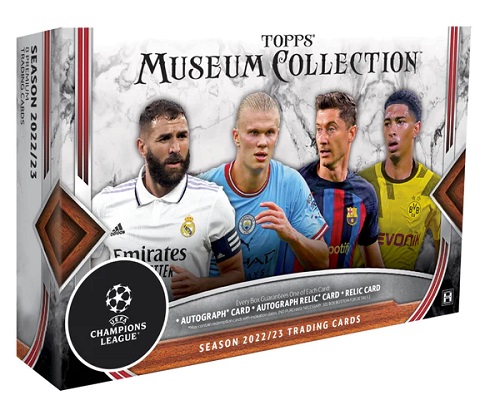 Checklist – HERE
Box Makeup – 1 Auto, 1 Patch Auto, 1 Patch, 1 Parallel maybe more (Search On Ebay)
Print Run – ~19750 boxes ~1645 cases
Rookies To Look For – Read about the Topps Rookies HERE. Look at the checklist to see which one are in 2022-23 Topps Museum UEFA.
SCHQ Review – 2022-23 Topps Museum UEFA is out and is another pretty strong product for Topps this release calendar. I must confess I am a Museum fan and think in general as a product it is under appreciated. It is a premium single pack box set that for some reason does not get near the value of the comparable Panini products like Immaculate and Impeccable. I'll take about that more later.
As mentioned before this is a Champions League only product unlike Topps Chrome and most of the other Topps UEFA products this year which include Europa and Conference League. That means the base checklist stays at only 75 cards. In keeping with what seems to be one of the themes across both Topps and Panini this year, some of the biggest legends of the game are added to the base checklist. That of course includes the likes of Ronaldo (R9), Iniesta, Franz Beckenbauer and Kaka to name a few. I don't think we need the same legends cards every year but I think it's a nice touch to have them in all the sets once. I know I would rather pull a Ronaldo than a Memphis Depay who was card #9 on the checklist last year.
Speaking of legends I think the most important thing that people have not realized so far is that there are on-card autos (Search On Ebay) in 2022-23 Topps Museum UEFA. That is not something that happened in the past. If you have been following SCHQ for any amount of time you know I think on-card autos and game used patches are huge for a product. This product now has both. Sadly only one of the auto checklists is on-card but it's a nice one. It's 11 retired legends and Erling Haaland who is a hobby legend right now for Topps and Panini based on how much money he is making them. We get the first Zinedine Zidane and Kaka on-card autos. We get the 1st Stevie G on-card from Topps or Panini since Flawless. These are also gold framed cards which adds a nice touch. These should fall about 1 in 5 cases and all will be numbered /25 or /1. The case hit Goe Auto checklist is very strong as well. As for Haaland he also gets another "The Grail" card in Museum. It is #2 in the checklist so I presume it will be another Salzburg card and there will be 100 of them like the others. These are fetching high prices so hope you hit one (Search On Ebay).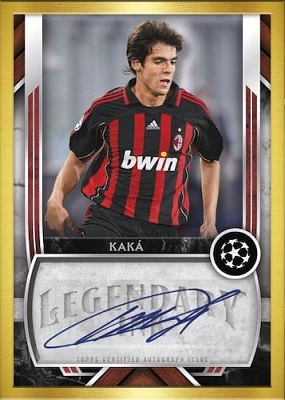 There are only 7 rookies in the base checklist, but base Museum rookies never get much love. Why Immaculate rookies get treated so much better than Museum is simply because the boxes cost more it seems. If you think there is another reason let me know. There are autos and patch cards of rookies that aren't in the base checklist. For instance, Roony Bardghji has a rookie patch auto (RPA) but no base card. I often wonder if RPAs (Search On Ebay) will catch on in soccer like they have in other sports. I think them not all being in the same set or on-card autos definitely hurts.
Let's talk about the patch (relic) cards. One thing I think a lot of people have missed with Museum in the past is that the cards are usually game used or player worn. The problem has always been that it said it in small print on the front of the card and on the back it says some version of "not from any specific match, even or season". It seems like way too many people focused on what it said on the back of the card and not the front. What most soccer collectors probably don't realize is that Topps used to put the exact game relics were from on their cards. Now instead they put that catch all phrase as I am sure it would be a big pain to track down the specifics for soccer and quite frankly, they probably don't care enough to. What you will notice is most of the time the back of a Topps card does not say "not associated with any player…..". That is what you see on a lot of Panini cards and let's you know the relic is probably from the local store. What Topps has done this year is put Game Used or Player Worn in bigger letters on the back of the card right above the legal jargon. Part of me believes they were sick of not getting credit and being lumped in with the truly nonaffiliated Panini relics. I will eventually do a full article on this whole topic but for you reading this review know that one of the biggest reasons I think Topps Museum patch cards (Search On Ebay) are underappreciated is because not enough people realize this.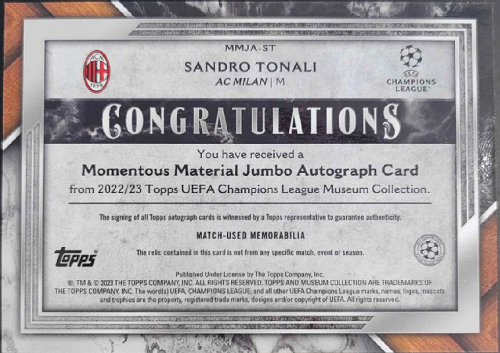 The combos autos are going to be a big chase of 2022-23 Topps Museum UEFA like they were in Chrome. Topps has done a fabulous job putting the right combos together on these cards this year. There is a Lionel Messi / Cristiano Ronaldo duel auto this year as there was last year. The difference is it's Messi in a Barcelona kit and CR7 in a Real Madrid kit. That is way more appealing that a PSG and United card. Don't expect there to be many of those. There is another booklet auto in here like there was in Inception. The one in Museum is nice but not as good as the Inception card. There is also a booklet relic card.
I mentioned in the box makeup that there may be more than 1 base parallel per box which is what Topps states. I say this because the odds don't quite match up unless the auto odds are completely wrong. There are 28125 total base parallels in the checklist and if the auto odds are right only about 19750 boxes. That means about half the boxes should have 2 parallels if the auto odds are right. I would like to think Topps would have boxes with 2 parallels before they would have them missing an auto. They added the /125 parallel this year which upped the number but if the 19750 boxes is right that's only 1000 more boxes than they did last year and those extra parallels would essentially be bonuses. I guess only time will tell on that. (UPDATE – There are in fact some boxes with 2 parallels. Should be roughly 42% of them if all were packed out.)
If you were one of the people that preordered 2022-23 Topps Museum UEFA off of the Topps website when there was no checklist for $285 I think you should be pretty happy about how it ended up. Don't be mistaken there will still be plenty of Museum boxes that are duds as is the case with a 8 card box. 2021-22 Topps Museum boxes sell in the $275-$300 range and this is clearly a better product in my opinion. When I look at 2022-23 Panini Immaculate boxes selling for 3x what Museum is going for it seems crazy to me. Museum is clear the better value considering how similar the makeup of the product is. I could easily make an argument that Museum is the better product if they were the same price if you took the brands off the cards. The Immaculate name carries much more weight so that won't be the case. I think the Panini products like Impeccable and especially Immaculate are getting a lot of credit for the products they were in the past and not what they are in 2023. Museum never got the hype and is now better than it ever was. I am sure some people may disagree and I would love to hear your thoughts on the comparison. I will just keep buying Museum game used patches, RPAs and now on-card autos in hopes that one day the hobby comes around.