2022-23 Panini Obsidian Soccer is here with some exciting new additions…Gold Floods. I wonder why they weren't added in past years, but it's good to finally get them. Check out how many to expect and other details in the review below.
2022-23 Panini Obsidian Soccer Checklist and Review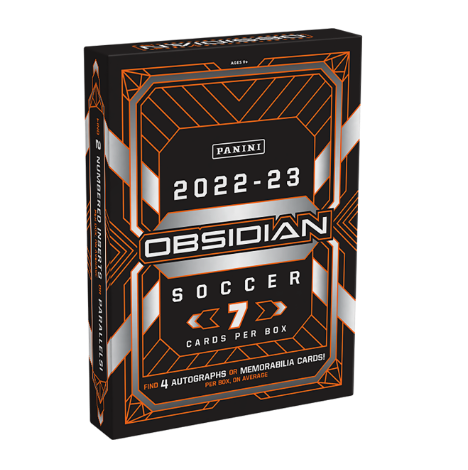 Checklist – HERE
Box Makeup – 4 autographs or memorabilia cards, 1 parallel, 1 insert or insert parallel, and 1 base per box (Search On Ebay)
Print Run – ~23000 hobby boxes ~1900 cases in addition to TMall
Rookies To Look For – Alejandro Garnacho, Julian Alvarez, Evan Ferguson, Mykhailo Mudryk, Enzo Fernandez and more.
SCHQ Review – Most years Obisidian is about Color Blasts (Search On Ebay) and Floods (Contra). 2022-23 Panini Obsidian Soccer is no different. The good news is that Panini has added more Flood colors including Gold for the first time. Gold Floods (Search On Ebay) will probably be the chase of the product even more than Cloor Blasts. The Gold Floods should fall about 1 per case or 2 if you are really lucky. You should get 1 Contra per case as well unless you are unlucky. In all you should get about about 6 total base Floods and Contra per case. With a 200 card checklist you will still have to get lucky for 1 of those to be a good card.
I think by now a lot of people realize that black Color Blasts have a much high print run than the whites. There should be about 125 Color Blasts in this year's Obsidian. If you check recent sales you can see that the market has definitely fallen on those. If you happen to hit one I would recommend selling immediately and if you really want to buy the card you should be able to buy it back for much cheaper in a few months. The Color Blast checklist is a strong one. Most of the subjects have had prior Color Blasts. Zinedine Zidane, Franz Beckenbauer, Trinity Rodman and rookies of Julian Alvarez and Enzo Fernandez highlight new subjects.
The autos and patches are what we have come to expect from Panini this year. Mostly non associated and a ton of players that most will disappointined hitting like in 2022-23 Immaculate. If the checklist is right there is 5 Lionel Messi autos in the entire product and all will be 1/1. There are many more Kylian Mbappe and Erling Haaland autos as we have grown to expect from Panini this year. It is a bit odd that Mbappe and Cristiano have autos and a Color Blast but not base cards. Not having Floods for them will take away a bit of a chase.
Outside of the big chase cards Obsidian singles seem to stuggle in the after market. Since this year's cards look a lot like the rest it's hard to see these being any different outside the Floods and Color Blast. While the rookie class is solid, most of these rookies have a ton of cards by now. Unlike past year's I don't see any big chases where this could be one of their only rookie cards. Past year's are selling for more than the currentPanini listed retail price of $350/box. Based on resale I don't quite understand why that is. I do think the addition of more Floods especially the golds make this a better product than the past. That in addition to Mbappe and Haaland autos mean this will probably settle above the $350 price. There are a few boxes on Ebay currently under $350 but I expect those will probably be gone soon (Search Now On Ebay). I would rather have other products at that price but if you like Obisidian or want to go gold chasing $350 is probably not going to end up being a bad price.
If you have any questions reach out via social media @SoccerCardsHQ on Twitter, IG and FB. Want to read more about Erling Haaland Rookie Auto Cards?
*All Search on eBay links are Ebay affiliate links