2022-23 Topps UEFA Sapphire is here for the 4th year in a row for one of the most anticipated soccer card releases of the year. If you have collected this set in the past, you know the checklist most mirrors the 2022-23 Topps Chrome UEFA checklist. This year has an extra something though as Topps has added autos. Despite what I have seen this is not the first Sapphire soccer card set with autos. They had them in 2021-22 Topps Chrome Bundesliga Sapphire but to be fair not a lot of people paid attention to that set. You will see below that the autos won't be easy to come by. Let's see what you can expect in this year's set.
2022-23 Topps UEFA Sapphire Breakdown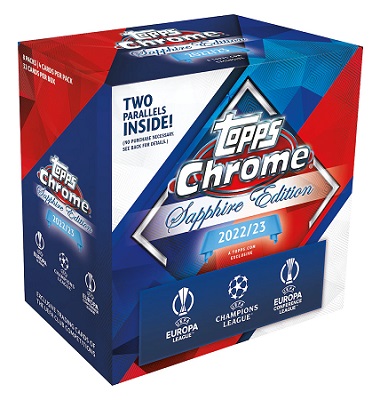 Checklist – HERE
Box Makeup – 2 parallels, 1 auto in ~34 boxes (Search On Ebay)
Print Run – ~25000 boxes
~3350 of each base card
~2500 Base Image Variations
~200 Base Sapphire Selections
~3300 Base Wonderkids
Rookies To Look For – Here is a breakdown of all the Topps Rookies
SCHQ Review – Let's get the big part out of the way first. Yes 2022-23 Topps UEFA Sapphire has autos (Search On Ebay) but you can see above they are going to fall roughly 1 in every 34 boxes. The good news is there are only 10 subjects and 8 of them are pretty desirable. There is even going to be a Lionel Messi Sapphire auto. Based on the odds there are only 45 red autos in the set. That means probably only 9 of the subjects will have Red autos which means Messi may only have a 1/1. Maybe they will distribute them so he has a couple and say Erling Haaland has a couple. Only time will tell. There are Gold auto parallels but Topps still refuses to give us a Gold base parallel. I really want to see how different the yellow and the gold parallels look. I know that it is incredibly stupid that if they called the yellow parallel a gold parallel that it would make a price difference, but we all know it would.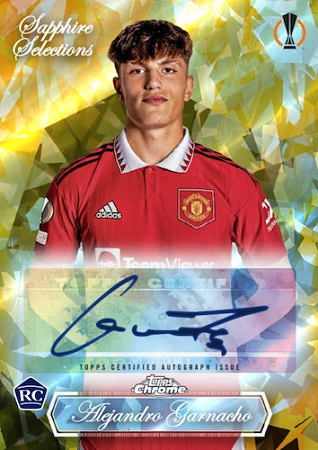 The inserts and variations are a little bit different this year. The variations were legends last year. This year it's a mix of former and current players. The checklist doubled on those so the print run is down, but you will still likely need to hit a parallel to make it really worth it. Same can be said for Wonderkids. The interesting new addition is Sapphire Selections (Search On Ebay). The base fall 1 in every 5 boxes so the print run on the base is only about 333 for each. That isn't a small number by any means but maybe low enough that the non-color will provide some value. After all it's only about double of the Panini "case hits" these days.
(UPDATE – Now that I have seen a Sapphire Selections Superfractor they definitely add top end value to this set. They look so much better than Padparadscha and will likely fetch much higher values than them. They also provide a real angle for breakers which will prop up box prices.)
Other than that, everything is pretty much what we are used to. I don't love the few pics I have seen so far. I think it's the border I don't like. The Sapphire Selections don't have a border and look much better in my opinion. That's just personal preference although I do believe in a time of so many products aesthetics plays a big role in collectability. The box states 2 parallels but the odds put it at about 2.2 parallels per box so there should be some with 3. Topps made 2022-23 Topps UEFA Sapphire through their EQL sweepstakes for $225. If you aren't familiar EQL is meant to be used for high demand products like Inception. 2022-23 Topps UEFA Sapphire should not have been giving this treatment at that price point. Last year this product was released at $250 so they did drop it a bit but not nearly enough. Maybe it was psychological warfare to make people believe it was a good product to make you buy at the inflated price point. In case you haven't looked lately 2021-22 Sapphire boxes are selling in the $135 range (Search On Ebay). That means these boxes are about $90 more. With autos falling 1:34 boxes that means you are paying on average $3060 per auto. While the autos will be in demand, they won't be in demand enough to fetch that value. Yes, the rookie class is probably better this year. Last year you got closer to 3 parallels per though. I would be surprised if these boxes didn't settle a bit but not near 2021-22 prices. It's unfortunate that all the different products of the same Topps checklist has really hurt the luster of Sapphire.
If you have any questions reach out via social media @SoccerCardsHQ on Twitter, IG and FB. Want to read more about Topps UEFA Sapphire print runs through the years?
*All Search on eBay links are Ebay affiliate links