2022-23 Topps Chrome Bundesliga is here and much to my shock more people asked me when this review was coming than most. As the number of young stars getting their rookie cards has dwindled through the years so has the appeal of Bundesliga products. Even the bright young stars at Bayern Munich and Borussia Dortmund don't get enough consistent playing time to appease the hobby. Last year and this year's Bundesliga products may end up being ones where if a young player shows out down the road we will look back and say these were great products. The other problem is if they do play for those two teams they are likely included in UEFA products and will have a plethora of rookie cards to choose from. Let's take a look at this year's set and see what to expect.
2022-23 Topps Chrome Bundesliga Breakdown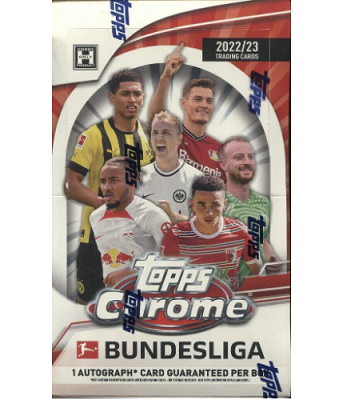 Checklist – HERE
Box Makeup – ~4 parallels, 1 auto (Search On Ebay)
Print Run – ~6000 cases, 2202 # parallels of each base card
Rookies To Look For – Jamie Bynoe Gittens, Randal Kolo Muani, Dzenan Pejcinovic (Search On Ebay)
SCHQ Review – The good news for 2022-23 Topps Chrome Bundesliga is that there are no Lite boxes this year so the total amount of boxes is cut by a third. The bad news is they still managed to crank out 6000 cases of this. That's probably 5000 too many for the demand right now. There are only 2202 numbered base parallels this year compared to over 2900 last year. Once again that is entirely too many. There big known rookies right now have so many cards already and Randal Kolo Muani is already 24 which people seem to ignore. I included Dzenan Pejcinovic above because he is an 18 year old striker which is a hobby profile that at least has potential. He also has a Transfermarkt value of 1 million so don't go crazy. Maybe there is someone that hasn't popped on my radar yet that savvy prospectors will find. I am just looking for a glimmer of hope in here. Good news is there shouldn't be a Sidney Raebiger for people to get destroyed on this year. Your hope in ripping this for immediate value will be hitting low numbered of an established star or hitting a big auto.
Like they did with 2022-23 Topps Chrome UEFA they added dual and tiple autos as well as legend autos to Bundesliga Chrome. The problem is the checklist is nowhere near as good. Topps did very well with combo autos in most products this year but this is not one of them. I understand that they don't have near the player pool to work with in Bundesliga as they do in UEFA, but they could've done better than this. The good news is Franz Beckenbauer autos (Search On Ebay) make their way into the checklist. The bad news is he didn't make his way into a cool dual or triple auto.
I don't know what Topps is going to release these at, but I know it's going to be too high. If I had to guess will be around $75-80. In case you haven't been paying attention 2021-22 Topps Chrome Bundesliga hobby boxes are down around $40 (Search On Ebay). Those boxes still had Erling Haaland and even Robert Lewandowski cards in them. Side note but I am shocked there is no Haaland BVB Grail card in here. Although with all the subsequent Bundesliga products due out I guess they had to save the 2 left they have. If you haven't seen there is a Topps Bundesliga Jade product coming. 2021-22 Topps Bundesliga products achieved something I don't think I have seen before. They were National Pack Wrapper Redemptions 2 years in a row. You know how bad the supply to demand ratio has to be for that to happen. I expect these and other 2022-23 Bundesliga product to be firmly on the 2024 National list. 2022-23 boxes on eBay are at $65 right now (Search On Ebay) and probably lower if you get one in auction. Breakers will have forced allocation so they will be breaking it. I don't envy them or the buyer. At some point these become cheap enough to become a fun rip but for me that would be lower than 2021-22. If I am going to degen rip I at least want a chance at a big Haaland and rookies that I rate higher. You may feel differently.
If you have any questions reach out via social media @SoccerCardsHQ on Twitter, IG and FB. Want to read more about Topps UEFA Sapphire print runs through the years?
*All Search on eBay links are Ebay affiliate links