2022-23 Topps Merlin Chrome UEFA Club Competitions is finally out. Yes, the 2023-24 season has started but who's counting right? Unlike the other Topps sets Merlin Chrome has included Europa and Conference League in the past. Now that Topps has made other major releases with all 3 it takes some uniqueness away from this year's product. They did grace us with some brand new rookies so I will give them credit for that. They also brought back blasters this year with some being distributed in the UK which I think is a great idea. Let's see what you can expect and if hobby boxes or blasters are the way to go.
2022-23 Topps Merlin Chrome UEFA Breakdown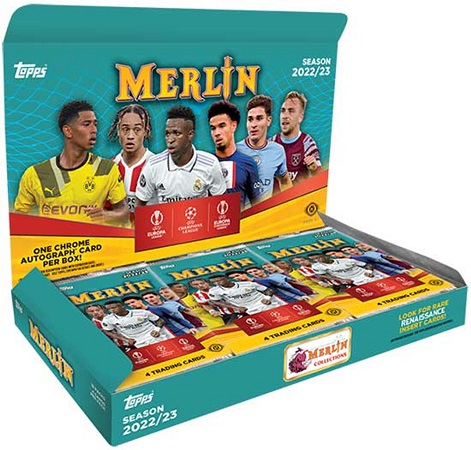 Checklist – HERE
Box Makeup – Hobby ~3-5 parallels but average is 3.15, 1 auto (Search On Ebay)
Blaster ~1-2 parallels but average is 1.4, 1 auto every ~20 boxes (Search On Ebay)
Print Run – ~4600 hobby cases, ~168,000 retail blasters
Rookies To Look For – Here is a list of all the Topps Soccer Rookies. The new ones in 2022-23 Merlin Chrome are at the bottom.
SCHQ Review – Once I get past the disappointment of the print run being increased by 20% and this not being the only Club Competitions set anymore there is a lot to like in 2022-23 Topps Merlin Chrome UEFA. Let's start with the rookies. Arda Guler was the main pre release hype of this product once we saw his images in the previews. He will still be the main chase early but the injury will tamper that a bit. There are some other interesting rookies that are flying under the radar a bit that could make this a good product down the road. Check out the rookies article above for all of those details. There are rookie base variations as well and the print run on the base of those is 100. There are numbered versions as well and they can be found in hobby and blasters.
The Match Ball Signatures (Search On Ebay) and Renaissance (Search On Ebay) are both back this year as case hits. Again, like last year you can hit a Renaissance in blasters but not a Match Ball Signature. I really like the look of the Renaissance this year but there are going to be around 600 of them for each subject and that is just way too many. The good news is the Renaissance checklist is pretty stacked so if you hit one at least you will feel good about it. The Match Ball checklist isn't nearly as stacked but there are still rookies of Mudryk as well as Lionel Messi and Erling Haaland to chase. I could see Match Ball cards being one of those inserts that gets more credit down the road than it does now. I don't think Topps fixed the weighing problem so be warned if you are buying hobby boxes on the after market you may want to take note of that. Even though they aren't on the checklist there have been Hidden Gems (Search On Ebay) pulled so keep an eye out for those.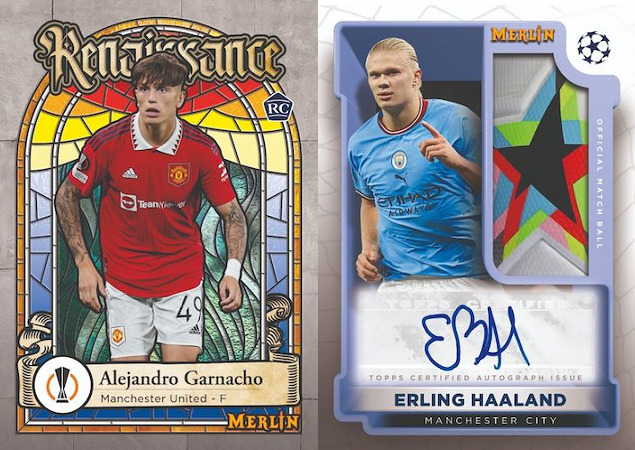 There are 89 different autos in the set not including Match Ball Signatures. That leaves a lot of variance when it comes to hitting autos. With Topps subjects it's not quite as bad as most Panini checklists. They did introduce 2 new auto inserts this year, Sorcerers, which is a hobby only hit and U21 Stars which can be found in both hobby and blasters. You can expect to hit autos in about 1 in 20 blasters and of course 1 per hobby box. We will get into autos a bit more below.
One thing I like looking at when a product has hobby and retail boxes is to look at the differences and the value of each. For this comparison I am going to use the current pricing of $200 per hobby box and $25 per blaster box. These may change so keep that in mind to look at the current prices of when are reading this. You are going to hit ~38 numbered parallels in a case of hobby which would cost $2400. You will hit ~56 numbered parallels in a case of blasters which would cost $1000. That means for each hobby parallel you would pay roughly $63 and only $18 in blasters. Advantage blasters there for sure. Let's take a look at the breakdown for parallels numbered /50 or lower. In a hobby case you are looking at an average of ~4 and only ~2 per blaster case. If you do all the decimal points, it comes out to about $583 per hobby parallel /50 or less and $431 per blasters. Again, that looks like advantage blasters.
Now of course the main difference in the 2 is autos. You are going to get 12 autos in hobby and only 2 in blasters. That would mean $200 per in hobby and $500 in blasters. There are other differences such as the Match Ball and Sorcerers autos on fall in hobby. There are other differences such as some hobby only parallels (Speckle, Green base and Speckle, Gold Atomic, Orange Mojo and true Red). Of those I would say only Red and Gold Atomic are ones that people truly care about. Most importantly you can hit most of the Superfractors in both hobby and blasters. They did introduce the Vintage Merlin Refractor which is kind of cool looking. They are hobby exclusive but have a print run of ~365 for each so not a ton of value there. There are two different Haaland "The Grail" cards that are hobby only. One will be in Salzburg kit and one in BVB. There are 100 of each of those like the other released this year. This was probably too much math for most of you, but I think it leads to this. If you don't care about autos, then stick to blasters. If autos really matter to you stick to hobby. As for the value overall I think it's a solid product. Like past years if some of the rookies that are only in here pop off then there could be some price appreciation. Last year's boxes (Search On Ebay) are a little lower than where these are at right now. I think it comes down to which rookies you like more as to which one to open.
If you have any questions reach out via social media @SoccerCardsHQ on Twitter, IG and FB. Here is last year's 2021-22 Merlin Chrome UEFA review.
*All Search on eBay links are Ebay affiliate links