2022-23 Topps Finest Bundesliga is finally here. I know everyone has had this day circled on their calendars for a while. Check out the review below to see what you can expect out of this year's product.
2022-23 Topps Finest Bundesliga Breakdown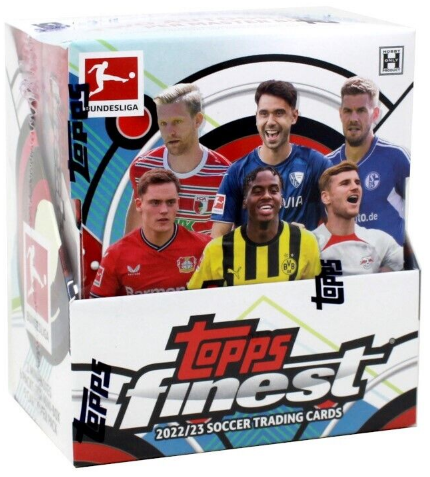 Checklist – HERE
Box Makeup – ~4 base parallels per mini box, 2 autos (Search On Ebay)
Print Run – ~400,000 packs or ~4150 cases, 1777 # parallels of each base card
~400 The Man base cards
Rookies To Look For – Jamie Bynoe Gittens, Randal Kolo Muani, Dzenan Pejcinovic (Search On Ebay)
SCHQ Review – Please read the 2022-23 Topps Chrome Bundesliga review you can apply pretty much everything from that to 2022-23 Topps Finest Bundesliga. The big difference being you get double the color parallels and autos per master/hobby box so Finest is a better product. I ended up ripping a good bit of last year's product because it had even more color and I could get it for less than $500 per case. I also liked last year's rookies a bit more and the chance at an Erling Haaland auto before I realized they were going to be everywhere in 2022-23 products. They did add The Man (Search On Ebay) case hits into this year's product. That may interest some soccer card collectors who also collect baseball cards as that is an insert Topps used in baseball. They are cool looking cards but like other Topps case hits this year there are too many of them. Roughly 400 to be exact. Be careful rushing out to get a Jude Bellingham as the prices will likely come down as more hit the market.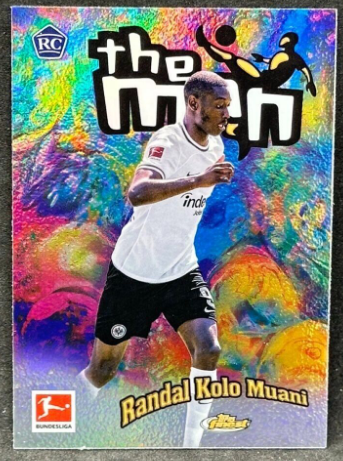 Topps trying to get over $100/box on their site for this is laughable. They are already down to $65 on eBay with plenty of room to fall. There is no way these are as good as last year and you can get those for $50 (Search On Ebay). They didn't even manage to get Alphonso Davies in here for Bayern Munich to give the Canadians a chase. They did manage to get legendary Bayern players Joao Cancelo and Sadio Mane in the product. I don't think you should judge a product by the players featured on the box. That said I doubt majority of soccer collectors can name one of the 3 players on the top row much less all 3. These may eventually drop enough to be a fun rip but just wait a few weeks. If all else fails they will likely be part of next year's The National wrapper redemption, and you can get your fill then.
If you have any questions reach out via social media @SoccerCardsHQ on Twitter, IG and FB. Read more about the 2022-23 Topps Soccer Rookies.
*All Search on eBay links are Ebay affiliate links