2022-23 Topps Finest UEFA is here and we even got pack odds for it unlike Stadium Club Chrome and Finest Flashbacks which is why there has not been reviews of those yet. Topps Finest should be the last of the traditional UEFA hobby releases for the 2022-23 season. Of course, seeing as the 2023-24 UCL season just started it's way too late of a release. This is something that Topps has got to try and catch up on next season. Let's take a look at what you can expect if you are opening the product this year.
*All Search on eBay links are Ebay affiliate links
2022-23 Topps Finest UEFA Breakdown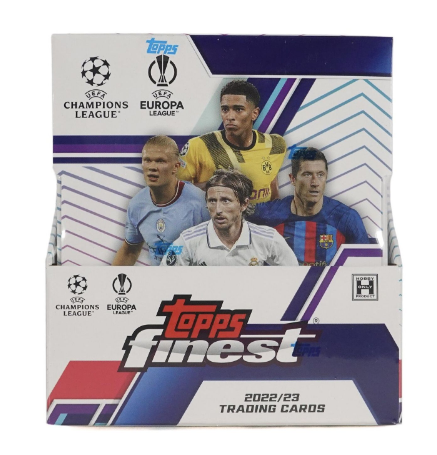 Checklist – HERE
Box Makeup – ~6 base parallels per master box, 2 autos (Search On Ebay)
Print Run – ~714,000 packs or ~7400 cases, 1715 # parallels of each base card
~800 The Man base cards
~11,000 base Prized Footballers
Rookies To Look For – Check out all this article for all the 2022-23 Topps Soccer Rookies. On quick glance there wasn't any new rookies in here that got me too excited.
SCHQ Review – What can we say about 2022-23 Topps Finest UEFA that we haven't said about the countless 2022-23 Topps soccer card sets before? I am half kidding, but the formula is mostly the same. There is way too much of it printed for the current demand, the "case hits" are too plentiful as a result, the good rookies have way too many other cards to make a huge impact, some cool legend autos that we have seen plenty of at this point and there are some cool dual auto cards to give people something to chase. The one thing that could make this set truly interesting is if this is the only set that has Cristiano Ronaldo Sporting cards, but I doubt that will be the case.
Let's start with the 2022-23 Topps Finest UEFA case hits. As usual there are Prized Footballers Fusions (Search On Ebay) and this year there are "The Man" (Search On Ebay) which fall 2 per case on average. You won't find a much bigger fan of Prized Footballers Fusion than me. The problem is the design each year has got progressively worse in my opinion and this year's design looks way too much like last year to make them special. This year there are 382 copies of each which is up by roughly 100 from last year and up over 300 from the 2019-20 Topps Finest UEFA when these were introduced. As for The Man this is an insert they brought over from baseball and had in 2022-23 Topps Finest Bundesliga as well. There are 704 numbered versions of these which is possible when you have so many cases and only a 10 player checklist. The cards themselves are so colorful that the colored parallels don't pop a ton to me, but that could just be personal preference. The highlight of the checklist is Cristiano Ronaldo in a Sporting Club de Portugal kit (Search On Ebay). This is a cool touch by Topps as I mentioned before. I will warn you not to run out and buy a base version of them on release. There are ~800 of each base card so they are bound to drop as more get opened and hit the market. There is the last Erling Haaland "The Grail' card in here and there are aggain 100 of them. There are Hidden Gems as well but I do not know the players yet.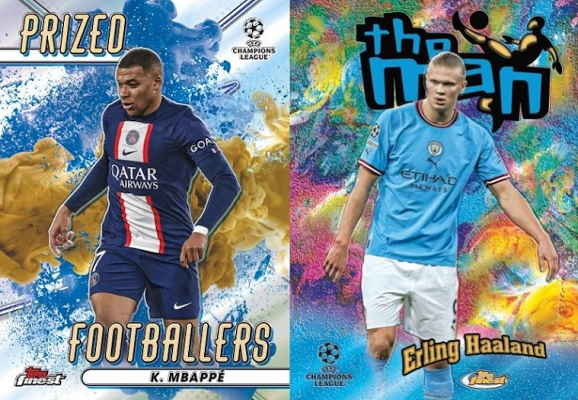 Topps did something different for the insert autos in 2022-23 Topps Finest UEFA, they numbered them all. That's right all the way up to 500. There are still unnumbered base/dual autos, but everything else is numbered. I don't hate the idea of numbering everything as it gives transparency which is something I love. I do think it will be a bit overwhelming for some know exactly just how many cards are out there. I don't think there is much new in the base auto checklist outside of Cristiano Ronaldo Sporting autos. Again, that is a great touch by Topps as long as they don't flood the market with them in upcoming products. As for the dual autos (Search On Ebay) there are Lionel Messi/Cristiano Ronaldo and Erling Haaland/Kevin De Bruyne combos again. The new interesting ones to me are the Zinedine Zidane/Ronaldo and Rivaldo/Ronaldinho which is a redemption. There does appear to be 1 of the 10 duals that only has a Superfractor. I would assume that to be the Messi/Ronaldo but don't know for sure. You are going to hit a dual in roughly every 35 boxes.
I do think 2022-23 Topps Finest UEFA becomes interesting at the right price point. That price point is not the $200/box that Topps released at, but you can find it much cheaper on eBay already (Search Now). This is a better product than 2021-22 Topps Finest UEFA. I actually don't hate the makeup and even if they made about half of what they did it would be a good product. There is just soooo much of it which has mostly been the problem for two years now. Check out these 2019-20 Topps Soccer print runs just to see how far we have come in such little time.
If you would rather watch/listen to the review here it is on YouTube.

If you have any questions reach out via social media @SoccerCardsHQ on Twitter, IG and FB.