Transfers can cause big moves in a player's card prices whether because of new opportunity or moving to a bigger team which will get them more exposure. Sometimes the prices jumps on the announcement (or even rumor) of the transfer and sometimes it takes until the player starts performing with their new team. The article will keep track of all the latest transfers that may cause some hobby movement. You will find their rookie cards or stickers as well as a take on how it could make a difference in prices if things work out. Make your own decision if you think it will actually work out before you run out to buy new cards.
This will be constantly updated as transfers are announced.
*All Search on eBay links on this page are to Ebay listings
January 2022 Soccer Transfers
Ferran Torres
New Team – Barcelona Old Team – Manchester City Transfer Fee – €55 million plus €10 million in add-ons
Rookie Card – 2018 Panini Megacracks MGK #453 – (Search on eBay)
This is his actual and only rookie card and if you like Adrenalyn he has one from this season as well. His 2019 Chronicles Rookie Ticket or Pitch Kings are second year cards even though Panini decided to slap a RC shield on them. While the card isn't technically that rare it is almost impossible to find in good condition. They were only released in Spain as with all Megacracks. There are only 5 graded at PSA with one 9, two 7s and 6 and a 5. There is only 1 graded at SGC and it's an 8.5.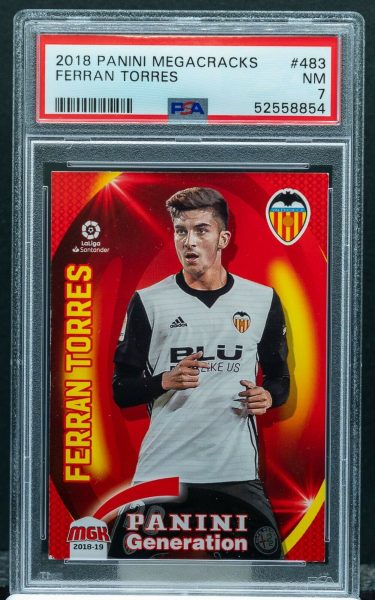 Rookie Sticker – 2018-2019 Panini Colecciones Este La Liga #14B (Search on eBay)
He actually has two stickers in this set. The other is a dual sticker with Fabian as is #5. He also has a 2018-2019 FIFA 365 sticker. We think the Esta La Liga is the one to pickup but they all cost about the same so choose your preference. The #14B sticker is more commonly graded that his rookie card as there are more in good condition. Currently there are 23 graded at PSA with seven 10s. There are 3 graded at SGC with the highest being a 9.5.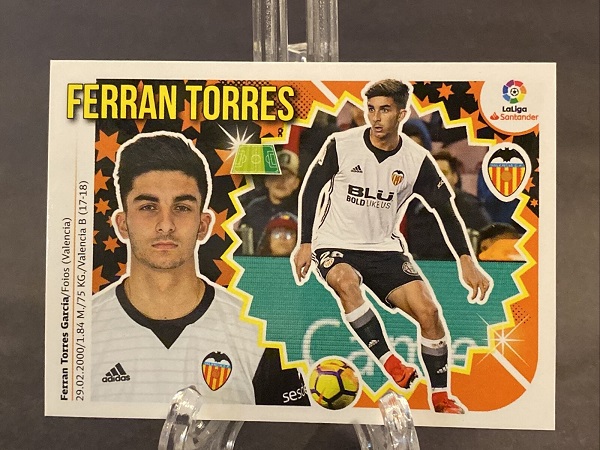 Hobby Effect – The Spanish winger/forward is headed back to Spain where his career began with Valencia. He is not transferring because he struggled in the Premier League. Quite the opposite in fact. He was scoring .89 G+A/90 before going down this season with an injury. If he can help turn around Barcelona's season and they make a run in the Europa League we can see Ferran's prices tick up. He will certainly have more opportunities now.
Ricardo Pepi
New Team – FC Augsburg Old Team – FC Dallas Transfer Fee -$20 million plus add-ons
Rookie Card – 2020 Bowman MLS #62 – Search on eBay
This card from a Topps On Demand set that hardly anyone bought and it may go down as one of the biggest misses ever considering it was released during the soccer card explosion. There are only about 600 base card per player and 306 total parallels. This is Pepi's only pack pulled rookie. It's very rare to say the least. Be careful as people try to pass off his 2021 Ropps Chrome MLS as rookies. They are not although his first autos are in the set.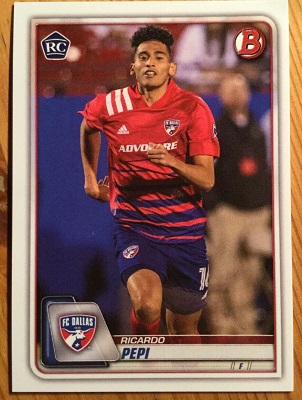 2020 Topps Now MLS #9 – Search on eBay
This is Pepi's 1st ever card. It has a print run of 117. There is also one other Topps Now from his rookie year #60 with a print run of 173.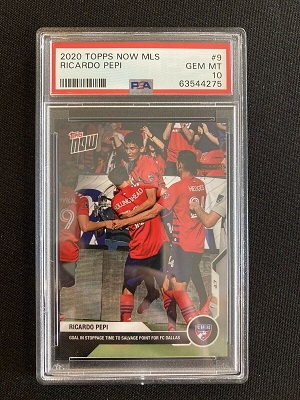 Hobby Effect – Pepi is making the move from the MLS to Bundesliga as expected. What was a bit of a surprise is that he is going to Augsburg and not Wolfsburg as had been rumored. Augsburg paid a lot of money to get him. That means he should be playing soon and often. Augsburg does not currently score a ton of goals at the moment but they do create a good bit of chances. Pepi should help them score some more. That said what is going to make or break Pepi's prices won't be his Bundesliga performances. It will be how he performs for the US National Team (USMNT). He has already seen a huge spike in prices. Much due to the fact he only has around 1000 true rookies total. If he continues to be the USMNT starting #9 and keeps banging in goals the sky is the limit for these cards.
Daryl Dike
New Team – West Bromwich Albion Old Team – Orlando City Transfer Fee – $9.5 million
Rookie Card – 2020 Bowman MLS #20 – Search on eBay
Like Pepi he is also in this very rare set. These boxes are loaded with prospects. Just know that if you are buying there are only 10 cards in each box with one being a parallel.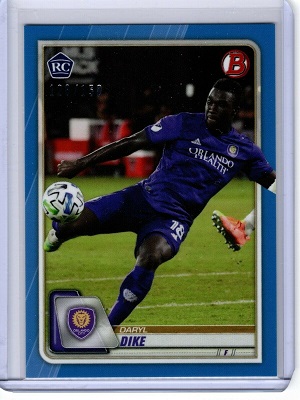 2020 Topps MLS #184 Pitch Prodigies – Search on eBay
This card comes from the much more plentiful Topps MLS set.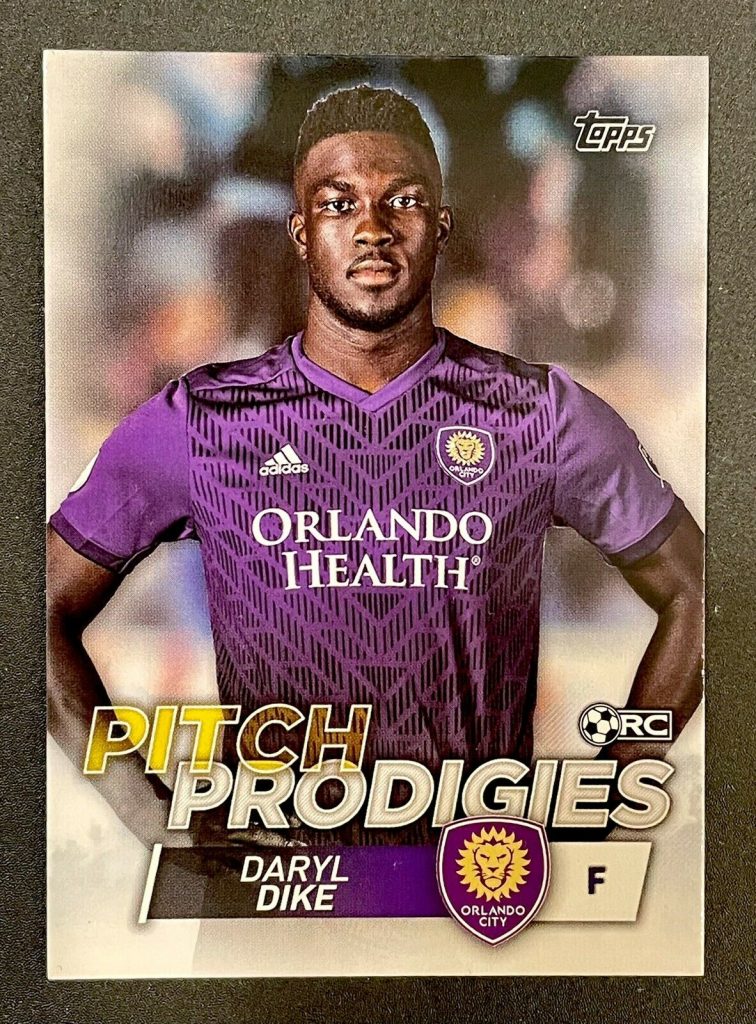 Hobby Effect – Dike is leaving the MLS and headed to play in the English Football League Championship (EFL). West Brom currently sits 4th in the league. If Dike can help lead them to promotion back to the Premier League it would greatly help his prospects. He already has a relationship with the coach and they paid a fairly big fee for an EFL team so he will get his chance to shine. Like Pepi, Dike would need to shine for the USMNT to ge a huge bump in prices. Unlike Pepi he has not be included in the recent World Cup Qualifiers. He was on the team over the Summer so if he shows good form in the EFL he could get another chance.
Brian Brobbey
New Team – Ajax Old Team – RB Leipzig Transfer – Goes Back to Ajax on a half year loan
Rookie Card – 2021-2022 Topps Gold x Tyson Beck UEFA Future Stars (Search on eBay)
Included this card because it will be his most unique rookie card. It is a 3D card that looks great in hand. They are limited to roughly 500 so it will be somewhat rare as well.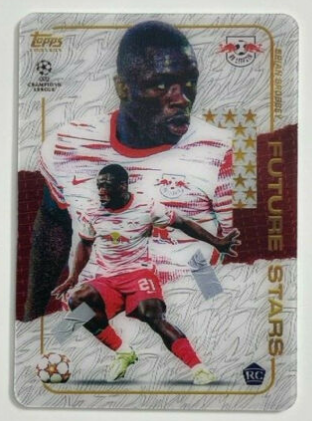 First Card – 2021-2022Topps Summer Signings Search on eBay
If you like collecting a player's first card this is it.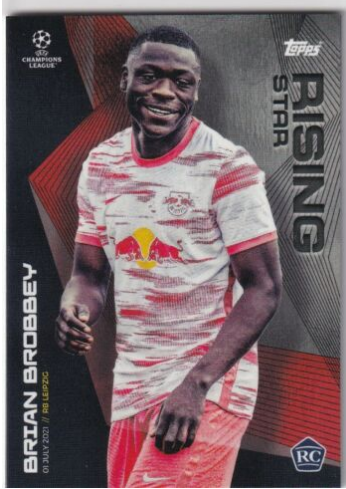 Hobby Impact – This is technically a loan but since he is going to have rookie cards this year and could have an impact he is getting included. Brobbey went through the Ajax Academy where he had much success. He transferred to Leipzig over the Summer. He was not getting as much playing time as he needed so he went back to Ajax for the rest of the year. He scored twice in his first game back with Ajax. He now gets to play in the Champions League which could really help his prices. He is likely going to have a card in every Topps product this year so pick the ones you like the most. They are all listed HERE.
If you enjoy this type of content please follow us on IG @SoccerCardsHQ and Twitter @SoccerCardsHQ or join our Facebook group @SoccerCardsHQ and join the hobby discussion.